PDF Attached
US soybean complex main balances attached. Dec Corn, Dec HRW, and Dec HRS contracts all hit new contract lows today. All major CBOT ag markets ended lower. The US high pressure ridge for the US is now projected to be short lived.
UNITED STATES
Weather conditions are unlikely to change greatly during the next couple of weeks. Scattered showers will occur across key grain, oilseed and cotton production areas in the nation and temperatures will become seasonably warm. The alternating periods of sunshine and rain will be ideal for late season crop development with the exception of dry pockets that will remain. The largest dry pocket remains in portions of Iowa and there has been some expansion of the dryness to neighboring areas recently. Rain expected over the next ten days to two weeks will whittle away at some of the northwestern dryness, but portions of the region will continue struggling for greater rainfall. Another area in need of rain is the northern Delta and a part of the Tennessee River Basin and this region may also struggle with dryness for a while. Most other crop areas east of the Plains will experience mostly good conditions. There will be some ongoing concern over dryness in the northwestern Plains, Canada's Prairies and in a part of western Texas. Most of the far western U.S. is quite dry and the southwest monsoon will continue to be a poor performer for the next couple of weeks.
EUROPE/BLACK SEA
Relief from dryness in France and neighboring areas is still being advertised for next week. The situation will be debated for a while over how significant the relief will be, but the nation is critically dry and needs rain. A notable warm up is expected to precede the rain adding more stress to crops and making the already stressful situation much worse.
The GFS model run continues to try to push some rain eastward across central to eastern Europe next week, but most other models disagree with that

World Weather, believes the GFS is wrong in promoting rain across central and eastern Europe next week

Ongoing dryness is still advertised for the far southeastern part of the Balkan Countries including a part of the lower Danube River Basin for the next ten days
Showers in Ukraine and Russia's Southern region are not expected to generate enough rain to make much difference in crop or field conditions
Overall, the relief that comes to France next week will be brief, but very much welcome. Western parts of the nation will reap most of the benefits from rain. Greater precipitation may evolve across the United Kingdom at the same time. High pressure is expected to build aloft over central Europe for a while this weekend and next week inducing a restricted rainfall pattern and warm temperatures that promote net drying.
RUSSIA NEW LANDS
Model consistency today remains for abundant rain to fall near and immediately east of the Ural Mountains in the central New Lands over the coming ten days. Some areas may receive 2.00 to more than 5.00 inches of rain by the end of next week. Some of that same region is already saturated or nearly saturated and that may raise some potential for flooding.
Early maturing wheat and sunseed in the region could experience a threat to crop quality and drier weather may soon be needed
Most of the global forecast models have been suggesting an eastward shift of rainfall into the eastern New Lands next week

Not all of the eastern New Lands will be impacted, but some areas near the north-central Kazakhstan border may get 1.00 to 2.00 inches of rain

Areas to the north and east of that region may not get as much rain with less than 0.50 inch resulting in some ongoing concern over dryness

The driest areas will be in western parts of Siberia after the end of next week
Overall, the weather change advertised for next week will be mostly good, although concern over crop quality in the central New Lands will rise because of the wetter bias in that region.
CHINA
Local flooding occurred in Zhejiang Tuesday from Typhoon Hagupit that moved into the province Monday night; rainfall ranged up to more than 10.50 inches
Local flooding also occurred in northern Shaanxi and northeastern Inner Mongolia as well as in North Korea
Soil conditions are saturated in many crop regions in eastern China
Today's forecast model runs did not offer significant weather changes with rain expected in most of the nation east of Tibet at one time or another during the next ten days

Net drying is expected near and south of the middle and lower Yangtze River
Flooding rain is possible in parts of the Yellow River Basin and North China Plain, but serious crop damage is not presently expected
Overall, no significant changes were noted or expected in eastern China's key crop areas during the next ten days to two weeks.
AUSTRALIA
No significant change was noted in the first nine days of the outlook
GFS model increased rainfall from southern Queensland to northeastern New South Wales August 15-17

Some of this increased rainfall was overdone

GFS induced a new storm system over southeastern parts of the nation August 18-19

Confidence in this event is low, but it is advertised to impact Victoria and New South Wales primarily
SOUTH AMERICA
Not much change occurred out the first ten days in the outlook

Argentina remains in a dry weather mode – at least in the west where drought remains a serious concern
Returning rain to southern Brazil will improve wheat conditions and may raise topsoil moisture for early corn planting in Parana

Rainfall was increased in southern Brazil August 15-17 with some heavy rain suggested by the GFS model run for Parana, southern Mato Grosso do Sul and southeastern Paraguay
GFS reduced rain for Sao Paulo Aug. 15-19

Some of this change was needed
The bottom line remains one of ongoing concern for Argentina wheat and barley in the west where drought remains and is not likely to change. Southern Brazil rainfall in the second week of the outlook will improve wheat conditions and early corn planting conditions, but it is still questionable how heavy that rainfall will be and how far to the north it might extend. The 06sz GFS model may have taken too much rain out of Sao Paulo and made areas to the south too wet.
1-Day Observed Precipitation – Valid on: August 05, 2020 12:00 UTC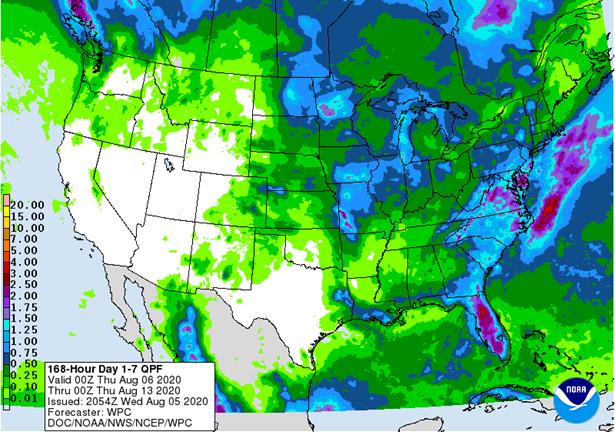 EIA U.S. weekly ethanol inventories, production, 10:30am
China's CNGOIC to release supply-demand reports on corn, soybeans
French Agriculture ministry's 2020 grain estimates
Malaysia's palm oil export data for August 1-5
New Zealand Commodity Price
THURSDAY, August 6:
FAO World Food Price Index
USDA weekly crop net-export sales for corn, soybeans, wheat, cotton, pork, beef, 8:30am
Port of Rouen data on French grain exports
FRIDAY, August 7:
China's foreign trade data for July, including imports of soybeans and meat
ICE Futures Europe weekly commitments of traders report, 1:30pm (6:30pm London)
CFTC commitments of traders weekly report on positions for various U.S. futures and options, 3:30pm
FranceAgriMer weekly update on crop conditions
Source: Bloomberg and FI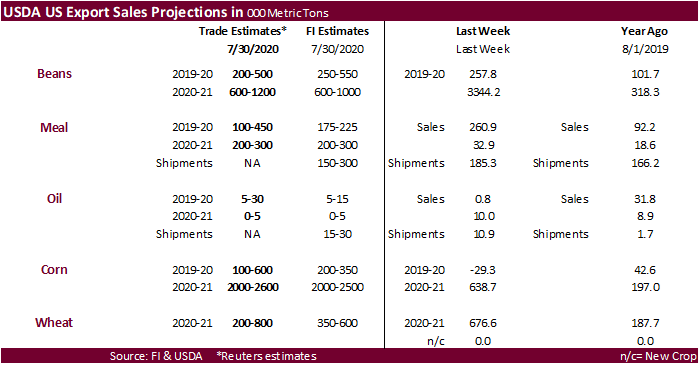 <![if !supportLists]>· <![endif]>The U.S. and China have agreed to high-level talks on Aug. 15 to assess Beijing's compliance with the bilateral trade agreement signed early this year
<![if !supportLists]>· <![endif]>US Trade Balance (USD) Jun: -50.7B (est -50.2B; prevR -54.8B; prev -54.6B)
<![if !supportLists]>· <![endif]>US ADP Employment Change Jul: 167K (est 1200K; prevR 4314K; prev 2369K)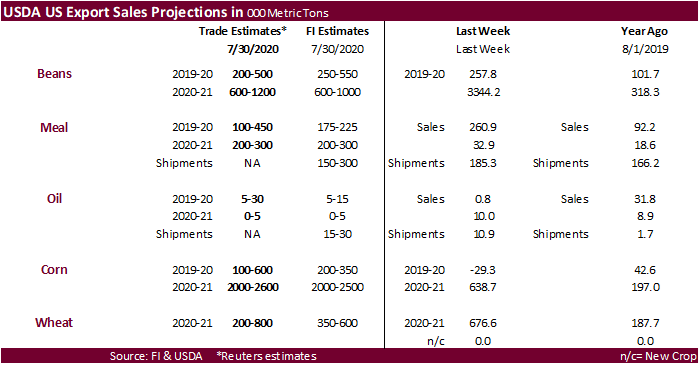 Corn rose after hitting new contract lows yesterday as value buyers stepped in. Any attempt at a rally will be met with farmer selling.
Weather bulls were trying to talk the market higher with the dry weather expected through Saturday for the Eastern Corn Belt. While it may be drying down, the temps are mild and should cause no crop issues.
The large declines in CBOT agriculture prices on Tuesday attracted global corn and meal import interest. SK bought a combined 132,000 tons of corn overnight. NOFI seeks rapeseed meal. However, KOCOPIA passed on corn overnight. More than 400,000 tons of corn was sought by SK overnight.
France's AgMin in its initial estimate for the 2020 corn crop, projected production at 14.4 million tons, up 10.8% from last year and 1% above the five-year average. The country will see an increase in area and yield.
US weekly ethanol production fell 27,000 barrels per day to 931,000, a two-week low and down 10.5 percent from the comparable period a year ago. Ethanol stocks increased 74,000 barrels, second consecutive increase. A Bloomberg poll looked for weekly US ethanol production to be down 6,000 and stocks to increase 163,000. Sep 2019 to date ethanol production is running 10.3 percent below the comparable period year earlier. Gasoline stocks were up 419,000 barrels to 247.8 million.
A private analyst firm is forecasting the US corn yield at 179 bu/acre with production at 15.036 BLN bu.
Funds were net buyers of 8,000 corn contracts over the session.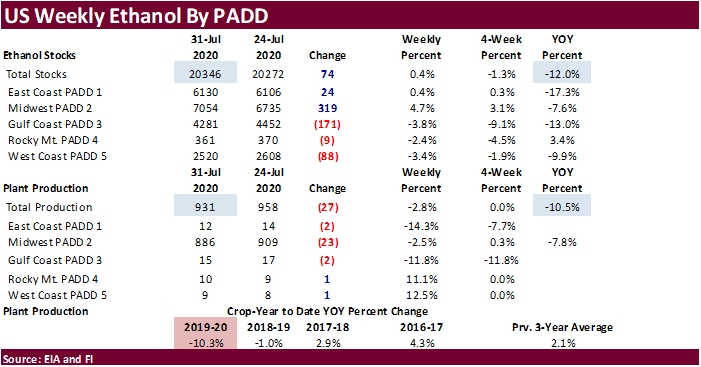 Corn Export Developments
South Korea's NOFI bought 69,000 tons of corn at $197.80 a ton c&f from South America or South Africa for arrival in South Korea in December 2020 and January 2021. They sought up to 276,000 tons.
The Korea Feed Association (KFA) bought 63,000 tons of optional origin corn at an estimated $191.74 a ton c&f for arrival in South Korea around Nov. 15.
South Korea's Korea Corn Processing Industry Association (KOCOPIA) passed on 60,000 tons of corn due to high prices, for arrival around Nov. 25. Lowest offer was $204.60 a ton.
From the RFA
Debate over Brazil ethanol import tariff heats up
Argus Media – August 4, 2020
Debate over Brazil's tariff-free ethanol import quota is heating up ahead of a 31 August expiry. Brazil imposed a 20pc import tariff on ethanol imports in August 2017 in the face of rising imports from the US, with a 600mn liters/year (10,339 b/d) tariff-free quota. Amid pressure from Washington, the tariff-free quota was raised to 750mn l last year. Brazilian authorities are currently reviewing whether to extend or alter the tariff. "If the quota is renewed, everyone should have access," Sergio Araujo, president of the fuel importers association Abicom, told Argus, referencing a government decision last year to limit access to the tariff-free quota exclusively to biofuels producers, shutting out importers and distributors that had access to the quota in past years. Araujo added that ethanol imports are needed no matter what happens to the tariff. "There is a structural production deficit," he said.
Updated 8/3/20
September corn is seen in a $3.00 and $3.25 range. December lows could reach $2.95 (Updated 8/3). The US is staring down at a large crop.
Brazil 2021 Soybean exports seen at 83 MLN tons, up 2% YoY, according to Safras
Funds were net sellers of 4,000 soybean and 2,000 soybean meal contracts and net buyers of 1,000 soybean oil contracts over the session.
ANEC sees Brazil's corn and soybean exports for August increasing 33 percent each, from last year. They see exports at 6.72 million tons for soybeans and 6.32 million tons for corn. July soybean exports were 8.02 million tons, below a projected 8.4 million tons. Corn exports in July were 5.07 million tons.
France's AgMin estimate the rapeseed crop at 3.33 million tons from 3.37 million last month, 4.8% lower from last year and 35.7% below the five-year.
A private analyst firm is projecting the US soy yield at 52.5 bu/acre with production at 4.355 BLN bu.
<![if !supportLists]>· <![endif]>Palm oil: Down 2 percent. Market is projecting 5 percent drop in July palm production and stocks down 12 percent to a 3-year low. Early trade estimates were looking for production to drop 8 percent.
Under the 24-hour announcement system, private exporters reported to the U.S. Department of Agriculture export sales of 192,000 tons of soybeans for delivery to China during the 2020-21 marketing year.
South Korea's Nonghyup Feed Inc. (NOFI) seeks up to 13,000 tons of rapeseed meal from India and a range of other animal feed meals (palm kernel expeller meal, copra meal and corn gluten feed), on Thursday, for arrival around Oct. 20.
September oil share
Source: Reuters and FI
September soybeans are seen in a $8.65-$9.05 range.
September soybean meal is seen in a $280 to $295 range.
September soybean oil range is seen in a 29.00 to 32.50 range.
US wheat futures increased on short-covering after the past two session rout which cut 4.3% off the WU0 price. KC wheat saw the same after hitting contract lows yesterday while Minny wheat could not muster a rally and hit new contract lows again today.
Egypt bought 410,000 tons of Black Sea origin wheat for Sep 11-30 shipment.
Paris December wheat ended down 0.50 euros at 179.75.

France's AgMin lowered their wheat crop to 29.7 million tons from 31.31 million tons last month, now down 25 percent from last year, and also 15.9% lower than the average of the past five years.
France's AgMin reduced its estimate for this year's barley crop, to 11.3 million tons from 12.3 million forecast in July.
The aftermath of the blast in Lebanon left that country with less than a month of grain consumption.
Germany's statistics office estimated the 2020 wheat crop down 12% from 2019 to about 20.23 million tons. This is below 22.46 million tons projected by the cooperatives association.
Russian wheat with 11.5% protein was quoted around $236 per ton, including cost and freight (C&F), this week to Indonesia, up from sales committed at between $217 and $222 a ton in the last few months for August shipment. – Reuters
Below normal rain for Ukraine's central and southern regions resulted in unfavorable conditions for winter 2020 crop sowing, according to APK-Inform. Plantings normally begin second half of August for winter rapeseed.
Funds were net buyers of 2,000 wheat contracts over the session.
Ukraine's grain exports stand at 2.96 million tons so far for the 2020-21 July-June season, down from 3.96 million tons year earlier.
Japan's food self-sufficiency ratio inched higher to nearly 38% in the year ended March from a record low of 37% a year earlier, below the 2030 target of 45%. – AgMin
Bloomberg – China is also set to import most wheat in seven years to secure domestic food requirements, according to the CNGOIC. The world's largest wheat consumer and producer is set to buy 6 million tons in the 12 months starting June, up from just over 4 million tons in the previous year.
India monsoon rains were 13 percent above normal for the week ending August 5.
A private analyst firm is calling for the US wheat yield at 50.2 bu/acre with production at 1.843 BLN bu.
Egypt bought 410,000 tons of wheat for Sep 11-30 shipment. Details are below.

Shipment Sept. 11 to Sept. 20:

60,000 tons Russian @ $212.10 fob plus $13.55 shipping for a total c&f of $225.65
60,000 tons Russian @ $213.35 fob plus $13.55 shipping for a total c&f of $226.90

Shipment Sept. 21 to Sept. 30

60,000 tons Ukraine @ $213.30 fob plus $13.63 shipping for a total c&f of $226.93
55,000 tons Ukraine @ $213.00 fob plus $14.95 shipping for a total c&f of $227.95
60,000 tons Russian @ $212.10 fob plus $13.55 shipping for a total c&f of $225.65
55,000 tons Russian @ $212.10 fob plus $14.56 shipping for a total c&f of $226.66
60,000 tons Russian @ $213.65 fob plus $13.55 shipping for a total c&f of $227.20

Thailand passed on 192,600 tons of wheat and 107,700 tons of Australian (only) feed barley on Wed. prices were thought to be around $235 to $245/ton c&f.
Japan bought only 3,000 tons of feed wheat out of 80,000 tons sought and passed on 100,000 tons of barley for arrival by end of Jan.
Syria looks to sell and export 100,000 tons of feed barley with offers by Sep 1.

Jordan seeks 120,000 tons of optional origin wheat on August 12 for Nov-Dec shipment.

Japan is in for 130,295 tons of food wheat on August 6.

<![if !supportLists]>· <![endif]>Mauritius seeks 6,000 tons of white rice on August 17 for October through December delivery.
<![if !supportLists]>· <![endif]>South Korea's Agro-Fisheries & Food Trade Corp. seeks 60,556 tons of rice from Vietnam and other origins, on Aug. 19, for arrival in South Korea between Dec. 31, 2020, and February 28, 2021.
Updated 8/5/20
Chicago September is seen in a $4.95-$5.40 range.
KC September; $4.10-$4.55 range.
MN September $4.90-$5.40 range.
Terry Reilly
Senior Commodity Analyst – Grain and Oilseeds
Futures International │190 S LaSalle St., Suite 410│Chicago, IL 60603
W: 312.604.1366
AIM: fi_treilly
ICE IM: treilly1
Skype: fi.treilly

Trading of futures, options, swaps and other derivatives is risky and is not suitable for all persons. All of these investment products are leveraged, and you can lose more than your initial deposit. Each investment product is offered only to and from jurisdictions where solicitation and sale are lawful, and in accordance with applicable laws and regulations in such jurisdiction. The information provided here should not be relied upon as a substitute for independent research before making your investment decisions. Futures International, LLC is merely providing this information for your general information and the information does not take into account any particular individual's investment objectives, financial situation, or needs. All investors should obtain advice based on their unique situation before making any investment decision. The contents of this communication and any attachments are for informational purposes only and under no circumstances should they be construed as an offer to buy or sell, or a solicitation to buy or sell any future, option, swap or other derivative. The sources for the information and any opinions in this communication are believed to be reliable, but Futures International, LLC does not warrant or guarantee the accuracy of such information or opinions. Futures International, LLC and its principals and employees may take positions different from any positions described in this communication. Past results are not necessarily indicative of future results.