PDF Attached
USDA
reported 222,000 tons of meal to the Philippines and 114,300 tons of corn to Mexico.
Last
seven days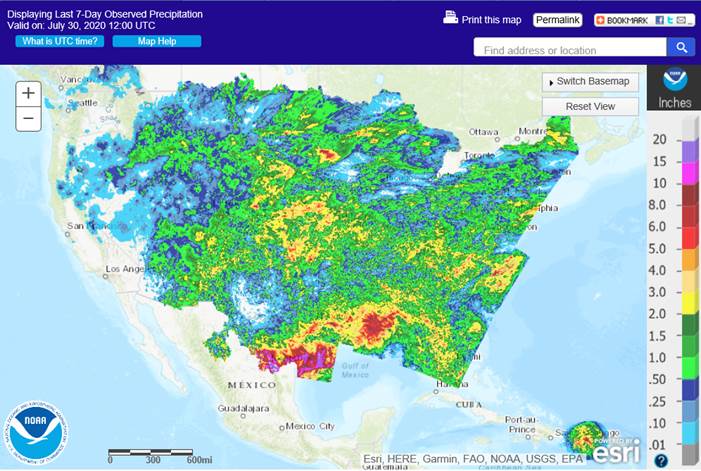 KEY
ISSUES INTO THE WEEKEND AND NEXT WEEK
At
1100 EDT, Hurricane Isaias was located 365 miles south southeast of Great Abaco Island or 295 miles southeast of Nassau, Bahamas moving northwesterly at 16 mph and producing maximum sustained wind speeds of 75 mph

Hurricane
force wind was occurring out 35 miles and tropical storm force wind was occurring out 205 miles
Some
strengthening is expected over the next couple of days
The
storm will reach the northwestern Bahamas Saturday after being over the southeastern Bahamas today
The
storm will be near the east coast of Florida Saturday

Hurricane
watch was issued for a part of the east-central Florida coast while tropical storm warnings are in effect for many other coastal areas

The
storm will move along the Florida coast during the weekend, but its center should stay far enough off the coast to keep most of the damaging properties east of Florida citrus and sugarcane areas

Strong
wind speeds will occur in some of the eastern parts of these crop areas, but damage is expected to be kept low

Some
sugarcane lodging is possible, but damage should be low
A
small amount of citrus fruit droppage is possible near the coast and minor limb breakage is possible


Landfall
in the Carolinas is possible late Sunday into Monday with some crop damage expected


Damage
to eastern corn and some soybean and cotton is possible in eastern North Carolina if the storm moves inland and projected

However,
its fast forward movement and weakening could spare much of the region from much negative impact

Another
tropical wave in the central tropical Atlantic Ocean is being monitored for possible development into a tropical cyclone next week, but the system should stay well east of North America
Monsoon
depression in the northwestern South China Sea will bring heavy rain to northern Vietnam, Guangxi, Hainan and southwestern Guangdong, China this weekend;
rainfall of 4.00 to 12.00 inches and locally more is expected resulting in flooding

Little
wind damage is expected, but some flooding could raise a little concern for rice and sugarcane

The
area impacted will be low

Tropical
wave will bring torrential rain to another part of southern China's coast during the weekend and next week

This
event will produce 5.00 to 12.00 inches of rain and local totals to 15.00 inches in southern Guangdong


Greater
flooding and possible crop damage to rice and sugarcane may come from this event because of its very slow movement and constant rain

Flooding
rain is expected from Shandong, northeastern Henan and immediate neighboring areas of China into the Korean Peninsula next week

Damage
to rice and personal property may be greatest in North Korea, northern South Korea and a few areas in Shandong

This
event occurs from multiple days of significant rain occurring mostly during the workweek next week

Yangtze
River Basin will experience net drying during the coming ten days to two weeks;
totally dry weather is not expected, but flood water will recede and some of the higher ground will begin to dry down

Damage
to crops from flooding in this region will not be reversible
Xinjiang,
China is not likely to change much over the next week to ten days

Daily
high temperatures will be in the upper 70s and 80s northeast and in the upper 80s and 90s elsewhere followed by lows in the 50s and 60s with a few lower 70s in the southwest
Rain
is expected in northeastern areas only with Monday, Wednesday and Thursday wettest with daily rainfall of 0.05 to 0.50 inch


Dry
conditions will prevail elsewhere

Increased
monsoonal rainfall is expected in much of mainland areas of Southeast Asia during the coming week to ten days bringing flooding rain to parts of Laos and southern Myanmar as well as other areas in random locations in Thailand, Cambodi8a and northern Vietnam

Vietnam's
Central Highlands may continue to receive lighter than usual rainfall

Australia
will receive some timely rainfall over the next ten days in virtually all of its wheat, barley and canola production areas

The
moisture will start to improve field conditions in the very dry areas of South Australia and parts of Queensland
Ongoing
favorable crop conditions will continue in Western Australia, New South Wales and Victoria where the bulk of winter grain and oilseed is produced

Philippines
rainfall has been improving recently and this trend will continue
France
will continue drier biased over the next ten days to two weeks, although a few showers will impact a part of the nation

Resulting
rainfall will not be enough to seriously bolster topsoil moisture or change production potentials
Hotter
temperatures Thursday raised crop stress for many areas that have been too dry recently
Southern
France continues to experience routinely occurring highs in the 90s and over 100 degree temperatures stressing corn and other crops

The
heat in these areas will continue for a while with some temporary relief this weekend

Spain
will continue hot with restricted rainfall for a while
Hot
weather will return to western Europe in the second half of next week and into the following weekend
Recent
hot weather in the southern Balkan Countries of Europe has occurred in the drought stricken region and relief is unlikely in the area for a while
Eastern
and southern Ukraine into Kazakhstan and parts of Russia's Southern Region continues quite dry and warm to hot

Some
showers are expected during the coming week to ten days, but relief from dryness is expected to be erratic and quite brier

A
more general soaking of rain is needed

Russia's
eastern New Lands will continue to experience restricted rainfall over the next ten days

Temperatures
will be trending warmer than usual late next week and into the week of August 10

Recent
rain in western Russia New Lands has been good for improving spring wheat, sunseed and other crops

The
greatest improvement in soil moisture has occurred in the Ural Mountains region and in a small part of Russia butting up against the northwestern Kazakhstan border

Other
western CIS crop areas are favorably moist with little change likely
East-central
and northeastern Europe will trend a little warmer in the coming week some showers expected to maintain favorable crop conditions
Indonesia
and Malaysia rainfall is expected to remain lighter than usual especially from the Malay Peninsula and Sumatra into western Kalimantan and western Java
South
Africa will experience coastal showers over the next week to ten days leaving most interior crop areas dry

Rain
is needed in eastern wheat production areas while crops in the west are favorably established

Argentina
rain prospects were cut by today's forecast model runs leaving Cordoba in the midst of significant winter drought

Santa
Fe also continues drying out along with many other areas in northwestern parts of the nation
Buenos
Aires will get some rain periodically keeping its wheat and barley crop favorably rated

Brazil
weather is expected to be mostly dry for the coming ten days

Dryness
will be good for early corn planting, but rain will soon be needed in some of the areas to be planted first
Sao
Paulo, Parana and Mato Grosso do Sul will need rain first, but there is still time for improvement

Wheat
conditions are rated well

U.S.
weather is still expected to be favorable over the next two weeks

First
week conditions will be cooler than usual in the Midwest, northern Delta and interior southeastern states
Second
week Midwest weather is expected to warmer and a little drier

Net
drying is expected in the second and third weeks of August for many areas in the Midwest, despite some periodic showers due to warmer (not hot) temperatures and more sporadic and light resulting rainfall

Crop
conditions will remain favorable for much of the U.S. Midwest during the two weeks, although moisture stress will continue in parts of Iowa and in random locations across the northeastern Midwest
Iowa
will continue to have opportunity for some rain periodically, but resulting amounts are probably going to continue a little light leaving moisture deficits in place and warmer weather coming in the second week of the outlook will accelerate drying rates between
rain events to perpetuate the low soil moisture bias

West
Texas crop weather will experience a few showers infrequently over the next two weeks and temperatures will be seasonably warm, but not excessively hot
U.S.
northwestern Plains and neighboring areas of Canada's Prairies will continue to experience poor rainfall distributions and warm temperatures biases for a while resulting in low soil moisture and some crop stress
U.S.
Delta weather will be mixed with some areas wetter biased and others a little dry
U.S.
southeastern states will see a mix of weather, but some crop damage may occur in eastern North Carolina early next week because of Hurricane Isaias

The
storm will move fast, however, and it will be weakening when it arrives which should help to reduce the negative impact

Canada's
Prairies will be quite warm next week after cooling down briefly this weekend
<![if !supportLists]>o
<![endif]>Additional cooling is expected near mid-month
Ontario
and Quebec weather is mostly good, but pockets of dryness are expected over the next ten days
Mexico
precipitation in the coming week will be greatest in western and southern parts of the nation benefiting many corn, sorghum and dry bean production areas

Coffee,
citrus, sugarcane and many fruit and vegetable crops will also benefit
Northeastern
Mexico will trend drier after rain fell beneficially from Tropical Depression Hanna early this week

Central
America rainfall will be erratic this week and may trend heavier and more widespread next week
India's
weather is expected to remain favorable for summer crop development even though some of the rain amounts will be more erratic and lighter than usual


Northwestern
Rajasthan will experience the least amount of rain over the next ten days as will central and southern Pakistan
Far
southern India and a few locations from Odisha into southern Bangladesh will also receive well below average rainfall

Greater
rain is needed in Ivory Coast and Ghana where rainfall this month has been well below average

The
region is not likely to see much moisture of significance for a while
Temperatures
may be a little cooler than usual

New
Zealand rainfall over the next couple of weeks will be erratic and most often light with temperatures warmer than usual
Southern
Oscillation Index was +4.05 this morning and the index is expected to slowly fall over the next few days
7
Day Precipitation Outlook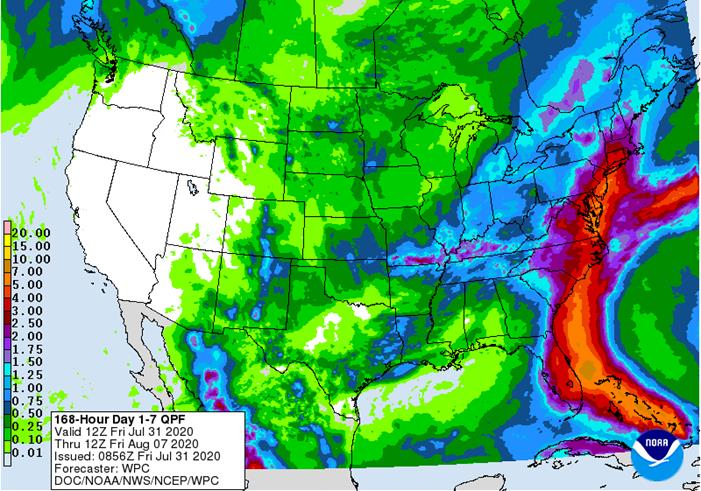 Bloomberg
Ag Calendar
FRIDAY,
July 31:
ICE
Futures Europe weekly commitments of traders report, 1:30pm (6:30pm London)
CFTC
commitments of traders weekly report on positions for various U.S. futures and options, 3:30pm
FranceAgriMer
weekly update on crop conditions
Malaysia's
palm oil export data for July 1-31 (tentative)
U.S.
agricultural prices paid, received, 3pm
HOLIDAY:
Singapore, Indonesia, Malaysia
USDA
weekly corn, soybean, wheat export inspections, 11am
International
Cotton Advisory Committee updates global outlook
ABAG,
Brazil's agri-business association, hosts annual conference
U.S.
crop conditions for soybeans, corn, cotton; wheat harvesting progress, 4pm
USDA
soybean crush, 3pm
U.S.
DDGS production, corn for ethanol, 3pm
Malaysia
palm oil export data for July 1-31 from AmSpec, SGS
Honduras,
Costa Rica coffee exports for July
EU
weekly grain, oilseed import and export data
Ivory
Coast cocoa arrivals
HOLIDAY:
Canada
TUESDAY,
August 4:
U.S.
Purdue Agriculture Sentiment
New
Zealand global dairy trade auction
Australia
commodity index
WEDNESDAY,
August 5:
EIA
U.S. weekly ethanol inventories, production, 10:30am
China's
CNGOIC to release supply-demand reports on corn, soybeans
French
Agriculture ministry's 2020 grain estimates
Malaysia's
palm oil export data for August 1-5
New
Zealand Commodity Price
THURSDAY,
August 6:
FAO
World Food Price Index
USDA
weekly crop net-export sales for corn, soybeans, wheat, cotton, pork, beef, 8:30am
Port
of Rouen data on French grain exports
FRIDAY,
August 7:
China's
foreign trade data for July, including imports of soybeans and meat
ICE
Futures Europe weekly commitments of traders report, 1:30pm (6:30pm London)
CFTC
commitments of traders weekly report on positions for various U.S. futures and options, 3:30pm
FranceAgriMer
weekly update on crop conditions
Source:
Bloomberg and FI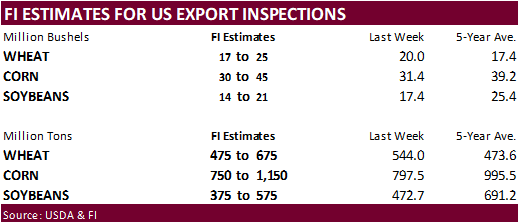 FUTURES
+ OPTS Managed Swaps Producer

Net Chg Net Chg Net Chg
Corn
-143,280 -5,510 208,092 2,100 -98,295 -2,958
Soybeans
62,161 -13,649 129,002 7,123 -205,949 5,124
Soymeal
-19,464 9,713 77,112 336 -97,106 -6,240
Soyoil
37,549 652 83,848 -1,219 -137,957 4,578
CBOT
wheat 1,699 1,225 80,537 -7,397 -77,523 3,315
KCBT
wheat -19,026 -867 48,059 2,236 -30,170 -2,034
MGEX
wheat -21,125 -472 2,313 243 12,734 505

———- ———- ———- ———- ———- ———-
Total
wheat -38,452 -114 130,909 -4,918 -94,959 1,786
Live
cattle 33,622 3,949 82,692 -1,793 -126,082 -3,764
Feeder
cattle 5,453 991 4,208 89 -4,599 -242
Lean
hogs 10,721 209 45,406 810 -62,580 -702

US
Personal Income Jun: -1.1% (est -0.6%; prev -4.2%)
US
Personal Spending Jun: 5.6% (est 5.2%; prev 8.2%)
US
Real Personal Spending Jun: 5.2% (est 5.0%; prev 8.1%)
US
Consumer spending jumps 5.6% in June, but the recovery already appears to be slowing – MW
Incomes
fall 1.1% as stimulus fades, fewer people return to work
US
PCE Deflator (M/M) Jun: 0.4% (est 0.4%; prev 0.1%)
US
PCE Deflator (Y/Y) Jun: 0.8% (est 0.9%; prev 0.5%)
US
PCE Core Deflator (M/M) Jun: 0.2% (est 0.2%; prevR 0.2%; prev 0.1%)
US
PCE Core Deflator(Y/Y) Jun: 0.9% (est 1.0%; prev 1.0%)
US
Univ. Of Michigan Sentiment Jul F: 72.5 (est 72.9; prev 73.2)
–
Conditions Jul F: 52.8 (est 85.5; prev 84.2)
–
Expectations Jul F: 65.9 (est 65.5; prev 66.2)
–
1-Year Inflation Jul F: 3.0% (prev 3.1%)
–
5-10 Year Inflation Jul F: 2.6% (prev 2.7%)
EIA:
US May Gasoline Demand Down 23.5% Or 2.213M Bpd Vs Last Year At 7.188M Bpd (Vs -37.4% In April)

US Crude Oil Production Fell 1.989M Bpd In May To 10.001M Bpd (Vs Revised 11.99M Bpd In April)
Corn
Export Developments
Under
the 24-hour announcement system, private exporters sold 114,300 tons of corn to Mexico for 2020-21 shipment.



September
corn is seen in a $3.10 and $3.35 range over the short term. December lows could reach $3.10. We can't justify below $3.00 unless a shock in the September grain stocks report occurs, or China's production gets upward revised by a large amount.