PDF Attached
Corn,
soybeans and wheat traded lower on good US crop ratings. Egypt
bought 470,000 tons of wheat. Palm
futures are down 6 percent this week and 15 percent for the year. The ringgit is at a 6-week high against the USD.


7
Day Precipitation Outlook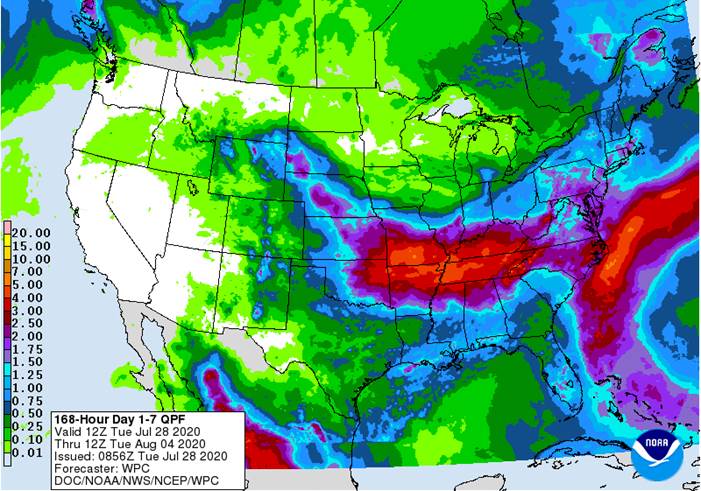 MOST
SIGNIFICANT WEATHER AROUND THE WORLD
U.S.
crop weather will remain mostly good, but drying is expected in the coming week to ten days across northwestern parts of the Corn and Soybean Belt

Northwestern
and central Iowa is already too dry along with parts of southeastern South Dakota and a few Minnesota locations
Rainfall
will be greatest in the lower Midwest over the next week to ten days and that region will be plenty moist to support crop needs
Rainfall
should increase in northwestern U.S. Corn Belt late in the first week of August and more likely in the second week
Temperatures
will be non-threatening over the next two weeks
U.S.
Southern Plains will continue to receive enough rainfall periodically to curb some of the recent heat and supplement irrigation (where available)

Crop
and livestock stress will not be nearly as extreme as it was earlier this month anytime soon, although warming is expected in the second half of next week and into the following weekend
U.S.
Delta weather will be favorably mixed with some of the driest areas getting some periodic rainfall to ease dryness, but more rain will be needed
U.S.
southeastern states should start to dry down for a while late this week and especially during the weekend and early part of next week

Tropical
disturbance east of the Leeward Islands in Atlantic Ocean will become a tropical depression or a tropical storm later this week and it will influence the Lesser Antilles and could threaten Puerto Rico before moving to the Bahamas this weekend

This
system has potential to bring stormy conditions to the U.S. and possibly Florida, although it is too soon to be precise on the system's intensity or precise path because it has not yet fully evolved
West
Texas cotton areas will experience some welcome showers and that will help hold back some of the excessive heat of late


Crops
in the region will experience some improvement
U.S.
Northern Plains and much of Canada's Prairies will experience limited rainfall and warm temperatures over the next week


Western
Alberta may have another bout of heavier rainfall coming over the next week, but it should be of short duration
Mexico
precipitation in the coming week will be greatest in central and southern parts of the nation benefiting many corn, sorghum and dry bean production areas

Coffee,
citrus, sugarcane and many fruit and vegetable crops will also benefit
Northern
Mexico and especially the northeast will trend drier after rain fell beneficially from Tropical Depression Hanna Monday
Central
America rainfall will be erratic this week and may trend heavier and more widespread next week
Western
Europe weather will trend hotter over the next few days

Highs
in France will reach into the 80s and 90s while the U.K. reaches into the 80s




Germany
will experience late week high temperatures in the 80s and lower 90s
Very
little rain will fall through the end of this week
Western
Europe will cool down late this week and into the weekend with some limited rainfall expected

No
general soaking will occur to bring significant relief to drought in France or dryness in other areas
Eastern
Europe dryness remains in the lower Danube River Basin and southern Balkan Countries

Little
relief is expected despite a few showers and thunderstorms infrequently
Dryness
remains quite serious in southern and eastern Ukraine into western Kazakhstan and parts of Russia's Southern Region and this region is unlikely to see much opportunity for relief anytime soon

Crop
stress in unirrigated areas is quite high and production of dryland corn, soybeans, sunseed and other crops will be down
Russia's
New Lands are expecting some periodic showers and thunderstorms this week and milder temperatures

Partial
relief to dryness is expected, but a general soaking of rain is not very likely outside of a few Ural Mountains' region crop areas
A
new high-pressure ridge is expected to evolve next week that will return warmer temperatures and bring back drying which increases the importance of rain for this week
China
received some additional heavy rain Monday with amounts of 2.00 to more than 5.00 inches occurring from northeastern Guangxi through central Hunan to southern Anhui and southeastern Hubei

One
location in Anhui received more than 6.00 inches of rain
Flooding
occurred again, but the flooding resulting from this rain and that which occurred in Sichuan last weekend was not as serious as the torrential rains that occurred earlier this month and in June that caused devastating floods in the Yangtze River Basin
China's
weather is expected to progressively improve over the next two weeks with less frequent less intensive rain expected as time moves along

A
tropical cyclone that will move over the East China Sea this weekend into next week should remove some of the potential for rain in east-central China and that will be a big relief
Northern
China will experience a good mix of rain and sunshine over the next two weeks resulting in ongoing favorable crop conditions

There
is some potential for heavy rain early next week in the Korean Peninsula and China's Northeast Provinces if a tropical cyclone evolves and moves through those areas as advertised
Xinjiang,
China continued a little milder than usual in the northeast Monday and degree day accumulations continue to slip below average
Xinjiang,
China is not likely to change much over the next week to ten days

Daily
high temperatures will be in the upper 70s and 80s northeast and in the upper 80s and 90s elsewhere followed by lows in the 50s and 60s with a few lower 70s in the southwest
Rain
is expected in northeastern areas only with Monday, Wednesday and Thursday wettest with daily rainfall of 0.05 to 0.50 inch


Dry
conditions will prevail elsewhere
India's
weather is expected to remain favorable for summer crop development even though some of the rain amounts will be more erratic and lighter than usual


Some
net drying is expected
Central
and northwestern Rajasthan will experience the least amount of rain over the next ten days as will central and southern Pakistan
Far
southern India and a few locations from Odisha into southern Bangladesh will also receive well below average rainfall
Southeast
Asia rainfall continued erratic Monday with very little change likely through the next couple of weeks

Parts
of western Thailand, Vietnam and a few areas in Laos and Cambodia have received below average rainfall in recent weeks

Crop
conditions have not been ideal, although there has been sufficient rain to prevent crop failure

Greater
rain is needed, though

This
trend will ease somewhat in the next two weeks with greater rainfall anticipated, but the greatest rainfall is expected to remain pocketed so that some areas will still need greater rain
Indonesia
rainfall need is greatest for parts of Sumatra and Java
Philippines
rainfall recently has been improving and this trend will continue for a while
Tropical
Storm Douglas has moved beyond Hawaii and its impact on the state was much less than feared
Tropical
Depression Hanna dissipated over northeastern Mexico Monday
Canada's
Prairies will experience net drying in southern and some central areas where the need for rain will be steadily rising as August begins

Rain
is expected frequently in western and northern Alberta and more infrequently in northern Saskatchewan and Manitoba in the coming week

Rain
may improve next week in southeastern parts of the Prairies, but southwestern areas (including southern and east-central Alberta and west-central and southwestern Saskatchewan) may continue to dry out
Eastern
Australia received some additional rainfall Monday with northern and eastern New South Wales and far southeastern Queensland reporting up to 0.68 inch of moisture after rain fell during the weekend

Australia
rainfall over the next ten days will be erratic and often too light to benefit crop or field conditions, but winter crops should remain in favorable condition

South
Australia and portions of Queensland still have the greatest need for additional moisture
Western
Australia may receive some needed rain late next week while many other areas will remain drier biased
Argentina
will be mostly dry over the coming week

Some
rain may evolve in the south next week, but it is not likely to reach into the drought-stricken areas of Cordoba or immediate neighboring areas
Southern
Brazil remains favorably moist

More
rain will fall periodically in far southern Brazil during the next couple of weeks
Winter
crop conditions are mostly good in Rio Grande do Sul and areas north into Parana, but Sao Paulo and a few other areas have been quite dry recently
Summer
crop harvest progress has been good
Conditions
for early season corn planting are looking favorable, but timely rain will need to continue in August to ensure early crops are successful
Harvest
weather in center west and center south Brazil for Safrinha crops has been and will continue to be good
Ontario
and Quebec, Canada have some pockets of dryness, but most crops in the two provinces are still developing relatively well

Any
missed rain could lead to greater crop stress and a close watch on the situation is warranted
Timely
rain should occur in most of the region, but resulting amounts may vary greatly leaving a few areas in need of greater rain
South
Africa weather over the next couple of weeks will include limited rainfall and temperatures will trend a little warmer over time.

West-central
Africa will receive periods of rain over the next couple of weeks maintaining a favorable environment for coffee, cocoa, cotton, rice and sugarcane

Greater
rain is needed in Ivory Coast and Ghana where rainfall so far this month has been notably lighter than usual
Most
of the rain expected this week will continue erratic and often light
Temperatures
may be a little cooler than usual

New
Zealand rainfall over the next couple of weeks will be erratic and most often light with temperatures being near normal
Southern
Oscillation Index was +5.96 this morning and the index will remain positive the remainder of this week and into the weekend
EIA
U.S. weekly ethanol inventories, production, 10:30am
Vietnam's
General Statistics Office releases data on exports of coffee, rice and rubber
THURSDAY,
July 30:
USDA
weekly crop net-export sales for corn, soybeans, wheat, cotton, pork, beef, 8:30am
Port
of Rouen data on French grain exports
The
Australian Grains Industry Conference (online event)
Poland
to publish grain harvest estimates
FRIDAY,
July 31:
ICE
Futures Europe weekly commitments of traders report, 1:30pm (6:30pm London)
CFTC
commitments of traders weekly report on positions for various U.S. futures and options, 3:30pm
FranceAgriMer
weekly update on crop conditions
Malaysia's
palm oil export data for July 1-31 (tentative)
U.S.
agricultural prices paid, received, 3pm
HOLIDAY:
Singapore, Indonesia, Malaysia
Source:
Bloomberg and FI
Corn
futures fell
for the third straight session, declining 3.50-5.00 cents on Tuesday. December is sitting at $3.30, lowest close since June 29. Good US crop ratings pressured prices. The unfavorable weather that traders were concerned about FH July didn't seem to have
an impact on the national crop rating. We are hearing some fields will see record yields south of Memphis.

Funds
sold an estimated net 18,000 corn. Note funds sold all five major commodities for the session, first time this has happened since July 13.


A
Bloomberg poll looks for weekly US ethanol production to be up 8,000 at 916,000 barrels (899-940 range) from the previous week and stocks to increase 183,000 barrels to 19.984 million.
USD
was up 5 as of 2:16 PM CT.
China
corn futures traded lower, off a 5- year high, after the government announced effective July 30 bidders will have to pay an extra deposit on trades, and also set delivery requirements to make sure companies where not hording corn supplies.

<![if !supportLists]>·
<![endif]>Corn and Soybean Advisory are using 178.5 corn and 51.0 soybeans (yields). Most of the trade is at 180 or above.

In
a Reuters survey, traders see South Africa's corn crop (2019-20) at 15.461 million tons, 9.081 white and 6.443 million yellow. 15.461 million tons is 37 percent more than 2019. More than 50 percent of the corn crop has been harvested and delivered to silos.

Corn
Export Developments
Syria
seeks 50,000 tons of soybean meal and 50,000 tons of corn on Aug 25 for delivery within four months of contract signing.


September
corn is seen in a $3.10 and $3.35 range over the short term. December lows could reach $3.10. We can't justify below $3.00 unless a shock in the September grain stocks report occurs, or China's production gets upward revised by a large amount.