PDF Attached
We
raised our outlook for the September trading ranges for KC and MN wheat based on global demand for milling type wheat. USDA announced 133,000 tons of soybean meal to the Philippines and 252,000 tons of soybeans to unknown. Crop progress and inspections estimates
are below.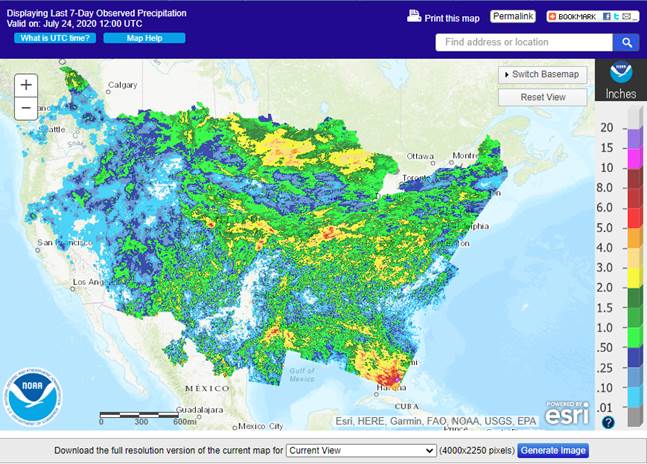 7
Day Precipitation Outlook
NOT
MANY CHANGES OVERNIGHT
Hurricane
Douglas was a major hurricane this morning located 1010 miles east southeast of Hilo, Hawaii moving west northwesterly at 18 mph and producing maximum sustained wind speeds of 130 mph

Hurricane
force wind is occurring out 30 miles from the storm center while tropical storm force wind was occurring out 90 miles
Douglas
will continue to move toward the Hawaiian Islands and will impact the region this weekend with some damaging wind, heavy rain and flooding
The
storm's current path takes the system north of the Big Island of Hawaii Saturday night into Sunday as a weakening hurricane
The
storm will move very near to or directly across Maui and have impacts on Lanai and Molokai as well as some of the smaller islands nearby as a tropical storm
The
storm's small size will help limit the extent of damage, but there is a strong potential that the storm will move across some of the central Islands causing some damage

Kauai
and some of the neighboring islands will not be seriously impacted by the storm, although some high wind speeds and heavy rain is expected

Tropical
Storm Gonzalo may become a hurricane before reaching the southern Windward islands Saturday

At
0800 EDT, the storm was 580 miles east of the southern Windward Islands moving westerly at 15 mph and producing maximum sustained wind speeds of 60 mph
The
storm will pass through the southern Windward Islands Saturday and move into the eastern Caribbean Sea where it will remain through Monday morning – the storm may weaken or possibly dissipate as it moves toward Central America
Tropical
Storm Hanna was located 285 miles east of Corpus Christi, Texas at 27.1 north, 92.8 west moving west northwesterly at 9 mph and producing maximum sustained wind speeds of 40 mph

Hanna
will likely move inland near Corpus Christi, Texas Saturday
The
storm will bring heavy rain to portions of southern Texas and could raise some crop quality issues to open boll cotton in southern Texas

Flooding
is expected along the lower Texas coast where 3.00 to 8.00 inches and local totals over 10.00 inches will be possible
The
storm will ultimately end up in northeastern Mexico early next week
Southwestern
and some central Canada Prairies crop areas will experience a steady drying trend and warm temperatures over the next week to ten days


Crop
moisture stress will be on the rise
Late
season canola and flax might be impacted with lower yields
Early
season crops will likely be far enough advanced to no be seriously impacted; this includes spring cereals
China's
weather is expected to improve during the next two weeks with no more widespread excessive rain events expected

Some
localized areas of heavy rain will be possible with local flooding, but most of the nation's damaging weather is over and an assessment of the losses will be made as flood water recedes


Recent
flooding in China has damaged many crops, but assessing the losses has not yet been done because flooding is still under way in many areas
Northern
China crops are in mostly good condition, although some flooding recently occurred in Henan and Shandong that might have induced some damage in low-lying areas
Xinjiang,
China continues cooler than usual and degree day accumulations are falling below average

Weather
conditions will remain unsettled and a little cooler biased for a while
Showers
will stay near the mountains
Northeastern
Xinjiang cotton areas will see daily highs in the upper 70s and 80s for a while and lows in the 50s and 60s
Other
cotton areas in the province will see daily highs in the middle 80s through the middle 90s with lows in the 60s
Warming
is needed, but not likely for the next ten days
India's
monsoon continues to perform mostly very well, but recent rain has become lighter than usual

Rainfall
in the central and north has been a little light recently and greater rain is needed especially in Rajasthan

August
will be a better month for rainfall in the far northwest

Total
rainfall this summer is expected to be slightly greater than usual, but some of that is predicated upon developing La Nina conditions in late August and September
Rain
has been well enough distributed in recent weeks to support very good crop conditions in most of the nation
Southern
Pakistan has not had much rain so far this summer, but improved rainfall is expected next month
Mainland
areas of Southeast Asia have been getting enough rain to support crops, but the monsoon has been lackluster recently and greater rain is needed to begin improving long term soil moisture and water supply

Portions
of western Thailand and Vietnam have been reporting the lightest rainfall relative to normal and a boost in rain is needed

The
erratic rainfall is expected to continue for a little while longer, but August should bring greater precipitation
Philippines,
Indonesia and Malaysia rainfall has also been a little erratic recently, but like the mainland areas of Southeast Asia crop conditions are mostly rated well with little immediate change likely
Eastern
Australia will receive rain today and Saturday in New South Wales and southeastern Queensland to improve topsoil moisture and support establishing winter crops

Lingering
showers are expected into early next week
Other
areas in Australia will see little rain over the next ten days except near the coasts, but winter crops have stablished relatively well this year

Rain
is still needed in South Australia and more will be needed in Queensland, but the outlook leading into spring is still looking much better than that of the past couple of years
Argentina
has received some welcome rain in parts of Buenos Aires and La Pampa over the past two days improving wheat conditions

Cordoba
is unlikely to get much rain of significance and it produces 20-23% of the total wheat crop

Cordoba
has been quite dry since the planting season began and a cut in production has already occurred and more will be possible if dryness prevails much longer

Other
crop areas in Argentina have had timely rainfall to support wheat and barley, although this week's rain was a little disappointing in parts of Santa Fe which has also been experiencing some dryness
Drier
weather will be returning to Argentina this weekend and it may last ten days leaving the dry areas without much hope for change
Southern
Brazil's soil conditions and weather will continue plenty moist for a while

Winter
crop conditions are mostly good in Rio Grande do Sul and areas north into Parana, but Sao Paulo and a few other areas have been quite dry recently
Summer
crop harvest progress has been good
Conditions
for early season corn planting are looking favorable, but timely rain will need to continue in August to ensure early crops are successful
Harvest
weather in center west and center south Brazil for Safrinha crops has been and will continue to be good
U.S.
weather is expected to remain favorable over the next ten days, despite an erratic distribution of rain

No
extreme heat is expected
Showers
will continue periodically
The
second week of the outlook will trend a little drier, but the models are likely to fall back into a classic mid-summer weather pattern of periodic showers and thunderstorms and warm temperatures in weeks 2 and 3

This
pattern usually leads to net drying which is not unusual for August
Pockets
of dryness will evolve and some new crop stress will be possible, but much of this is going to occur in August and not in this next ten days – no widespread serious moisture shortage is expected through the second week of August

Corn
pollination and early season soybean blooming will continue to advance well in this environment
West
Texas received some scattered showers and thunderstorms this week with a few more expected today and possibly into the weekend before drier weather evolves for a little while

Some
additional shower activity is possible late next week and into the following weekend, but it may be less significant than that of this week
Most
of the daily rainfall expected through the weekend and that which occurs late next week will be erratic and not great enough to seriously change soil moisture, but it will help put a little moisture in the air and supplement some irrigation

Many
areas will still be dry

No
extreme heat is expected for at least the next ten days

Daily
highs in the 90s will occur often with a few readings near 100 during the weekend and through mid-week next week
U.S.
Delta is one of the drier areas in the U.S. crop region with central parts of the region driest

Showers
will occur periodically over the next couple of weeks resulting in some relief in the driest areas, but more rain may still be needed
U.S.
southeastern states are seeing enough rain to maintain mostly good crop conditions, but very warm temperatures are accelerating drying rates between rain events

Daily
highs in the 90s will prevail for the next week temperatures will be warmest next week
Far
northwestern U.S. Plains will struggle for big soakings of rain over the next couple of weeks and net drying is expected

Temperatures
will also be quite warm at times
U.S.
Pacific Northwest rainfall will be minimal over the next two weeks
California
and the Great Basin will be dry and warm for a while
Drying
will continue from portions of central and eastern Ukraine through a part of Russia's Southern Region to Kazakhstan

Dryness
has been eased recently in northeastern Ukraine and a little more rain may fall next week after a period of drying
France
remains too dry and parts of the United Kingdom, Belgium, Netherlands and northwestern Germany also need rain

These
areas will not get much moisture, but there will be a few showers coming up briefly this weekend and next week

Germany,
the U.K., Belgium and Netherlands may get enough rain for temporary crop improvements in a few areas next week
Portions
of the southernmost Balkan Countries in southeastern Europe need greater rain to improve dryland crops


Scattered
showers will occur during the coming week to ten days
No
rain is expected in the southern Balkans or from eastern Ukraine into western Kazakhstan
Ontario
and Quebec, Canada have some pockets of dryness, but most crops in the two provinces are still developing relatively well

Any
missed rain could lead to greater crop stress and a close watch on the situation is warranted
South
Africa weather over the next couple of weeks will include limited rainfall and temperatures will trend a little warmer over time.

West-central
Africa will receive periods of rain over the next couple of weeks maintaining a favorable environment for coffee, cocoa, cotton, rice and sugarcane

Greater
rain is needed in Ivory Coast and Ghana where rainfall so far this month has been notably lighter than usual
Russia's
New Lands will receive some cooler temperatures and scattered showers during the coming week to ten days resulting in better soil and crop conditions after recent dry and warm weather

Not
all areas will get adequate relief and will need additional rain

About
30% of the spring wheat and sunseed areas will get relief
All
other areas will need significant rain
Northeastern
Mexico will continue very dry and warm to hot over the next two weeks

Scattered
showers and thunderstorms are likely elsewhere with rainfall mostly near to above average

Improving
soil moisture in many areas will lead to better crop development potential
Central
America rainfall will be well mixed over the next ten days with rain falling in most areas, although amounts may be a little lighter than usual in Honduras

New
Zealand rainfall over the next couple of weeks will be erratic and most often light with temperatures being near to below average

Southern
Oscillation Index was +4.18 this morning and the index will rise additionally this week
ICE
Futures Europe weekly commitments of traders report, 1:30pm (6:30pm London)
CFTC
commitments of traders weekly report on positions for various U.S. futures and options, 3:30pm
U.S.
Cattle on Feed, Poultry Slaughter, 3pm
FranceAgriMer
weekly update on crop conditions
Brazil
Unica cane crush, sugar production (tentative)
HOLIDAY:
Japan
SATURDAY,
July 25:
AmSpec
to release Malaysia's palm oil export data for July 1-25
China's
3rd batch of June trade data, incl. country breakdowns for energy and commodities (tentative)
MONDAY,
July 27:
USDA
weekly corn, soybean, wheat export inspections, 11am
U.S.
crop conditions for soybeans, corn, cotton; winter wheat progress, 4pm
MARS
crop bulletin – monthly report on crop conditions in Europe
International
Sugar Organization webinar on China's market
EU
weekly grain, oilseed import and export data
Indonesia
palm oil export tax for August to be announced sometime during the week
Ivory
Coast cocoa arrivals
HOLIDAY:
Thailand
TUESDAY,
July 28:
EARNINGS:
Minerva
HOLIDAY:
Thailand
WEDNESDAY,
July 29:
EIA
U.S. weekly ethanol inventories, production, 10:30am
Vietnam's
General Statistics Office releases data on exports of coffee, rice and rubber
THURSDAY,
July 30:
USDA
weekly crop net-export sales for corn, soybeans, wheat, cotton, pork, beef, 8:30am
Port
of Rouen data on French grain exports
The
Australian Grains Industry Conference (online event)
Poland
to publish grain harvest estimates
FRIDAY,
July 31:
ICE
Futures Europe weekly commitments of traders report, 1:30pm (6:30pm London)
CFTC
commitments of traders weekly report on positions for various U.S. futures and options, 3:30pm
FranceAgriMer
weekly update on crop conditions
Malaysia's
palm oil export data for July 1-31 (tentative)
U.S.
agricultural prices paid, received, 3pm
HOLIDAY:
Singapore, Indonesia, Malaysia
Source:
Bloomberg and FI
Traditional
fund estimates were off this week for soybeans rather than corn (last couple weeks way off estimates).

SUPPLEMENTAL
Non-Comm Indexes Comm

Net Chg Net Chg Net Chg
Corn
-164,993 6,564 308,516 -3,311 -100,543 994
Soybeans
39,084 3,730 170,514 1,961 -205,838 -2,156
Soyoil
22,981 32,689 87,144 -1,938 -121,257 -34,750
CBOT
wheat -19,561 1,152 126,311 2,160 -84,792 151
KCBT
wheat -27,413 4,403 53,969 645 -30,144 -5,716
=================================================================================
FUTURES
+ OPTS Managed Swaps Producer

Net Chg Net Chg Net Chg
Corn
-137,770 -4,146 205,993 1,669 -95,337 348
Soybeans
75,809 9,834 121,879 -1,654 -211,073 825
Soymeal
-29,178 1,273 76,777 3,681 -90,865 -3,641
Soyoil
36,897 26,699 85,067 -3,027 -142,535 -31,734
CBOT
wheat 474 8,800 87,934 -5,128 -80,837 4,869
KCBT
wheat -18,159 5,407 45,822 1,873 -28,136 -7,161
MGEX
wheat -20,653 -2,127 2,070 -208 12,229 1,130

———- ———- ———- ———- ———- ———-
Total
wheat -38,338 12,080 135,826 -3,463 -96,744 -1,162
Live
cattle 29,673 7,995 84,48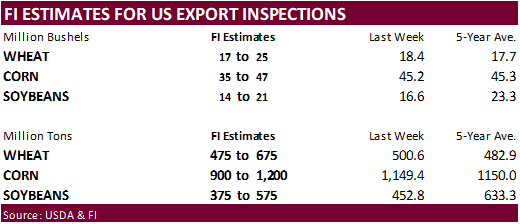 US
New Home Sales Change Jun: 776K (est 700K; prev R 682K)
–
New Home Sales (M/M) Jun: 13.8% (est 3.6%; prev R 19.4%)
–
Median Sale Price (USD) May: 329.2K (prev 317.9K), +5.6% From June 2019
<![if !supportLists]>·
<![endif]>China imported 3.66 million tons of corn from January to June, 51% of its annual quota. Wheat imports were 3.35 million tons, 35% of its yearly quota at 9.64 million tons.

<![if !supportLists]>·
<![endif]>December corn support is seen at $3.2725 and resistance at $3.4650.

<![if !supportLists]>·
<![endif]>Mexico corn imports so far through June are running 5 percent higher than year ago at 7.73 million tons, with US comprising 7.5 million tons. So much for the SA/Mexico deal worked out under trade
tensions. Mexico benefits the most importing from the US, and the US imports by products Mexico produces such as tortillas and HFCS. Mexico is a large consumer of white corn.

<![if !supportLists]>·
<![endif]>We see Brazil's 2020-21 (2021-22 local) corn area could expanding 0.5-1.5 percent.

Corn
Export Developments
Syria
seeks 50,000 tons of soybean meal and 50,000 tons of corn on Aug 25 for delivery within four months of contract signing.