PDF Attached
Set aside China/US tensions, and supply and demand took hold over the US soybean complex. Meal premiums were up in Argentina and China continued to buy US soybeans. As a result, meal and soybeans ended higher and soybean oil was under pressure from product spreading, despite a strong close in Malaysian palm oil futures. Corn ended higher following soybean meal amid rising feed demand in China. Wheat was lower as global trade demand eased. USDA export sales for new crop corn and soybeans were very good. Meal sales were poor, soybean oil ok, and wheat topped expectations.
July 2020 versus July 2019 USDA sales announcements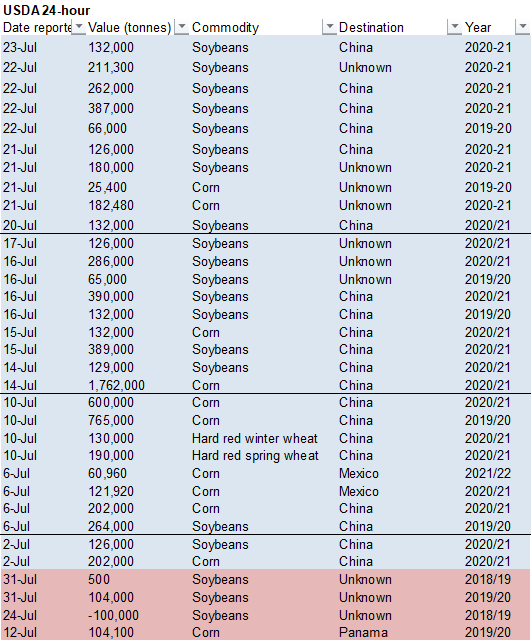 7 Day Precipitation Outlook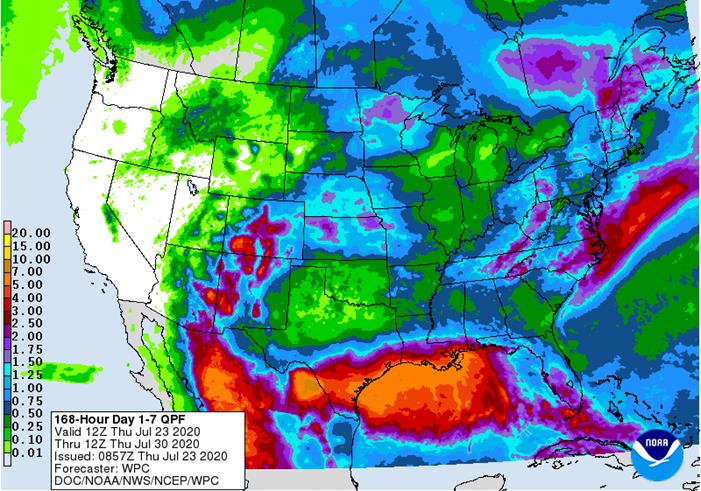 No change in the general theme of weather was suggested today. A weak ridge of high pressure will build over the Midwest during the next few days and then breakdown as we move into next week. The ridge will then center itself over the western United States resulting in a northwesterly flow pattern aloft that will bring weak weather disturbances periodically through the Midwest and northern Plains. These disturbances will continue to generate erratic rainfall across the Midwest periodically during the next two weeks and some areas will get moderate rain while many other areas will not get very much and will have a tendency to slowly dry down. Showers and thunderstorms are still possible in many areas, but the majority of the precipitation will be light and with seasonably warm temperatures prevailing evaporation will take much of the moisture away within a relatively short period of time.
Tropical Depression Eight in the Gulf of Mexico will dominate the Gulf of Mexico over the next couple of days and will probably not be a great enough storm to have a big impact on air circulation over the central Gulf of Mexico Coast states. However, it will attempt to reduce rainfall. Tropical Storm Gonzalo is also too small of a storm and too far away from North America to have any influence on the U.S. weather. However, some of the forecast models have suggested other tropical weather disturbances may evolve or move into either the Gulf of Mexico or the southwestern Atlantic Ocean in the first week of August and these features may contribute to a decreasing influx of moisture into the heart of the Midwest for a little while which may help to contribute to a net drying environment. That may leave the southwest U.S. monsoon flow as the primary source of moisture for Midwestern storms and rainfall during weeks 2 and 3 of the forecast. If the high pressure ridge stays out into the western U.S. for a while or even over the high Plains region it may inhibit some of the monsoon moisture from getting into the Midwest as abundantly as desired and that too could limit rainfall. World Weather, Inc. is not implying a hot, dry scenario for key Midwestern crop areas, but we do believe a net drying environment may dominate a larger part of the production region as we move into weeks 2 and 3 for the reasons noted above.
EUROPE/BLACK SEA REGION
No general weather changes were noted across the European continent for the next ten days based on the latest model runs

Portions of France will get some rain, but central and western parts of the nation will likely stay quite dry
Some relief from dryness may impact a part of the U.K., Belgium, Netherland and Germany from a couple of waves of moisture one occurring this weekend and the other early to mid-week next week

Eastern Ukraine and areas east into Kazakhstan and parts of Russia's Southern Region will continue quite dry and warm through the next ten days
RUSSIA NEW LANDS
Rain is expected to fall in the Ural Mountains region over the next few days with some heavy rain possible between north-central Kazakhstan and the heart of the Ural Mountains
Lighter and more sporadic rain will impact the remaining central New Lands while Siberia and other eastern New Lands' crop areas will get some periodic rain

Concern about the central New Lands dryness will continue
World Weather, Inc. sees about 30% of the dry region getting some relief, but the remainder of the region will remain in need of greater rain
CHINA
Additional heavy rain fell in Shandong and Henan Wednesday resulting in some new flooding in key grain and oilseed areas

Rainfall of 5.00 to 10.00 inches occurred from southern Shaanxi and northeastern Sichuan to northern Jiangsu and southern Shandong with local totals of 12.00 to 19.76 inches; some crop damage might have resulted

China's weather will continue active over the next week with frequent rain expected in much of the nation

The best environment for crops will be north of the Yellow River and throughout the northeastern provinces where a good mix of rain and sunshine is expected
Some bouts of locally heavy rain will occur in east-central and southeastern China, but not broad-based area of severe flooding is expected

Net drying may impact the Yangtze River Basin and interior southeastern parts of China during the first week of August
Crop damage in Henan and Shandong has likely occurred, but it not nearly as widespread as that of the Yangtze River Basin earlier this month. Drier weather in east-central and southeastern China in the first week of August will be welcome, but much of the crop damage in those areas cannot be reversed. Most of northern China will continue to experience favorable crop conditions; including some very important corn, soybean, spring wheat and sugarbeet production areas
AUSTRALIA
No significant changes were suggested for the next ten days

The nation's greatest rain will occur Friday and Saturday in parts of New South Wales and southeastern Queensland and where some short term benefit will occur to some wheat, barley and canola areas
Net drying is expected in many other areas for a while, although coastal showers are expected

Some increase in shower activity will occur in southern Australia during the first days of August, but no general soaking is expected

Victoria and southwestern Western Australia will be wettest
Winter crop conditions will remain good, but there will be an ongoing need for more moisture especially in Queensland and South Australia where soil conditions are driest.
SOUTH AMERICA
No significant changes were noted overnight

Argentina's southern and eastern areas will get a little more rain today into Friday
Far southern Brazil will be wettest over the next couple of week
Drought will continue in Cordoba, Argentina
Source: World Weather Inc. and FI
USDA export sales were near to above expectations for new-crop corn and soybean sales. Old crop corn and soybeans were near the lower end of expectations. Soybean meal sales were disappointing while soybean oil were ok. Wheat sales topped expectations. Sorghum sales were 77,200 tons, up slightly from the previous week. Pork sales were 31,800 tons, down 17 percent from the previous week.

US Initial Jobless Claims Jul 18 1.416 Mln (est 1.300 Mln; prevR 1.307 Mln; prev 1.300 Mln)
-US Continuing Claims Jul 11 16.197Mln (est 17.100 Mln; prevR 17.304 Mln; prev 17.338 Mln)
<![if !supportLists]>· <![endif]>December corn support is seen at $3.2725 and resistance at $3.4650.
<![if !supportLists]>· <![endif]>China sold nearly 4 million tons of corn at auction at an average price of 2,017 yuan per ton. Nearly 40 million tons of corn has been released from reserves! We understand why USDA added a line in their global balance sheets to show world less China stocks. What are true Chinese corn stocks? We estimate less well less than USDA's 194 million tons projected for the end of 2020-21. Note we included an updated China corn S&D and have imports exceeding 7.2 million tons for the 2020-21 crop year. Our theory is China will increase import requirements for 2021 to compensate for a potential record animal unit number for the 2021 calendar year.
Corn Export Developments
Syria seeks 50,000 tons of soybean meal and 50,000 tons of corn on Aug 25 for delivery within four months of contract signing.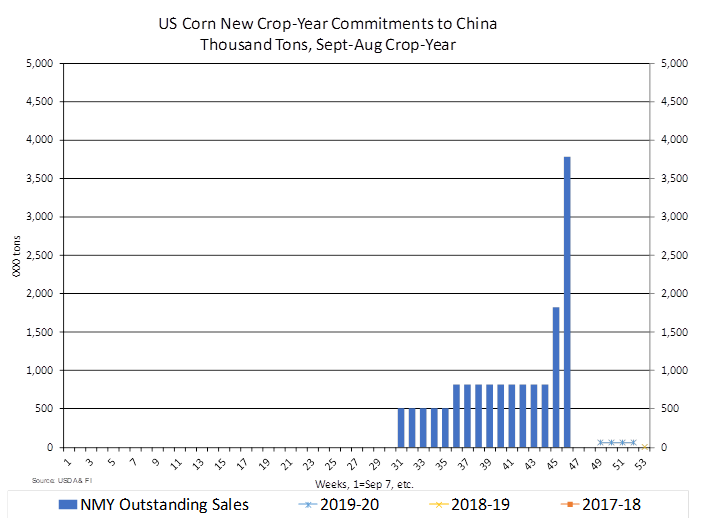 September corn is seen in a $3.15 and $3.40 range over the short term. December lows could reach $3.10.