PDF Attached
Other
than rice and nearby Minneapolis wheat, CBOT agriculture commodities traded lower as weather models indicated improving conditions for the US WCB and north of the US border. Northern and western Alberta will see rain fall periodically. Northern Saskatchewan
and parts of Manitoba will also get some showers. For the US, models suggest a cooler than expected August. Following the hot temperatures over the next week, rain will develop across the WCB and upper Great Plains around the end of this month. There are
still issues across other parts of the world, most notably China flooding, which in turn could increase their already large appetite for imported grains. USDA export sales were poor, IMO, except for all-wheat.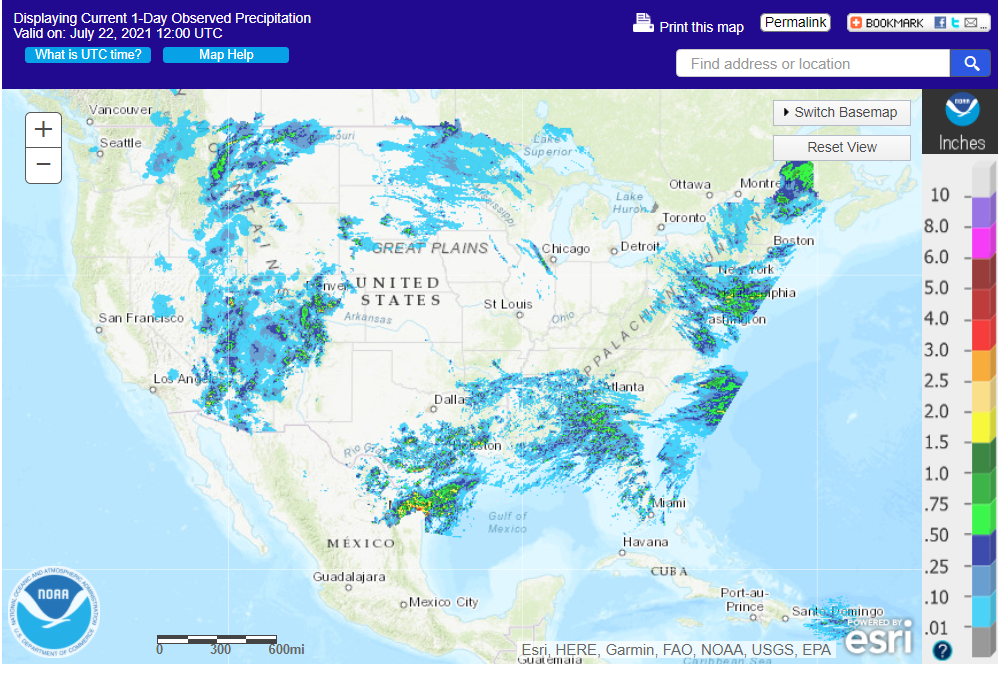 Day
1
Day
2
7-day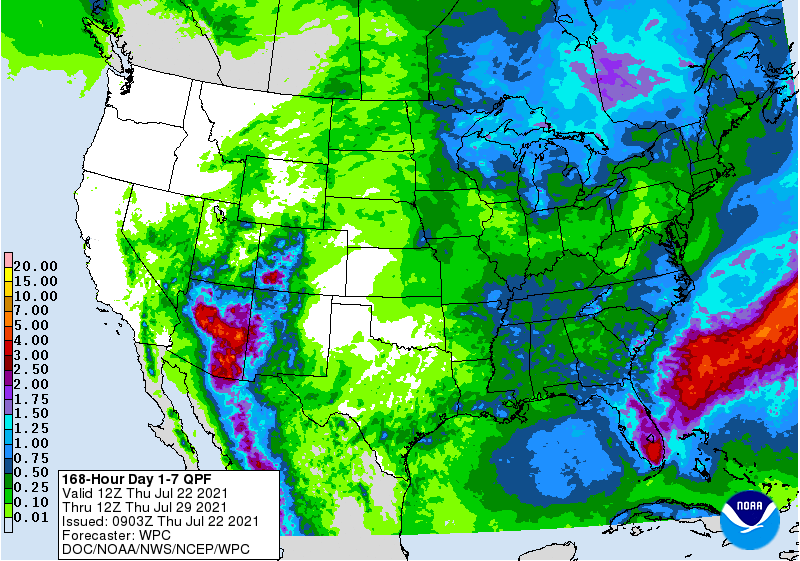 WORLD
WEATHER INC.
MOST
IMPORTANT WEATHER OF THE DAY
Another
day of torrential rain and serious flooding occurred from central and eastern Henan into Hebei, China Wednesday.


Another
30.00 inches of rain fell in northeastern Henan Wednesday after a similar amount occurred Tuesday in north-central parts of the province

Rain
totals in the past six days have reached 40-45 inches across these north-central and northeastern Henan locations resulting in horrific flooding

World
Weather, Inc. estimates 91,000 square miles of China crop land may be in flood because of this week's excessive rain in Hebei and Henan alone

Permanent
crop damage is suspected in a part of this region

Typhoon
In-Fa is still expected to bring torrential rain, flooding and damaging wind to Zhejiang, China this weekend

Rainfall
of 10.00 to 20.00 inches will result in serious flooding with a potential impact on rice and many other crops


Western
Guangdong China reported over 10.00 inches of rain Wednesday from Tropical Depression Cempaka

Flooding
was most significant near the coast and may have impacted a small part of the province's rice

Cempaka
will move through the northeastern Gulf of Tonka later today and then turn to the east and pass through Hainan, China

Most
of the storm's intensive rain will drift off into Vietnam limiting the impact on Hainan

U.S.
forecast models are too wet in the western Corn Belt during the first week of August today

A
cool northwesterly flow pattern is expected to evolve aloft, but the frontal boundary and waves of rain advertised in that first week of the month is way overboard and future model runs will have to trend a little drier

Some
rain is expected when the cool air comes into the Midwest, but the amounts advertised are too great and occur too often in the western crop areas

U.S.
outlook in this first week of the outlook is warm and dry in the western Corn Belt with some hot temperatures in the Plains

The
environment will dry down the topsoil and raise some crop and livestock stress, but if the second week outlook trends cooler and wetter as suggested today there might not be much impact from this first week of warm and dry conditions
Confidence
is high that cooling will take place in August, but the changes to wet and cool weather today are overdone

Texas
weather will be mostly good for all summer crops

Restricted
rain and warmer temperatures will slowly firm up the soil and stimulate more aggressive crop development in those areas with abundant soil moisture
Dry
weather in South Texas after Friday will be good for early cotton maturation and the start of harvesting

U.S.
far western states will continue dry biased through the next ten days with warm temperatures, but no oppressive heat
Monsoon
moisture in the southern Rocky Mountain region and Arizona will be frequent and significant enough to improve soil moisture and induce a little runoff

Crop
conditions will steadily improve in Arizona because of expected rainfall

Portions
of Canada's Prairies will continue to suffer from ongoing dryness

Central,
northern and western Alberta will experience the most significant rainfall during the next ten days translating into improving crop development
Temperatures
are not quite as oppressively hot in Canada as they have been in the past and that is slowing the decline in crop conditions, but the trend remains

Southeast
Canada's corn, soybean and wheat conditions are rated favorably and weather conditions during the next two weeks will be favorably mixed
Brazil
weather Wednesday and early today produced no more threatening cold and conditions were dry

A
new bout of cooling is expected late next week and into the following weekend, but confidence over another wave of crop damaging cold is low for sugarcane, citrus and coffee areas
Wheat
production areas in southern Brazil could be negatively impacted

Brazil
will see some periodic rain in the south during the next ten days
Argentina
weather will be mostly dry over the next ten days

Some
winter wheat would welcome rain especially in the west, but crop conditions are much better than last year at this time
Crops
are mostly semi-dormant right now
No
meaningful precipitation fell during the weekend

Europe
is taking a break from frequent rain that occurred from eastern France to Poland last week and during the weekend

The
drier weather is needed
Too
much rain too often delayed small grain maturation and harvest progress and reduced crop quality

Some
winter oilseed conditions may have also been compromised

Rain
will return to Europe from France to Poland this weekend and next week possibly delaying fieldwork and returning concern over unharvested winter crop quality
Russia's
Southern New Lands and northwestern Kazakhstan will receive rain over the next two days

The
moisture will be good for developing crops and should reduce heat and moisture stress that has evolved recently

More
rain will be needed soon, though

Net
drying will continue in northwestern Russia for a while possibly resulting in a little crop moisture stress for the driest areas

Rain
may improve in these areas next week

Some
net drying is expected in central Ukraine and parts of southwestern Russia over the coming ten days, despite some shower activity

A
few areas may become a little too dry and crop stress may increase

Rain
will be needed soon to protect production potentials

Southwestern
Xinjiang, China was unusually cool again Wednesday due to rain

High
temperatures were in the 80s and lower 90s northeast and only in the upper 60s and 70s in the far west

Rainfall
in the far west ranged up to 1.57 inches with as much as 2.75 inches at one location.

Warming
and drier weather will occur over the next week

Xinjiang
degree day accumulations continue behind normal

Warming
is needed and expected along with drier weather

India
rainfall over the next two weeks will slowly increase bringing rain to most of the nation and improve crop and field conditions over time


There
is some concern over net drying in the far south and extreme northwest, but most other areas will receive sufficient rain to bolster soil moisture and support improving crop development and long term moisture supply

Ivory
Coast and Ghana rainfall will be restricted over the next couple of weeks

Seasonal
rainfall should return normally in September, but August rainfall will be lighter than usual

Other
areas in West Africa will see a better distribution of rain
East-central
Africa rainfall will continue favorable for coffee and cocoa, although some areas in Uganda and Kenya may receive less than usual rainfall

Ethiopia
rainfall is expected to continue improving after a slow start to the rainy season

Southern
Oscillation Index has reached back about +14.43 and it is expected to remain strongly positive this week while slowly leveling off after a strong rising trend since June 22 when the index was -3.36
Southeast
Asia rainfall recently and that which is expected in the next two weeks will continue somewhat erratic


Laos,
Cambodia and northern Philippines will see the greatest rainfall
Southern
Sumatra and Java, Indonesia may experience less than usual rainfall for a while
Thailand
will also experience less than usual rainfall in pockets, although there has been some beneficial moisture recently

Australia
weather this month has been ideal for improving winter wheat, barley and canola establishment in much of the nation

Some
additional rain is still needed in South Australia, northwestern Victoria and from western New South Wales to Queensland

South
Africa has been cold during the past week with waves of rain in the southwest

Weekend
rainfall was still cool, but rain ended in many areas
The
moisture has been good for future wheat development
Dryness
remains in some of the unirrigated eastern wheat production areas
Some
warming is expected over the coming week, but the precipitation anomalies will prevail

Mexico
weather has improved with increased rainfall in the south and west parts of the nation

Drought
conditions are waning and crops are performing better
Dryness
remains in Chihuahua and northeastern parts of the nation
Weather
over the next ten days will offer some relief, but more rain will be needed in the drier areas

Central
America rainfall has been plentiful and will remain that way except in Honduras where recent rainfall has been lighter and more sporadic than usual

Nicaragua
has received frequent bouts of rain this month easing long term dryness, but more may be needed in some locations

New
Zealand rainfall during the coming week will be near to above normal in North Island and western portions of South Island while below average in eastern South Island

Temperatures
will be seasonable
Source:
World Weather Inc.
Bloomberg
Ag Calendar
Thursday,
July 22:
USDA
weekly crop net-export sales for corn, soybeans, wheat, cotton, pork, beef, 8:30am
USDA
to release world supply-demand outlook for orange and its juice
Port
of Rouen data on French grain exports
USDA
total milk, red meat production
U.S.
cold storage data – pork, beef, poultry
HOLIDAY:
Japan
Friday,
July 23:
ICE
Futures Europe weekly commitments of traders report (6:30pm London)
CFTC
commitments of traders weekly report on positions for various U.S. futures and options, 3:30pm
FranceAgriMer
weekly update on crop conditions
U.S.
cattle on feed, poultry slaughter, cattle inventory
HOLIDAY:
Japan
Source:
Bloomberg and FI
USDA
Export Sales
USDA
export sales were poor for corn, soybean meal (marketing year low) and soybean oil. Soybeans were on the low side of expectations and wheat was within. The report is viewed negative for the soybean complex and corn. Pork sales were ok at 24,500 tons and
included 10k for Mexico. There were 52,200 tons of sorghum sales, for Japan and Mexico.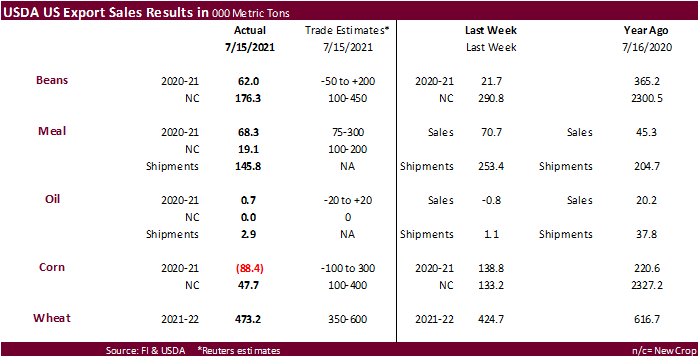 73
Counterparties Take $898.197 Bln At Fed's Fixed-Rate Reverse Repo (prev $886.206 Bln, 71 Bidders)
US
Initial Jobless Claims Jul 17: 419K (est 350K; prevR 368K; prev 360K)
US
Continuing Claims Jul 10: 3236K (est 3100K; prevR 3265K; prev 3241K)
US
Existing Home Sales Change Jun: 5.86M (est 5.90M; prev 5.80M)
–
Existing Home Sales (M/M) Jun: 1.4% (est 1.7%; prev -0.9%)
–
Inventory Of Homes For Sale Jun: 1.25 Mln Units, 2.6 Month's Worth (prev 1.23 Mln Units, 2.5 Months)
–
National Median Home Price For Existing Homes Jun: 363.3K, +23.4% (prev $350,300, +23.6%From May 2020)
US
EIA Natural Gas Storage Change (BCF) 16-Jul: +49 (est +43; prev +49)
–
Salt Dome Cavern Natural Gas Storage Change (BCF): -4 (prev -3)
US
NatGas Rises To $4, First Time Since December 2018