PDF Attached
USDA announced 7-8 soybean cargoes were sold to China and 3-4 cargoes to unknown. China/US trade tensions are back in focus as the US ordered China to close its Houston consulate.
7 Day Precipitation Outlook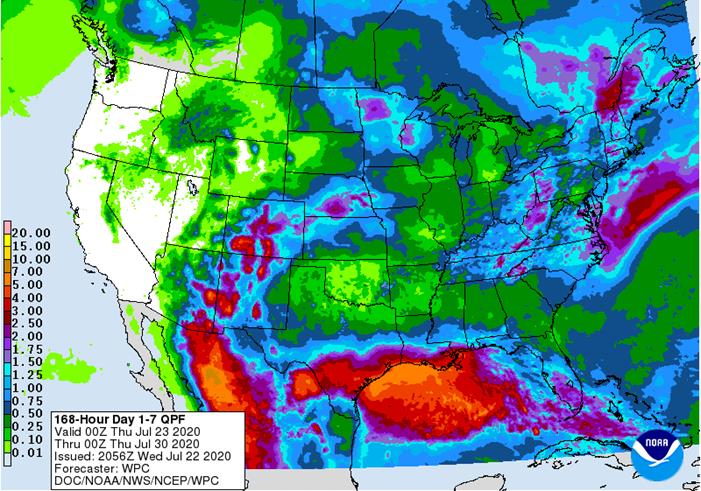 UNITED STATES
Good model agreement is present today for the U.S. two-week outlook. Ridge building will occur late this week and into the weekend over the Plains and Midwest resulting in warmer temperatures, higher humidity and limited precipitation for a while. A cool airmass will then come from Canada and break down the ridge and bring some relief from oppressive heat and humidity during the weekend . The relief will bring some rain initially and then cooler and drier air for a little while. Some of the models suggest a reinforcing shot of cool air in the second week of the outlook with a little rain occurring as it moves through the Midwest. The monsoon flow will continue to feed some moisture into these weather systems and there will be some rain. The GFS Ensemble and is still the preferred model for the second week of the outlook with a mean position over the high Plains region and weak northwesterly air flow aloft through the northern and eastern Midwest. This will continue to generate some periodic rain and keep temperatures from being oppressively warm in weeks 2 and 3 of the outlook, but the rain amounts expected during that time will often be a little light resulting in some net drying.
Crop conditions should stay mostly good except for a few pockets during the coming ten days. The drier bias in weeks 2 and 3 will not be absolute or widespread, but the combination of typical mid-summer warmth and erratic showers and thunderstorms will lead to net drying in many areas and a close watch will be needed to catch the areas trending too dry before they become a problem. Corn and soybean development is still expected to advance normally over the next two weeks with the exception of a few areas that dry out more than others.
EUROPE/BLACK SEA
Not much change occurred in the first week of the outlook, although some showers were returned by the GFS model to eastern Ukraine early next week
Rain was increased in a part of central and eastern Europe for late next week

Some of the increase was needed

A boost in rain was noted for far western Russia, Belarus and the Baltic States August 1-3, but some of the rain was a little overdone
GFS reduced storminess moving into northwestern Europe August 4-5 removing much of the precipitation advertised previously
France gets a little rain in the next two weeks, but amounts are still far too light to seriously ease long term dryness. Rain will be a little more significant this weekend into next week in parts of the U.K., Belgium, Netherlands and Germany where improved topsoil moisture is expected for a little while. Net drying is also expected to continue from central and eastern Ukraine into Kazakhstan; including a part of Russia's Southern Region during the next two weeks.
RUSSIA NEW LANDS
Not much change was noted in the first ten days of the outlook today

Southwestern parts of the Ural Mountains region will get significant rain over the balance of this week while lighter showers occur in other Central New Lands' locations during the weekend and next week

Partial relief from dryness is expected in some areas

The biggest change in the second week was increased rainfall over the Ural Mountain region August 1-3

Some of this increase was overdone
The bottom line will bring some improved soil conditions to the Ural Mountains region in the central New Lands over the balance of this week with limited rainfall to the northeast. The combination of rain and cooler temperatures will improve sunseed and spring wheat in a part of the driest region, but the greatest rainfall will not be uniform leaving need for additional rain in some areas. World Weather, Inc. is still anticipating the return of a high-pressure ridge to the region in August, but as long as significant rain falls before that event crops will have an opportunity for improvement.
CHINA
Additional heavy rain fell Tuesday from southern Shaanxi through the heart of Henan and into northern Anhui where 2.50 to more than 8.00 inches resulted in some flooding

Henan is a very important agricultural province and flooding might have damage a few crops, but the impact should not have been nearly as serious there as it has been farther to the south in recent weeks

Tuesday's heavy rain will shift to Shandong and northern Jiangsu today with similar amounts expected
Waves of locally heavy rain will then occur in the Yangtze River Basin through the balance of this week and the weekend
Most of the coming ten days will bring alternating periods of rain and sunshine to areas north of the Yellow River and throughout the northeastern provinces supporting mostly good crop development

Rain will be more frequent and more abundant in the remainder of China with local flooding periodically, but the worst of the flooding that has occurred this year should be over; crop conditions are unlikely to improve in the areas most impacted by this year's floods, however

Northern China was advertised wetter in the August 1-5 period which will eliminate dryness that is present in a few areas today

Some of the heavier rainfall may have been exaggerated
AUSTRALIA
No bit changes were suggested through day ten

Rain will fall Friday and Saturday in New South Wales and southeastern Queensland with lingering showers into early next week
Most other areas will experience showers mostly near the coast with net drying in interior parts of the nation

06z GFS model run reduced rain in Western Australia August 5-6

This change was needed, but the solution is still not correct
Australia's winter crops will remain in good shape and will be poised for a good start of more aggressive development in the early spring as long as timely rainfall continues. There is still a dryness concern for parts of Queensland and South Australia and many other areas could dry down quickly if there is not some kind of routine occurrence of rainfall in August.
SOUTH AMERICA
No changes were noted through the coming ten days

Cordoba will miss out on this week's rain event that is under way now
Beneficial moisture will occur in Buenos Aires and parts of La Pampa and some welcome showers will occur in Entre Rios and Santa Fe by Friday
Net drying is expected this weekend through most of next week

The next best chance for rain will evolve August 3-5 and it is expected to favor southern parts of the nation one again with little opportunity for significant rain in Cordoba
Source: World Weather Inc. and FI
EIA U.S. weekly ethanol inventories, production, 10:30am
U.S. cold storage – pork, beef, poultry, 3pm
Thai Rice Exporters Association's briefing on rice export outlook in 2H
THURSDAY, July 23:
USDA weekly crop net-export sales for corn, soybeans, wheat, cotton, pork, beef, 8:30am
China trade data, including cotton, corn, wheat and sugar imports
International Grains Council monthly report
Port of Rouen data on French grain exports
USDA red meat production, 3pm
HOLIDAY: Japan
FRIDAY, July 24:
ICE Futures Europe weekly commitments of traders report, 1:30pm (6:30pm London)
CFTC commitments of traders weekly report on positions for various U.S. futures and options, 3:30pm
U.S. Cattle on Feed, Poultry Slaughter, 3pm
FranceAgriMer weekly update on crop conditions
Brazil Unica cane crush, sugar production (tentative)
HOLIDAY: Japan
SATURDAY, July 25:
AmSpec to release Malaysia's palm oil export data for July 1-25
China's 3rd batch of June trade data, incl. country breakdowns for energy and commodities (tentative)
Canadian CPI NSA (M/M) Jun: 0.8% (exp 0.4%; prev 0.3%)
– CPI (Y/Y) Jun: 0.7% (exp 0.2%; prev -0.4%)
– CPI Core Median (Y/Y) Jun: 1.9% (exp 1.8%; prev 1.9%)
– CPI Core Common (Y/Y) Jun: 1.5% (exp 1.4%; prev 1.4%)
– CPI Core Trim (Y/Y) Jun: 1.8% (exp 1.6%; prev 1.7%)
US DoE Crude Oil Inventories (W/W) 17-Jul: 4892K (est -2200K; prev -7493K)
– DoE Distillate Inventories (W/W): 1074K (est 500K; prev -453K)
– DoE Cushing OK Crude Inventories (W/W): 1375K (prev 949K)
– DoE Gasoline Inventories (W/W): -1802K (est -1500K; prev -3147K)
– DoE Refinery Utilization (W/W): -0.2% (est 0.5%; prev 0.6%)
Monthly Cattle on Feed Report Estimates – due on Friday at 2 p.m. CDT (1900 GMT).
All figures, except headcount, for feedlots with 1,000-plus head of cattle shown as percentage vs year ago:
| | | | |
| --- | --- | --- | --- |
| | Range | Average | Mln head |
| On feed July 1 | 99.1-100.7 | 100.0 | 11.480 |
| Placements in June | 100.1-107.9 | 103.8 | 1.815 |
| Marketings in June | 98.8-103.1 | 101.0 | 1.962 |
| Source: Refinitiv and FI | | | |
<![if !supportLists]>· <![endif]>December corn support is seen at $3.2725.
GFS morning model shows good rains over the next week for the majority of the central and upper Midwest. The 11-15 day looked good and will benefit soybeans more so than corn.
Traders will be eyeing the USDA Drought Monitor tomorrow morning as corn enters the pollination period and are looking for expansion of drought in the Corn Belt.
South American corn basis is firm. Sep through Dec positions are anywhere from 60 to 100 over.
<![if !supportLists]>· <![endif]>China plans to auction off another 10,000 tons of frozen pork on July 23.
<![if !supportLists]>· <![endif]>China may auction off rice and wheat stocks to animal end users after corn prices appreciated 20 percent this year, according to a Reuters story. Up to 10 million tons of rice may be sold during the program.
Corn Export Developments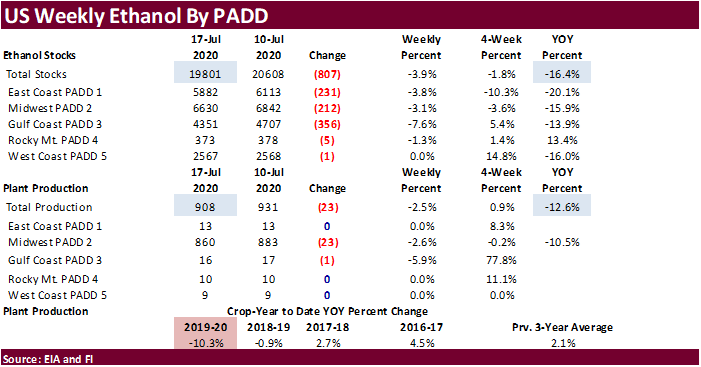 <![if !vml]>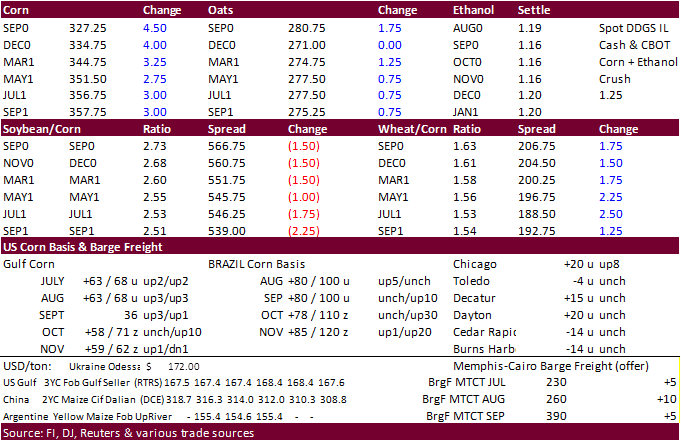 <![endif]>
Updated 7/20/20
September corn is seen in a $3.15 and $3.40 range over the short term. December lows could reach $3.10.
Brazil's July soybean exports are expected to reach 8.8 million tons based on shipping line-up data, up from 6 million tons in the same month a year ago, according to grain exporter association Anec.
Council of Palm Oil Producing Countries (CPOPC) warned a La Nina weather pattern bringing wetter-than-normal weather to Indonesia and Malaysia could also adversely affect crop production and harvesting (Reuters). Indonesia's 2020 crude palm oil production could end up 1-2 million tons below last year's 44 million tons. Malaysia is expected to drop 4.3% to 19 million tons.
SGS: July 1-20 palm shipments fell 10.5 percent to 1.089MMT.
<![if !supportLists]>· <![endif]>China plans to sell 61,100 tons of soybeans from reserves on Friday, according to Bloomberg. Separately, 54,000 tons, we read via AgriCensus, will be included for auction consisting of 2017 and 2018 imported soybeans. They noted around 3 million tons could be auctioned.
<![if !supportLists]>· <![endif]>Argentina grain exporters are objecting to China's request to guarantee the grain imported is Covid-19 free.
Under the 24-hour announcement system, private exporters reported:

Export sales of 453,000 metric tons of soybeans for delivery to China. Of the total, 66,000 metric tons is for delivery during the 2019/2020 marketing year and 387,000 metric tons is for delivery during the 2020/2021 marketing year; and
Export sales of 262,000 metric tons of soybeans received in the reporting period for delivery to China during the 2020/2021 marketing year; and
Export sales of 211,300 metric tons of soybeans for delivery to unknown destinations during the 2020/2021 marketing year.
<![if !vml]>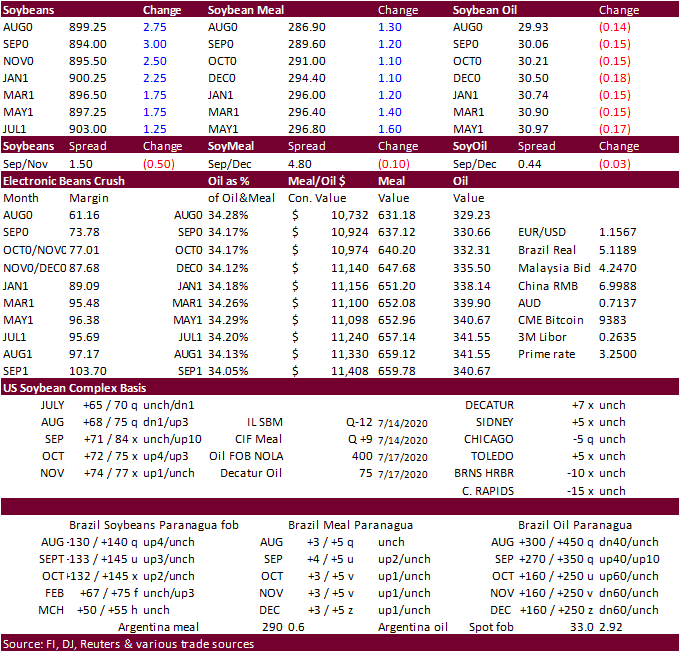 <![endif]>
August soybeans are seen in a $8.75-$9.22 range.
August soybean meal is seen in a $285 to $315 range.
August soybean oil range is seen in a 28.50 to 31.00 range over the short term
US wheat prices closed higher on a lower USD and technical buying. Wheat also was underpinned by strength in corn and soybeans.
September wheat did break above the 200-day late in the session but was unable to close above it.
Funds were net buyers of 6,000 wheat contracts on the session.
December Paris milling wheat settled up 0.25 euro at 185.00 euro/mt.
Russia's Agriculture Ministry raised the estimate of wheat plantings by 1.2% to 29.1 million hectares.
Taiwan bought 98,230 tons of US wheat for Sep/Oct shipment.
Pakistan bought at least 300,000 tons of wheat from the Black Sea region at as low as $219.50/ton for Aug/Sep shipment.
Syria looks to sell and export 100,000 tons of feed barley with offers by Sep 1.

Japan in an SBS import tender passed on 80,000 tons of feed wheat and 100,000 tons of barley for arrival by December 24.
Jordan seeks 120,000 tons of wheat on July 29.
Thailand passed on 192,600 tons of feed wheat and 98,000 tons of Australian feed barley. Lowest offers were heard at $235/ton for wheat. Shipment was for October-December shipment for wheat and December and February shipment for barley.
The Philippines passed 110,000 tons of feed wheat for Nov/Dec shipment.
Ethiopia postponed an import tender for 400,000 tons of wheat to July 24 from July 20.

Syria seeks 200,000 tons of milling wheat from Russia by July 28.
<![if !supportLists]>· <![endif]>China may auction off rice and wheat stocks to animal end users after corn prices appreciated 20 percent this year, according to a Reuters story. Up to 10 million tons of rice may be sold during the program.
<![if !vml]>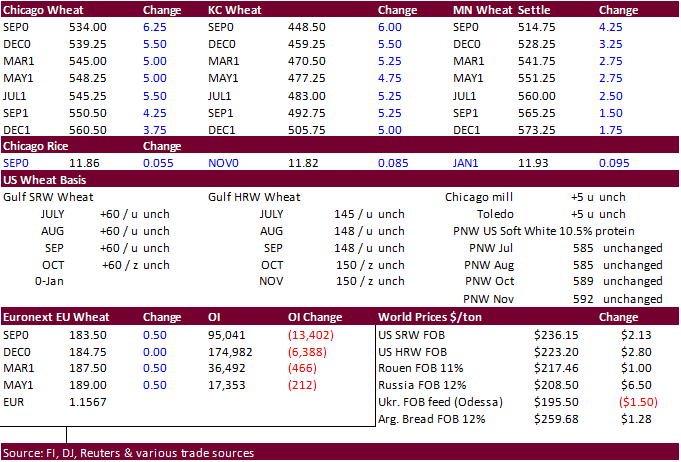 <![endif]>
Updated 7/20/20
Chicago September is seen in a $5.00-$5.50 range.
KC September; $4.25-$4.50 range.
MN September $4.80-$5.20 range.
Terry Reilly
Senior Commodity Analyst – Grain and Oilseeds
Futures International │190 S LaSalle St., Suite 410│Chicago, IL 60603
W: 312.604.1366
AIM: fi_treilly
ICE IM: treilly1
Skype: fi.treilly

Trading of futures, options, swaps and other derivatives is risky and is not suitable for all persons. All of these investment products are leveraged, and you can lose more than your initial deposit. Each investment product is offered only to and from jurisdictions where solicitation and sale are lawful, and in accordance with applicable laws and regulations in such jurisdiction. The information provided here should not be relied upon as a substitute for independent research before making your investment decisions. Futures International, LLC is merely providing this information for your general information and the information does not take into account any particular individual's investment objectives, financial situation, or needs. All investors should obtain advice based on their unique situation before making any investment decision. The contents of this communication and any attachments are for informational purposes only and under no circumstances should they be construed as an offer to buy or sell, or a solicitation to buy or sell any future, option, swap or other derivative. The sources for the information and any opinions in this communication are believed to be reliable, but Futures International, LLC does not warrant or guarantee the accuracy of such information or opinions. Futures International, LLC and its principals and employees may take positions different from any positions described in this communication. Past results are not necessarily indicative of future results.