PDF Attached
Higher
trade on unfavorable US weather with exception to Minneapolis wheat from profit taking.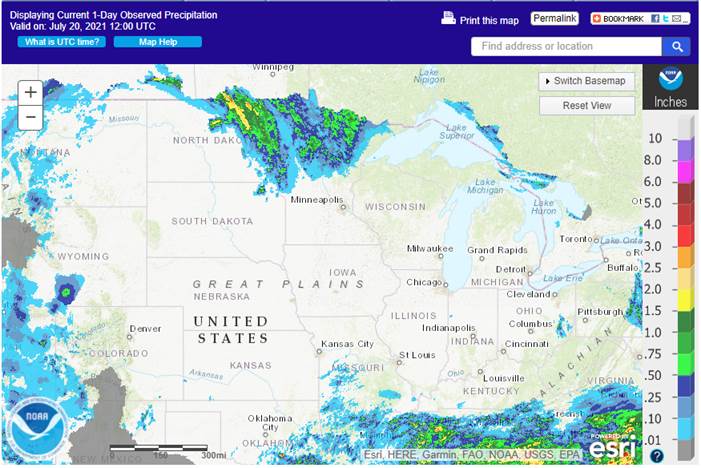 WORLD
WEATHER INC.
MOST
IMPORTANT WEATHER OF THE DAY
Frost
and freezes occurred again overnight in southern Brazil damaging wheat and coffee and impacting a few citrus and sugarcane areas
<![if !supportLists]>o
<![endif]>Temperatures were colder than those of Monday morning
Extreme
lows in coffee areas dropped to 25 Fahrenheit or -4C with most readings in the 28 to 35 degree (-2 to +2) range

Frost
was widespread in Sul de Minas and likely impacted many crops

Extreme
lows in wheat areas ranged from 16 to 32 Fahrenheit or -9 to 0C

Wheat
in the booting and heading stage may have been damaged, but this has not been confirmed since it is unclear how far along the crop is


Sugarcane
and citrus areas only experienced some frost and were probably not seriously impacted, although an assessment will be forthcoming over the next week

Tropical
Storm Cempaka was very near the Guangdong coast near Yangjiang nearly located 140 miles southwest of Hong Kong northwesterly very slowly
<![if !supportLists]>o
<![endif]>The storm will eventually move inland over Guangdong, China today and heavy rain from the storm is expected through at least Thursday resulting in some flood damage to rice and personal property
<![if !supportLists]>o
<![endif]>The storm will also impact southeastern Guangxi before moving into the Gulf of Tonkin and then turning southeastward toward Hainan, China Friday into the weekend
Typhoon
In-Fa was located 438 miles east southeast of Taipei, Taiwan moving northwesterly at 3 mph and producing maximum sustained wind speeds of 74 mph.

<![if !supportLists]>o
<![endif]>In-Fa will continue to intensify and will pass to the immediate north of Taipei, Taiwan Friday
Heavy
rain and flooding along with some strong wind speeds may impact northern parts of the island as it turns northward and moves toward Zhejiang, China

A
close watch on the storm is warranted because of the potential for devastating floods and wind

<![if !supportLists]>o
<![endif]>Landfall will ultimately end up over Zhejiang, China this weekend at which time torrential rainfall is possible along with very strong wind speeds
Damage
to crops and property are expected, although the details of that will be known later this week as the storm moves closer to land

Net
drying is expected in the U.S. Plains, Canada's Prairies and the western U.S. Corn Belt during much of the coming ten days to two weeks

<![if !supportLists]>o
<![endif]>Totally dry weather is not expected, but temperatures will be warm enough to evaporate most of the precipitation shortly after it falls
Temperatures
will be above normal in the western and northern U.S. and Canada's Prairies during much of the next ten days
Periodic
showers and thunderstorms will occur in the U.S. eastern Midwest and southeastern states
Less
rain is expected in the U.S. Delta during the next two weeks than in the past two weeks and that will be a welcome change after too much rain has occurred recently in some areas
A
good mix of weather is expected in the U.S. southeastern states over the next two weeks
Texas
weather will be good for most crops; warming is expected to occur gradually in West Texas which is needed after recent milder than usual weather
Western
and northern Alberta, Canada will receive rain frequently in the next two weeks helping to maintain a good environment for crop development
Recent
cooling in the Canada's Prairies has helped to reduce stress to summer crops, but rain is still needed in southern and east-central Alberta, much of Saskatchewan and much of Manitoba
Interior
southern Manitoba, Canada will receive some needed rain tonight and early Wednesday easing dryness that extends back to mid-June
<![if !supportLists]>o
<![endif]>A few east-central and interior southeastern Saskatchewan locations will also get some rain from this same event
Ontario
and Quebec weather will be very good for developing corn and soybeans and mostly good for its wheat crop as well
Europe
is taking a break from frequent rain that occurred from eastern France to Poland last week and during the weekend
<![if !supportLists]>o
<![endif]>The drier weather is needed
<![if !supportLists]>o
<![endif]>Too much rain too often delayed small grain maturation and harvest progress and reduced crop quality
Some
winter oilseed conditions may have also been compromised

Rain
will return to Europe from France to Poland this weekend and next week possibly delaying fieldwork and returning concern over unharvested winter crop quality
Russia's
Southern New Lands and northwestern Kazakhstan were advertised a little wetter in today's forecasts for later this week
<![if !supportLists]>o
<![endif]>The moisture will be good for developing crops and should reduce heat and moisture stress that has evolved recently
More
rain will be needed soon, though

Net
drying will continue in northwestern Russia for a while possibly resulting in a little crop moisture stress for the driest areas
China
continues excessively wet in many areas and needs to dry out for a while
<![if !supportLists]>o
<![endif]>Heavy rain occurred overnight in the central Yellow River Basin and that precipitation will move east into Shanxi, Hebei and part of Shandong today and early Wednesday before abating
<![if !supportLists]>o
<![endif]>A break from excessive rain should occur in most other areas over the next week with the exception of two tropical cyclones that will impact the south
Typhoon
In-Fa will produce excessive wind and torrential rain along with serious flooding in Taiwan late this week

<![if !supportLists]>o
<![endif]>Damage to rice and sugarcane is possible
<![if !supportLists]>o
<![endif]>The storm will also bring heavy rain and flooding to Zhejiang, southern Jiangsu, southeastern Anhui and northeastern Fujian late this week and into the weekend
Tropical
Storm Cempaka will producing heavy rain in southern Guangdong and southern Guangxi, China over the next few days
<![if !supportLists]>o
<![endif]>Some flooding is expected
Xinjiang,
China was unusually mild to cool Monday
<![if !supportLists]>o
<![endif]>High temperatures were in the 80s northeast and only in the 70s southwest
<![if !supportLists]>o
<![endif]>Much of the cool weather was due to rain in the southwest where up to 1.00 inch of moisture was noted
Xinjiang
degree day accumulations continue behind normal
<![if !supportLists]>o
<![endif]>Warming is needed and expected along with drier weather
Tropical
Storm Felicia and Topical Depression Guillermo were in the eastern Pacific Ocean and both were moving away from Mexico and expected to remain south of Hawaii
<![if !supportLists]>o
<![endif]>No land impact is expected from either of these storms
India
rainfall over the next two weeks will slowly increase bringing rain to most of the nation and improve crop and field conditions over time

<![if !supportLists]>o
<![endif]>There is some concern over net drying in the far south and extreme northwest, but most other areas will receive sufficient rain to bolster soil moisture and support improving crop development and long term moisture supply
Brazil
will see some periodic rain in the south during the next ten days
Argentina
weather will be mostly dry over the next ten days
<![if !supportLists]>o
<![endif]>Some winter wheat would welcome rain especially in the west, but crop conditions are much better than last year at this time
<![if !supportLists]>o
<![endif]>Crops are mostly semi-dormant right now
<![if !supportLists]>o
<![endif]>No meaningful precipitation fell during the weekend
Ivory
Coast and Ghana rainfall will be restricted over the next couple of weeks
<![if !supportLists]>o
<![endif]>Seasonal rainfall should return normally in September, but August rainfall will be lighter than usual
Other
areas in West Africa will see a better distribution of rain
East-central
Africa rainfall will continue favorable for coffee and cocoa, although some areas in Uganda and Kenya may receive less than usual rainfall
<![if !supportLists]>o
<![endif]>Ethiopia rainfall is expected to continue improving after a slow start to the rainy season
Southern
Oscillation Index has reached back about +13.16 and it is expected to remain strongly positive this week while slowly leveling off after a strong rising trend since June 22 when the index was -3.36
Southeast
Asia rainfall recently and that which is expected in the next two weeks will continue somewhat erratic

<![if !supportLists]>o
<![endif]>Laos, Cambodia and Philippines will see the greatest rainfall
<![if !supportLists]>o
<![endif]>Sumatra and Java, Indonesia and Peninsular Malaysia may experience less than usual rainfall for a while
<![if !supportLists]>o
<![endif]>Thailand will also experience less than usual rainfall, although there has been some beneficial moisture recently
Australia
weather in the first half of July has been ideal for improving winter wheat, barley and canola establishment in much of the nation
<![if !supportLists]>o
<![endif]>Some additional rain is still needed in South Australia, northwestern Victoria and from western New South Wales to western crop areas of Queensland
South
Africa has been cold during the past week with waves of rain in the southwest
<![if !supportLists]>o
<![endif]>Weekend rainfall was still cool, but rain ended in many areas
<![if !supportLists]>o
<![endif]>The moisture has been good for future wheat development
<![if !supportLists]>o
<![endif]>Dryness remains in some of the unirrigated eastern wheat production areas

<![if !supportLists]>o
<![endif]>Some warming is expected over the coming week, but the precipitation anomalies will prevail
Mexico
weather has improved with increased rainfall in the south and west parts of the nation
<![if !supportLists]>o
<![endif]>Drought conditions are waning and crops are performing better
<![if !supportLists]>o
<![endif]>Dryness remains in Chihuahua and northeastern parts of the nation
<![if !supportLists]>o
<![endif]>Weather over the next ten days will offer some relief, but more rain will be needed in the drier areas
Central
America rainfall has been plentiful and will remain that way except in Honduras where recent rainfall has been lighter and more sporadic than usual
<![if !supportLists]>o
<![endif]>Nicaragua has received frequent bouts of rain this month easing long term dryness, but more may be needed in some locations
New
Zealand rainfall during the coming week will be near to above normal in North Island and western portions of South Island while below average in eastern South Island
<![if !supportLists]>o
<![endif]>Temperatures will be seasonable
Source:
World Weather Inc.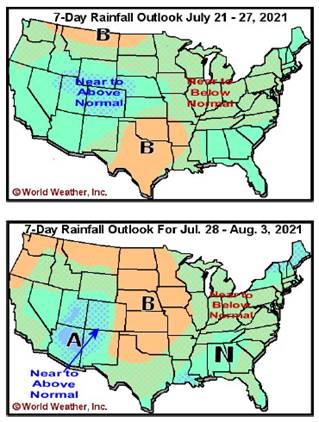 Bloomberg
Ag Calendar
Tuesday,
July 20:
China
customs to publish by-country breakdown for imports of farm goods including soy
New
Zealand global dairy trade auction
EU
weekly grain, oilseed import and export data
HOLIDAY:
Malaysia, Indonesia, Singapore
Wednesday,
July 21:
EIA
weekly U.S. ethanol inventories, production
Malaysia
July 1-20 palm oil export data
HOLIDAY:
India
Thursday,
July 22:
USDA
weekly crop net-export sales for corn, soybeans, wheat, cotton, pork, beef, 8:30am
USDA
to release world supply-demand outlook for orange and its juice
Port
of Rouen data on French grain exports
USDA
total milk, red meat production
U.S.
cold storage data – pork, beef, poultry
HOLIDAY:
Japan
Friday,
July 23:
ICE
Futures Europe weekly commitments of traders report (6:30pm London)
CFTC
commitments of traders weekly report on positions for various U.S. futures and options, 3:30pm
FranceAgriMer
weekly update on crop conditions
U.S.
cattle on feed, poultry slaughter, cattle inventory
HOLIDAY:
Japan
Source:
Bloomberg and FI
75
Counterparties Take $848.102 Bln At Fed's Fixed-Rate Reverse Repo (prev $860.468 Bln, 71 Bidders)
US
Housing Starts Jun: 1643K (est 1590K; prevR 1546K; prev 1572K)
US
Building Permits Jun: 1598K (est 1696K; prevR 1683K; prev 1681K)
US
Housing Starts (M/M) Jun: 6.3% (est 1.2%; prev 3.6%)
US
Building Permits (M/M) Jun: -5.1% (est 0.7%; prevR -2.9%; prev -3.0%)
Canadian
Teranet/National Bank HPI (Y/Y) Jun: 16.0% (prev 13.7%)
Canadian
Ternaet/National Bank HPI (M/M) Jun: 2.7% (prev 2.8%)
US
Philly Fed Non-Manufacturing Regional Business Activity Index Jul: 53.1 (prev 59.6)
Corn
futures traded higher on an unfavorable US weather forecast calling for dry weather across the WCB and upper Great Plains. Parts of MN and ND did see a little rain over the past day, but a good soaking is needed over at least the next 10 days to stabilize/improve
conditions. Crops west of the ND valley are suffering from excessive dryness and obviously rain is needed. Corn also rallied after US corn conditions missed trade expectations. Ukraine continues to see crop stress.

December
corn settled 13.50 cents higher at $5.6575 per bushel. September was a little firmer by 15.75 cents.

Although
the September contract did gain on December, this spread remains tight in part to new-crop corn coming online soon. Producers in the far southern Delta are about to start harvesting and conditions look good.

Export
developments were quiet.
US
weather through Thursday will be dry in the west coast states, the Pacific Northwest, the northern and central Plains or much of the Midwest. Temperatures will be above normal in the northern Plains where Montana will reach 110 Fahrenheit. U.S. Midwest
rainfall (0.3-2.00) will increase Friday through Sunday from central and eastern Minnesota, Wisconsin and parts of Michigan to the Ohio River Valley.

US
corn conditions were unchanged but on a weighted basis improved slightly. We lifted out August yield by a tenth of a percent to 177.9 bu/ac. The IL rating for corn improved 5 points and soybeans were up 4 points.

The
European Union granted imports licenses for 176,000 tons of corn imports, bringing cumulative 2020-21 imports to 461,000, 176 percent above same period year ago.

Bloomberg
survey for Cattle on Feed: On feed down 1% to 11.319 million, marketings up 2.2% and placements down 6%.

China
has had 11 African Swine Fever outbreaks so far this year but had culled only 2,216 pigs. We don't think this is an alarm due to the small number of pigs culled, but the problem still lingers. China's herd of 439 million pigs at the end of June was 99.4%
of the level at the end of 2017, with sow herd at 45.64 million head, 102% of the level at end of 2017 – head of development and planning under the ministry. (Reuters)
China
may have seen crop damage from recent heavy rains and local flooding, including the two dams that collapsed. China will continue to see heavy rains in many areas. Latest heavy rain fell across the central Yellow River Basin. Today Shanxi, Hebei and part
of Shandong should have seen rain.
US
generated 1.27 billion ethanal RINs in June, versus 1.26 billion in May.
A
Bloomberg poll looks for weekly US ethanol production to be up 1,000 barrels (1035-1060 range) from the previous week and stocks up 243,000 barrels to 32.377 million.

A
Reuters exclusive suggested the White House delayed proposing biofuel mandates due to political concerns, according to two sources. But we already know the
proposal is past due and that the White House is working with industry professionals to draw up the proposal. Meanwhile the
final say by the EPA is due out sometime in November or early January, before US budget passes.

There
is a US bill out there to repeal the ethanol mandate.
https://www.feinstein.senate.gov/public/index.cfm/press-releases?ID=DE10D313-360D-47B0-9EEF-C4DE32999222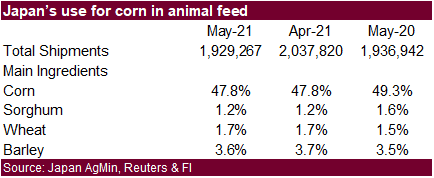 U
of I article on real dollar corn and soybean costs
Zwilling,
B. "How High Are Current Prices and Costs?." farmdoc daily (11):107, Department of Agricultural and Consumer Economics, University of Illinois at Urbana-Champaign, July 16, 2021.
https://farmdocdaily.illinois.edu/2021/07/how-high-are-current-prices-and-costs.html?utm_source=rss&utm_medium=rss&utm_campaign=how-high-are-current-prices-and-costs

Export
developments.