PDF Attached
US
corn and spring wheat crop conditions were unchanged. Soybean conditions increased one point. Soybean meal traded two-sided, ending higher, soybeans higher and soybean oil mixed. Corn and wheat fell on favorable weather. Egypt is in for wheat. USDA announced
132,000 tons of soybeans to China. Taiwan seeks US wheat and Saudi Arabia bought barley.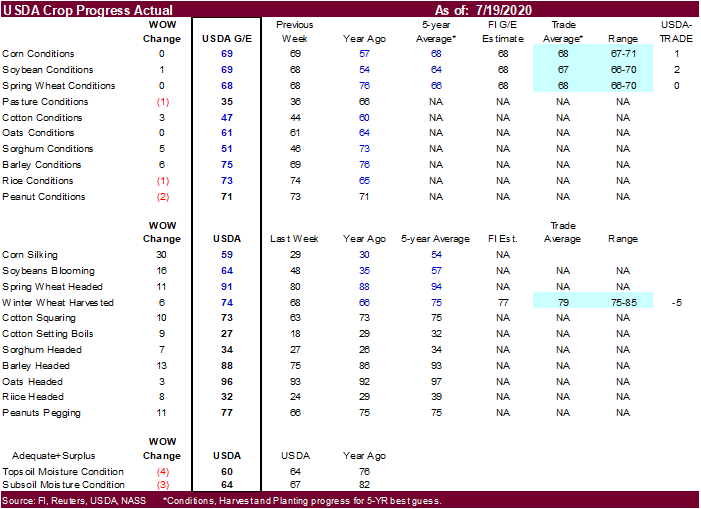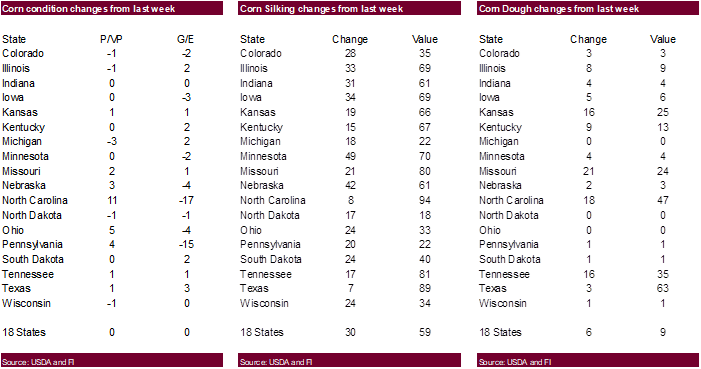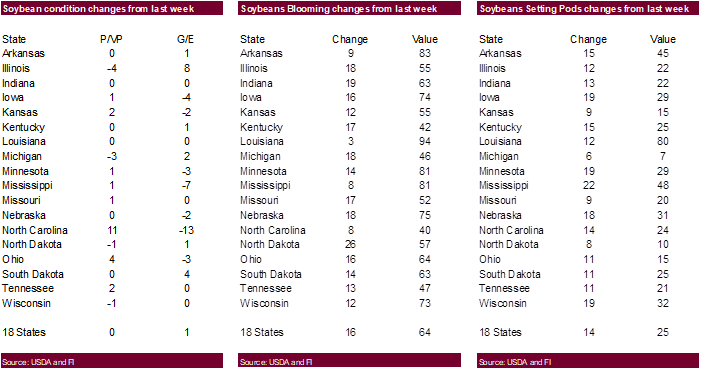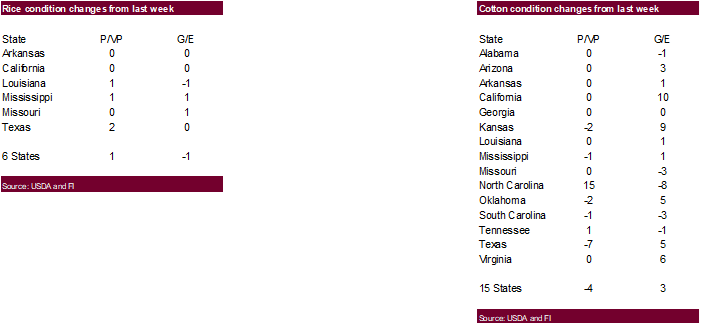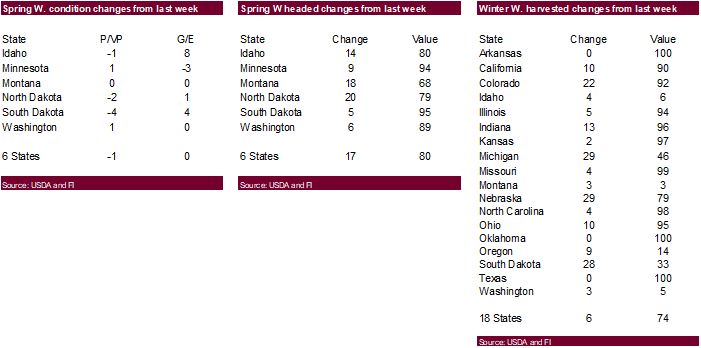 7
Days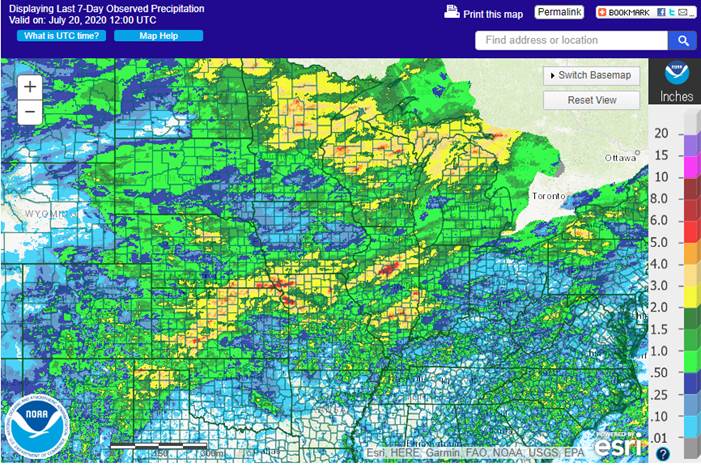 UNITED
STATES
U.S.
crop weather continues to be mostly good, but parts of Iowa have been too dry in the past couple of weeks along with portions of Ohio, eastern Indiana, central Illinois, central Missouri and in a number of other random locations
The
northern Delta has also been rather dry recently along with much of Texas and southwestern Oklahoma (excluding the Texas Panhandle
Today's
GFS and European forecast model runs are agreeing that rain will concentrate on two areas this week; the first is from North Dakota to Wisconsin and upper Michigan and the other will occur from Nebraska into southern Illinois and parts of far southern Indiana
and immediate neighboring areas

These
areas get rainfall varying from 1.50 to more than 4.00 inches over the next ten days with areas in between these regions getting 0.50 to 1.50 inches

Sufficient
rain still occurs in a large enough part of the Midwest to support corn pollination and soybean development even though there will be some pockets of dryness
Both
models provide some relief to dryness in Iowa and Ohio and Indiana so that moisture stress is kept from getting so extreme that production cuts become a big concern

Another
period of warm and humid weather with restricted rainfall is expected briefly during the end of this week and over the weekend, but it will be followed by another cool front and another opportunity for rain early next week and then another brief bout of drier
and warmer weather

The
environment will not be ideal, but supportive of summer crop development
The
overall bottom line remains generally favorable for key U.S. corn and soybean production areas in the Midwest. Rain in the Delta stays somewhat limited while the southeastern states experience a favorable mix of rain and sunshine. A tropical wave still moves
across the Gulf of Mexico this week bringing greater rain to southern Louisiana and the upper half of the Texas coast late this week before spreading some of that moisture into other parts of Texas. The GFS model run suggests some showers in West Texas from
this tropical wave during the weekend while the European model keeps the moisture too far to the south. The GFS solution is most likely and World Weather, Inc. anticipates at least some rain during the weekend from this event. Monsoonal moisture slowly increases
in the southern Rocky Mountain region as time moves along this month. Temperatures will be warmest during the Friday through Sunday period and again late next week, but sufficient cooling is expected after each event to provide some relief for crops.

EUROPE/BLACK
SEA
A
boost in rainfall was suggested this morning by the GFS model run this morning for much of western Europe


Some
of the increase in rainfall is expected to verify, although the European model has not bought into the potential for Rain in France, but has increased rain in parts of the U.S. and Germany

Weather
next week trends drier again in western Europe, although a few showers occur in the U.K. at times

GFS
model keeps eastern Ukraine and Russia's Southern region relatively dry over the next ten days to two weeks while the European model has the driest conditions in southern Ukraine and parts of Russia's Southern Region

The
GFS solution seems to be best

Rain
and thunderstorms are scattered in most other areas
The
bottom line does offer some short-term relief in western Europe with some showers in France, Germany, Belgium and the U.K. late this week and into the weekend. No general soaking is expected, but any moisture would be welcome. There will be need for more generalized
rainfall. Dryness in parts of southern and Eastern Ukraine into Kazakhstan and parts of Russia's Southern Region will remain a concern for the next couple of weeks, despite any showers that evolve. Temperatures will be seasonable with a warmer than usual bias
in Spain, Portugal, southern France and parts of the southern Balkan Countries
RUSSIA
NEW LANDS
Some
rain is expected along with cooling temperatures in the New Lands this week

Rainfall
will be greatest in the Ural Mountains region and in West Siberia while rainfall elsewhere is expected to be more restricted
A
break from warm and dry weather is expected in the New Lands over the coming week to ten days with cooler temperatures and at least some rain. A part of the region east of the Ural Mountains will likely get some locally heavy rainfall as suggested by many
of the forecast models, but parts of the New Lands will be missed and a close watch on the precipitation distribution is warranted.

CHINA
Additional
torrential rain fell during the weekend with one location in southwestern Anhui getting almost 28.00 inches for the weekend

Flooding
is most serious in southern and central Anhui, southeastern Henan and a parts of Jiangsu, southeastern Sichuan, Guizhou and northwestern Hunan where rainfall of 5.00 to 10.00 inches was common over saturated soil

Reports
of serious flooding are surfacing along with implied comments of significant crop and property damage

A
good mix of rain and sunshine is expected in northern China over the next couple of weeks, although there will be some pockets of topsoil dryness that will need to be closely monitored
Waves
of heavy rain will continue in east-central and southeastern China over the next two weeks that may induce additional flooding at times, but the excessive rain should not be as great as it has been, but the region will still need to dry out
Most
of northern and far southern China's weather will be favorable for crop development, but flooding in the Yangtze River Basin is serious and the damage to agriculture has been significant, but it may be a while to assess the extent of the loss.

INDIA
Monsoonal
rainfall is expected to impact most of the nation over the next two weeks
Far
western Rajasthan and neighboring southern Pakistan will be slow to get needed rain and those areas will need to be closely monitored
Heavy
rain and flooding is possible in parts of Madhya Pradesh and the Ganges River Basin

AUSTRALIA
Rain
is still expected Thursday and Friday in eastern parts of the nation with sufficient rainfall in northern and central New South Wales and southeastern Queensland to improve winter crop conditions
Limited
rainfall is expected elsewhere over the next ten days
South
America
No
significant change was noted from Sunday's forecasts for rain in southern Argentina Tuesday through Thursday and for the same in southern Brazil late this week and into the weekend

A
second wave of rain was increased in far southern Brazil during the early part of next week

Source:
World Weather Inc. and FI
USDA
weekly corn, soybean, wheat export inspections, 11am
U.S.
crop conditions of soybeans, corn, cotton; winter wheat progress, 4pm
EU
weekly grain, oilseed import and export data
Malaysia's
palm oil export data for July 1-20
Ivory
Coast cocoa arrivals
TUESDAY,
July 21:
USDA
total milk production, 3pm
New
Zealand global dairy trade auction
WEDNESDAY,
July 22:
EIA
U.S. weekly ethanol inventories, production, 10:30am
U.S.
cold storage – pork, beef, poultry, 3pm
Thai
Rice Exporters Association's briefing on rice export outlook in 2H
THURSDAY,
July 23:
USDA
weekly crop net-export sales for corn, soybeans, wheat, cotton, pork, beef, 8:30am
China
trade data, including cotton, corn, wheat and sugar imports
International
Grains Council monthly report
Port
of Rouen data on French grain exports
USDA
red meat production, 3pm
HOLIDAY:
Japan
FRIDAY,
July 24:
ICE
Futures Europe weekly commitments of traders report, 1:30pm (6:30pm London)
CFTC
commitments of traders weekly report on positions for various U.S. futures and options, 3:30pm
U.S.
Cattle on Feed, Poultry Slaughter, 3pm
FranceAgriMer
weekly update on crop conditions
Brazil
Unica cane crush, sugar production (tentative)
HOLIDAY:
Japan
SATURDAY,
July 25:
AmSpec
to release Malaysia's palm oil export data for July 1-25
China's
3rd batch of June trade data, incl. country breakdowns for energy and commodities
(tentative)
Source:
Bloomberg and FI
USDA
inspections versus Reuters trade range

Wheat
500,607 versus 450000-700000 range
Corn
1,149,353 versus 650000-1100000 range
Soybeans
452,811 versus 375000-600000 range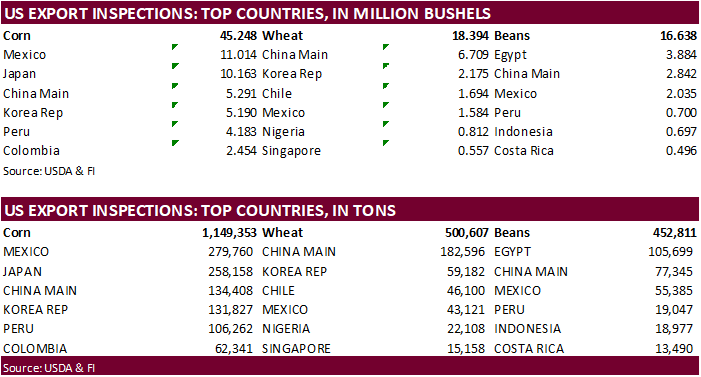 GRAINS
INSPECTED AND/OR WEIGHED FOR EXPORT

REPORTED IN WEEK ENDING JUL 16, 2020

— METRIC TONS —
————————————————————————-

CURRENT PREVIOUS
———–
WEEK ENDING ———- MARKET YEAR MARKET YEAR

GRAIN 07/16/2020 07/09/2020 07/18/2019 TO DATE TO DATE
BARLEY
49 0 0 416 2,007
CORN
1,149,353 917,968 438,544 36,348,023 43,610,204
FLAXSEED
0 24 0 317 24
MIXED
0 0 0 0 0
OATS
100 0 0 500 299
RYE
0 0 0 0 0
SORGHUM
71,965 71,265 61,344 4,211,400 1,831,602
SOYBEANS
452,811 483,331 563,042 38,315,021 39,282,631
SUNFLOWER
0 0 0 0 0
WHEAT
500,607 659,727 447,288 3,575,182 3,408,348
Total
2,174,885 2,132,315 1,510,218 82,450,859 88,135,115
————————————————————————-
CROP
MARKETING YEARS BEGIN JUNE 1 FOR WHEAT, RYE, OATS, BARLEY AND
FLAXSEED;
SEPTEMBER 1 FOR CORN, SORGHUM, SOYBEANS AND SUNFLOWER SEEDS.
INCLUDES
WATERWAY SHIPMENTS TO CANADA.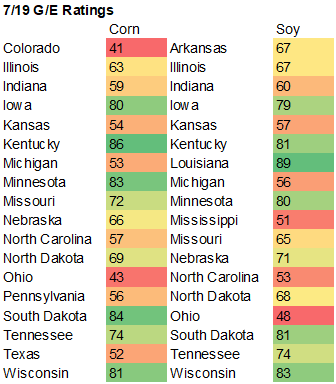 We
think the corn crop is "made" as corm pollination will wrap up soon across the US. 59 percent of the US corn crop was silking as of Sunday. We are using a 177.5 yield and 14.914-billion-bushel crop, 86 million below USDA July.

China
has not bought any US corn since July 10. USDA did report 134,408 tons of corn was shipped for the week ending July 16.

<![if !supportLists]>·
<![endif]>December corn support 3.3050.

<![if !supportLists]>·
<![endif]>University of Illinois: Revisiting Corn Use for Ethanol
https://farmdocdaily.illinois.edu/2020/07/revisiting-corn-use-for-ethanol.html?utm_source=farmdoc+daily+and+Farm+Policy+News+Updates&utm_campaign=40a708d5f6-EMAIL_CAMPAIGN_2018_09_04_04_03_COPY_01&utm_medium=email&utm_term=0_2caf2f9764-40a708d5f6-173649469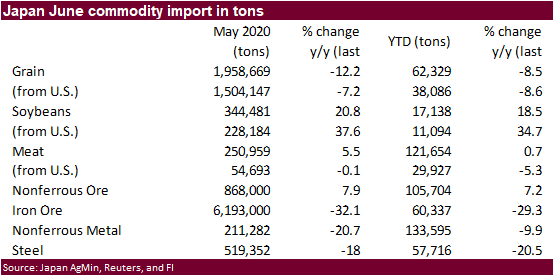 Corn
Export Developments
Saudi
Arabia bought 725,000 tons of barley at an average price of $211.43/ton.
September
corn is seen in a $3.15 and $3.40 range over the short term. December lows could reach $3.10.