PDF Attached
Corn and soybeans traded higher and wheat was mixed. Soybean meal ended lower on heavy soybean oil/meal spreading. Soybean oil was the leader on Friday by gaining 68-75 points.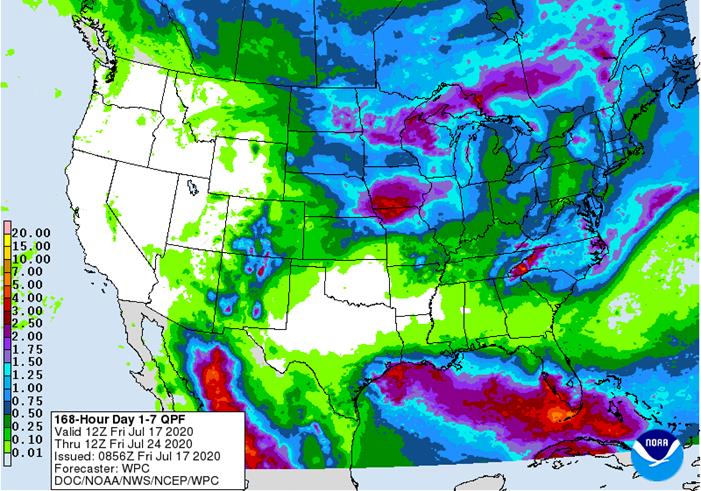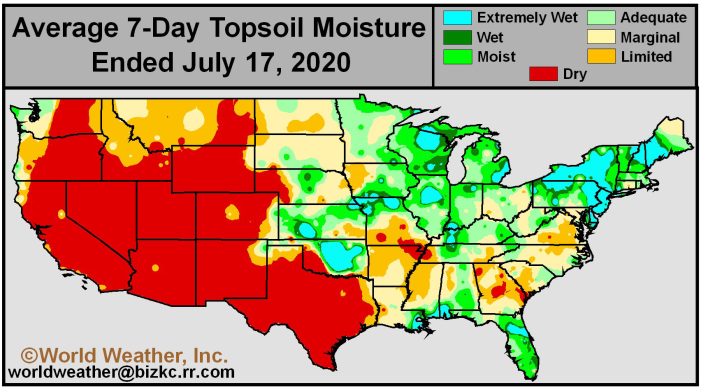 UNITED STATES
Today's GFS model runs bring a tropical wave through the Gulf of Mexico next week that may or may not turn into a tropical cyclone, but its mere presence in the Gulf will help limit Gulf of Mexico moisture from streaming into the U.S. Midwest. That will not stop rain from falling, but it will help to make the greater rain a little more localized
All of the models are presenting rain to portions of the Midwest over the coming week and some of it is advertised to be heavy with portions of Iowa included

The European model suggests a part of southern Minnesota and northern Iowa along with eastern South Dakota may be missed by rain again
Precipitation in parts of Michigan, northeastern Indiana and northern Ohio is advertised to be light by the European model, as well
GFS moisture is being painted with a broad brush once again and caution is advised to not be surprised a week from now when the precipitation has not been as uniform as the GFS suggests

Texas may benefit from the possible tropical cyclone next week with landfall at the end of next week

Some of this moisture is poised to reach West Texas and that could help to generate some much needed moisture in many parts of Texas and also help keep the temperatures down too

GFS week two rainfall scattered erratically across key U.S. crop areas with some areas getting more rain than others, but the potential for rain periodically remains
GFS suggests improved monsoon flow will occur through the Rocky Mountains to the northern Plains as the month draws to a close

This was increased on the 06z model run relative to the previous model run
The bottom line is still hard to get very excited about problems in key U.S. crop areas during the next two weeks. However, keep a close eye on the distribution of rainfall because some areas may be missed by some of the rain a little more often than others. No widespread dryness problem is expected through the end of this month and corn pollination will likely complete relatively well. Soybeans will also move into August in mostly good shape, but there will be some pockets of dryness that will have to be closely monitored.
EUROPE/BLACK SEA
06z GFS model run reduced some of the rain advertised for late next week and into the following weekend in northwestern Europe

Some of the reduction of rainfall was needed

The model run still suggests some improved opportunity for showers in the second week of the outlook as we discussed last evening

The rain that falls will not be a drought buster, but could offer a little relief for the U.K. and a few areas in France and Germany
Both the European and Canadian model runs only allow rain into the U.K. and leave France, Belgium and Germany out of the rain through day ten
Most of the precipitation should occur in days 10-14, but it will not be a general soaking
RUSSIA NEW LANDS
No theme changes were made overnight

A gradual breakdown of the high-pressure ridge over the New Lands is expected next week and the showers and thunderstorms expected will be erratic and light initially, but may improve over time

Partial relief is expected, but no generalized heavy rain event is expected, and several areas will continue in need of greater rain after the second week has come to an end
CHINA
Flooding rain is expected through the weekend from southeastern Sichuan, Guizhou northern Hunan to Jiangsu and far southern and eastern most Shandong

Rain totals of 4.00 to 12.00 inches and locally more will result; a few amounts to 15.00 inches will not be out of the realm of possibilities

Some heavy rain is also expected in North Korea and a few immediate neighboring areas of Liaoning and southern Jilin
Improved weather is expected in east-central China next week with flood water receding

Greater rain was suggested for northeastern China from Hebei to Heilongjiang during the July 27-30 period

Some of the rainfall was overdone
The bottom line is a good mix of rain and sunshine for northern and far southern China over the next ten days, but this weekend's excessive rain event will raise the potential for some crop damage in east-central parts of the nation; including southeastern Henan, Jiangsu, northern Anhui and possible far southern Shandong. Improving weather will occur after the first part of next week for the flood ravaged areas.
AUSTRALIA
Beneficial rain fell in Western Australia overnight with some of the previously driest areas in the north and east part of the wheat, barley and canola production region getting some of the greater rainfall
Otherwise, the forecast has not changed for this coming week. Some rain is expected in southeastern Queensland late next week; otherwise, showers will be mostly confined to coastal areas in the next seven days
Rain is still advertised in New South Wales and southeastern Queensland during the second weekend of the outlook, although the intensity of that event has been reduced over that of Thursday
Not much other change was noted
SOUTH AMERICA
No theme changes were noted, but the latest GFS model run maintains that most of the rain late this weekend into early next week will be in Buenos Aires and La Pampa, limiting the amount of relief that will occur in Cordoba or Santa Fe. That will leave the downward pressure on wheat production potentials in Cordoba and Santa Fe and there will be no other precipitation opportunities through the end of this month.

The moisture will be great for Buenos Aires wheat which may be about 44% of the total crop
Rain has to fall soon to stop the decline in production potentials
SOUTHEAST ASIA
Recent comments in the marketplace about recent excessive rainfall in Indonesia causing a threat to the oil palm crop are untrue. Flooding may be temporarily causing some transportation issues, but the crop has been unaffected and will not be affected
Indonesia, like many other areas in southern Asia will be experiencing greater rainfall later this year as La Nina evolves, but most of the recent heavy rain has little to do with that phenomenon
Source: World Weather Inc. and FI
USDA weekly corn, soybean, wheat export inspections, 11am
U.S. crop conditions of soybeans, corn, cotton; winter wheat progress, 4pm
EU weekly grain, oilseed import and export data
Malaysia's palm oil export data for July 1-20
Ivory Coast cocoa arrivals
TUESDAY, July 21:
USDA total milk production, 3pm
New Zealand global dairy trade auction
WEDNESDAY, July 22:
EIA U.S. weekly ethanol inventories, production, 10:30am
U.S. cold storage – pork, beef, poultry, 3pm
Thai Rice Exporters Association's briefing on rice export outlook in 2H
THURSDAY, July 23:
USDA weekly crop net-export sales for corn, soybeans, wheat, cotton, pork, beef, 8:30am
China trade data, including cotton, corn, wheat and sugar imports
International Grains Council monthly report
Port of Rouen data on French grain exports
USDA red meat production, 3pm
HOLIDAY: Japan
FRIDAY, July 24:
ICE Futures Europe weekly commitments of traders report, 1:30pm (6:30pm London)
CFTC commitments of traders weekly report on positions for various U.S. futures and options, 3:30pm
U.S. Cattle on Feed, Poultry Slaughter, 3pm
FranceAgriMer weekly update on crop conditions
Brazil Unica cane crush, sugar production (tentative)
HOLIDAY: Japan
SATURDAY, July 25:
AmSpec to release Malaysia's palm oil export data for July 1-25
China's 3rd batch of June trade data, incl. country breakdowns for energy and commodities (tentative)
Source: Bloomberg and FI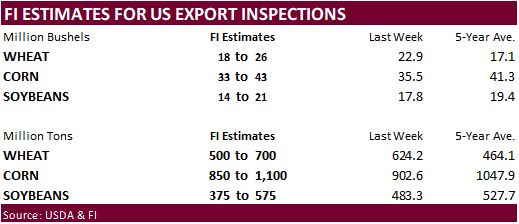 CFTC commitment of traders reported again showed a large discrepancy in the corn position relative to trade estimates.




FUTURES + OPTS Managed Swaps Producer
Net Chg Net Chg Net Chg
Corn -133,625 8,116 204,324 8,526 -95,685 -15,105
Soybeans 65,975 -33,268 123,534 5,431 -211,898 36,449
Soymeal -30,451 -8,541 73,095 -994 -87,224 13,977
Soyoil 10,198 -9,219 88,094 -383 -110,801 15,876
CBOT wheat -8,327 25,203 93,062 -6,629 -85,706 -25,975
KCBT wheat -23,566 9,107 43,949 1,895 -20,975 -10,547
MGEX wheat -18,526 -417 2,278 201 11,100 -733
———- ———- ———- ———- ———- ———-
Total wheat -50,419 33,893 139,289 -4,533 -95,581 -37,255
Live cattle 21,678 -1,230 84,122 -7 -112,828 119
Feeder cattle 1,472 -107 4,083 23 -2,440 -347
<![if !supportLists]>· <![endif]>The USD was 33 lower by late Friday.
<![if !supportLists]>· <![endif]>Safras & Mercado estimated the Brazilian corn production for the upcoming 2020-21 season (plantings starts September) at a record 116 million tons, up from their 2019-20 forecast of 107.3 million tons. They see the planted area at 19.66 million hectares, up 1 percent from 2019-20. This comes as trade estimates for the upcoming soybean planted area to rise 2 to 3 percent.
South Korea's MFG group bought 138,000 tons of corn from SA at $188.70/ton c&f for Oct/early Nov shipment.
Results awaited: Saudi Arabia seeks 720,000 tons of barley on Friday.
Corn cash VIX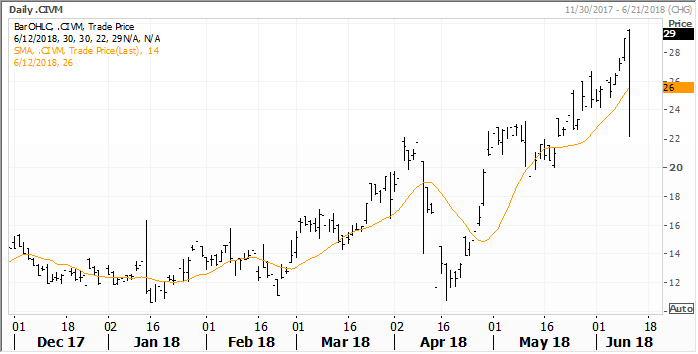 September corn is seen in a $3.20 and $3.65 range over the short term. December lows could reach $3.10.