PDF Attached
China bought a large amount of US new-crop corn but the December contract settled 2.75 cents lower, on less threatening US weather. Soybean oil rallied 38-39 points, meal was slightly higher and beans 2.0-4.0 higher. Wheat was mixed with pressure on KC type wheat. The morning forecast was wetter for some of the northern wheat states.
MARKET WEATHER MENTALITY FOR CORN AND SOYBEANS: U.S. weather is advertised to be unsettled enough over the next two weeks to limit problems with moisture stress to small parts of the production region. The majority of Midwestern crop areas will see a favorable mix of weather during the next ten days, but that does not mean a little moisture stress will not take place in a few pockets.
Concern over crop conditions in France and neighboring areas of the U.K, and Germany will continue as well as in the Balkan Countries and from eastern Ukraine to Russia's Southern Region, despite some shower activity in the next couple of days.
Worry over Russia's central New Lands where sunseed is produced may continue this workweek, but relief is expected briefly this weekend into next week. China's biggest threat is due to flooding, but only a minor amount of coarse grain and oilseed is being lost from that event.
Australia and Canada's canola crops are improving with little change likely. There are still some notable concerns about too much moisture in parts of Alberta and northwestern Saskatchewan and not enough in parts of the eastern Canada Prairies.
Overall, weather today will generate a mixed influence on market mentality with some bearish bias lingering.
MARKET WEATHER MENTALITY FOR WHEAT: Most of the damage to world wheat has likely been swallowed by the market with recent USDA and other agency reports. Dryness continues in northwestern and southeastern Europe, Russia's Southern Region and now Russia's central New Lands, although rain is expected in the central New Lands this weekend into next week.
China's spring wheat crop is likely developing well and Australia's crop looks a little better as each weak moves along. Western Argentina, however, is still too dry. South Africa has received some welcome rain to improve its western wheat crop, but small grains farther east are still quite dry.
Spring wheat in the northern U.S., Plains, Pacific Northwest and Canada's Prairies varies greatly with too much moisture in western Alberta and some pockets of notable dryness from North Dakota into eastern Saskatchewan.
Overall weather today will likely have a neutral to slight bullish bias on market mentality.
Source: World Weather Inc. and FI
China trade data, incl. soybeans, edible oil, rubber and meat & offal imports
HOLIDAY: France
WEDNESDAY, July 15:
EIA U.S. weekly ethanol inventories, production, 10:30am
Brazil chicken, pork group ABPA's press conference on output, exports
International Sugar Organization's online conference on Covid-19 impact on sugar and alcohol
Malaysia's palm oil export data for July 1-15
THURSDAY, July 16:
USDA weekly crop net-export sales for corn, soybeans, wheat, cotton, pork, beef, 8:30am
Port of Rouen data on French grain exports
North America 2Q cocoa grindings
European Cocoa Association 2Q grind data
FRIDAY, July 17:
ICE Futures Europe weekly commitments of traders report, 1:30pm (6:30pm London)
CFTC commitments of traders weekly report on positions for various U.S. futures and options, 3:30pm
FranceAgriMer weekly update on crop conditions
Cocoa Association of Asia releases 2Q cocoa grind data
Source: Bloomberg and FI
US CPI (M/M) Jun: 0.6% (exp 0.5%; prev -0.1%)
– CPI (Y/Y) Jun: 0.6% (exp 0.6%; prev 0.1%)
– CPI Ex Food And Energy (M/M) Jun: 0.2% (exp 0.1%; prev -0.1%)
– CPI Ex Food And Energy (Y/Y) Jun: 1.2% (exp 1.1%; prev 1.2%)
<![if !supportLists]>· <![endif]>The USD was 18 lower as of 2:04 PM CT.
<![if !supportLists]>· <![endif]>USDA Attaché see Brazil 2019-20 corn production at 100 million tons and 2020-21 at 103 million tons.
https://apps.fas.usda.gov/newgainapi/api/Report/DownloadReportByFileName?fileName=Grain%20and%20Feed%20Update_Brasilia_Brazil_06-28-2020
<![if !supportLists]>· <![endif]>China's Sinograin said they see no quality issues with corn stockpiles.
<![if !supportLists]>· <![endif]>We are using 14.939 billion bushels for the US corn production, 61 million below USDA July of 15.000 billion.
<![if !supportLists]>· <![endif]>A Bloomberg poll looks for weekly US ethanol production to be up 14,000 at 928,000 barrels (920-935 range) from the previous week and stocks to increase 226,000 barrels to 20.846 million.
<![if !supportLists]>· <![endif]>Under the 24-hour reporting system, private exporters sold 1,762,000 tons of corn for delivery to China during the 2020/2021 marketing year.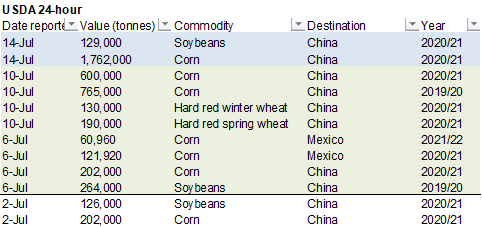 South Korea's MFG bought 131,000 tons of corn, optional origin, at $188.99/ton C&F and $189.55/ton C&F, with arrival near the end of November and December, respectively.
Iran seeks 200,000 tons of corn and 200,000 tons of barley on Wednesday for Aug/Sep delivery.


September corn is seen in a $3.20 and $3.65 range over the short term. December lows could reach $3.10.