PDF Attached
<![if !supportLists]>· <![endif]>US soybean conditions are expected to decline 1-2 on Monday and corn 2-4.
<![if !supportLists]>· <![endif]>US CPC sees a 50-55 percent chance of La Nina during the fall of 2020.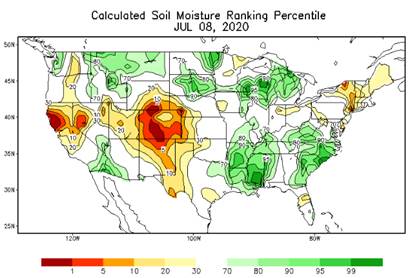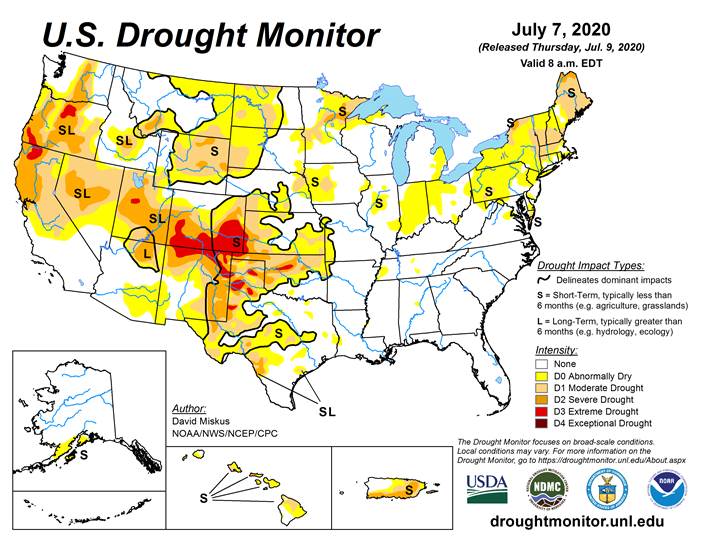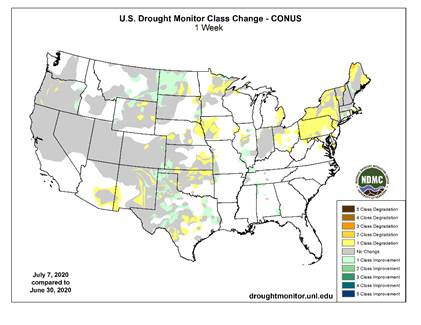 MARKET WEATHER MENTALITY FOR CORN AND SOYBEANS: Concern over U.S. weather, northwestern Europe weather, eastern Black Sea weather and the central New Lands weather will maintain some bullishness to market mentality today. Worry over the lower Danube River Basin dryness will also continue. Weather in China may also be contributing some bullishness because of flooding, although most of the crop damage has not been in key corn and soybean production areas. Today's U.S. weather outlook is drier for the second week of the forecast and a little hotter in the southwestern Corn Belt next week.
India's weather looks very good and canola establishment in southern Australia is advancing favorably. Canada's Canola will receive some timely rainfall to provide some improvement to crop conditions.
Overall, weather today will likely provide a bullish bias to market mentality
MARKET WEATHER MENTALITY FOR WHEAT: Wheat harvest weather in the U.S. will be fair to good over the next ten days. Very good conditions are expected in western and central Europe and the eastern Black Sea region as well. Rain may be threatening grain quality in Eastern Europe, including western Ukraine, Belarus and western Russia. China wheat quality may have slipped a little in recent weeks because of some rainy weather, but the winter harvest is winding down.
Spring wheat in northeastern China is in good condition. Some improvement in wheat is expected in Canada as rainfall increases in the Prairies, although some of the crops in the driest areas in Saskatchewan have already advanced too far to benefit from rain. Crop conditions may also improve in parts of the U.S. northern Plains, but other areas will remain too dry. Rain is needed in the U.S. Pacific Northwest, although much of that crop is irrigated. Crop conditions in southeastern Canada are rated favorably.
There is some concern over future Russia spring wheat conditions in the central New Lands where net drying is expected.
Australia winter grains are establishing relatively well, although more rain is needed in Queensland and South Australia. Rain is also needed in western Argentina. Too much rain may fall in southern Brazil soon that could result in some crop damage.
Overall, weather today is likely to produce a mixed influence on market mentality.
Source: World Weather Inc. and FI
USDA weekly crop net-export sales for corn, soybeans, wheat, cotton, pork, beef, 8:30am
Port of Rouen data on French grain exports
Brazil's Unica may release cane crush, sugar production during the week (tentative)
EARNINGS: Suedzucker, Barry Callebaut, Agrana
HOLIDAY: Argentina
FRIDAY, July 10:
USDA's monthly World Agricultural Supply and Demand (Wasde) report, noon
China farm ministry's CASDE monthly crop supply- demand report
Malaysian Palm Oil Board's data on reserves, exports and production in June
ICE Futures Europe weekly commitments of traders report, 1:30pm (6:30pm London)
CFTC commitments of traders weekly report on positions for various U.S. futures and options, 3:30pm
FranceAgriMer weekly update on crop conditions
Malaysia's palm oil export data for July 1-10
Cherkizovo trading update
HOLIDAY: Singapore (election day), Argentina
Source: Bloomberg and FI



USDA export sales were very good for old crop soybeans at 952,200 tons. New-crop fell below expectations at 382,100 tons-one crop year offsetting the other. Soybean meal sales were on the lower end, but shipments were good at 311,700 tons. Soybean oil sales rebounded sharply to 28,900 tons from the previous week of 2,800 tons. SBO shipments were poor at 2,100 tons. Corn export sales were within expectations and included 407,000 tons for China (old-crop). All-wheat sales were ok at 326,100 tons vs. 414,300 last week.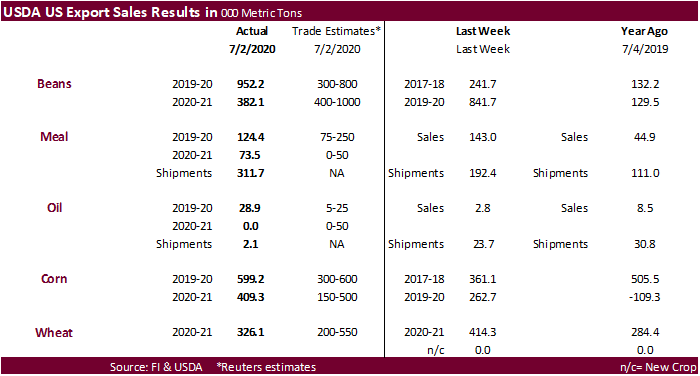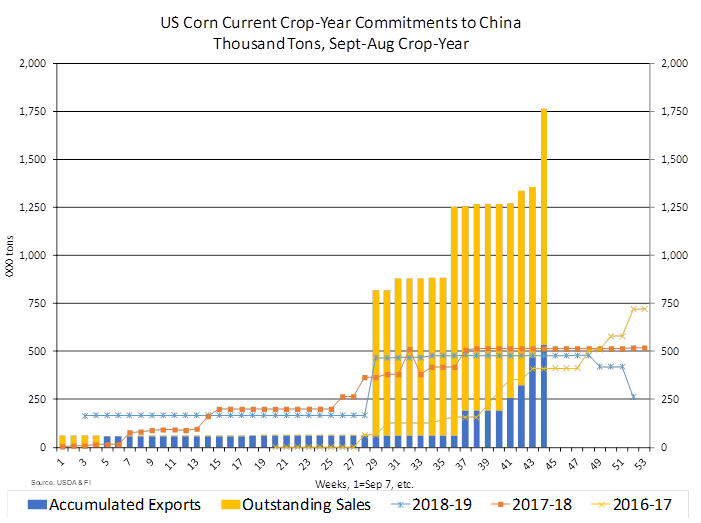 US Initial Jobless Claims Jul 4: 1314K (est 1375K; prevR1413K; prev 1427K)
US Continuing Claims Jun 27: 18062K (est 18750K; prevR 18760K; prev 19290K)
Corn rose touching the highest levels seen since March 30 on short covering and forecasts for hot and dry weather in the Corn Belt next week. Also underpinning the market is the USADA WASDE report tomorrow as traders have positioned for a bullish number.
Approximately 10% of the US corn crop is in drought area, compared to 6% last week according to the USDA weekly drought report.
USDA export sales for corn were supportive. USDA reported gross sales* for China for 6 major commodities (corn, sorghum, soybeans, upland cotton, beef, and pork) for the week ending July 2 totaled 1,284,124 tons. *Gross New Sales – Includes increases resulting from new export sales, contract adjustments, loading tolerances, changes in marketing year, change in commodity or sales made against exports for the exporter's own account. Note: Gross new sales will include sales that were unshipped (carryover sales) at the end of the marketing year.
<![if !supportLists]>· <![endif]>Funds were net buyers of a net 15,000 corn contracts on the session.
<![if !supportLists]>· <![endif]>China sold all of its 4 million tons of corn out of auction, bringing cumulative sales to 28 million tons, more than all of last season. 2020-21 China corn imports could easily end up more than the 7MMT cap.
<![if !supportLists]>· <![endif]>China is looking for sell 20,000 tons of pork out of reserves on Friday.
<![if !supportLists]>· <![endif]>The EU awarded 138,994 tons of corn import quota for the second half of 2020 last week.
<![if !supportLists]>· <![endif]>Ukraine plans to reinstate their Agriculture Ministry department.
Some people are asking if the corn yield will change this month from June. Our thinking is no.
Some people are asking if the corn yield will change this month from June. Our thinking is no.
What's a comparable year to back this response? We are hearing 2011 and 2012. Since 2012 was extreme, let's look at what happened in 2011. Corn production declined 1% YoY, yields -5.6bpa. Dry soil conditions and above normal temperatures during pollination limited yield potential. Planted and harvested acres were +4% and +3% YoY. Planting began slowly and delays continued through May, finishing by the 2nd week of June. Early July weather promoted rapid development. The second half of July through August saw much above normal temperatures, negatively impacting the crop. Harvest proceeded at a normal pace. Result: There were no changes in the US corn yield of 158.7 from June to July (158.7 was adjusted trend). In August, USDA initial survey reported the yield at 153.0 bu/ac, then it went lower by 4.9 bu/acre in September 2011 to 148.1. Final yield was 146.8, 8.1% below USDA's adjusted trend yield projected in June.
For 2011 US soybeans, production was down 8% from the prior year, yield -2bpa. Planted and harvested acreage was -3% and -2%, respectively. Planting and emergence were slower than normal through the end of June. Crop conditions were rated below the 2010 crop through most of the growing season. Harvest was variable, but generally finished at a normal pace. No change in yield is expected for 2020 from June to July.
Updated 6/30/20
September corn is seen in a $3.20 and $3.65 range over the short term. December lows could reach $3.05 if US weather cooperates.
<![if !supportLists]>· <![endif]>Soybeans ended higher on the same weather issues lifting corn prices. Meal followed beans higher, while soybean oil was led lower by crude oil. Meal/SBO spreading was noted.
<![if !supportLists]>· <![endif]>US weather forecasts turning hotter and drier for the second week of the forecast. Much of the rain predicted for this workweek has already occurred for the heart of the Midwest while the east will continue to see an active pattern in part to the tropical storm off the southeast.
Roughly 5% of the US soybean crop is in drought area, compared to 2% last week according to the USDA weekly drought report.
<![if !supportLists]>· <![endif]>This morning we heard China bought one Brazilian cargo for October shipment and were price checking Brazil and US Gulf Q3 soybeans. Brazil bid/offers are widening for August shipment although China was said to be about 90 percent covered for the month and 80 percent covered for October. Yesterday we heard one Argentina cargo traded to China.
<![if !supportLists]>· <![endif]>Funds were net buyers of 5,000 net soybean contracts, 4,000 net soymeal contracts, and sellers of a net 3,000 soybean oil contracts.
<![if !supportLists]>· <![endif]>SBO traded lower despite appreciation in South American soybean oil values. Thursday and Friday is a holiday in Argentina. Look for a possible large price swing in SBO prices when we return to work on Monday.
<![if !supportLists]>· <![endif]>GAPKI: Indonesia May palm oil stocks at 3.53MMT, up 4.7% from 3.37MMT in April. Production 3.97MMT vs. 4.0 in April. Exports 2.43MMT vs. 2.65 April and 2.79MMT May 2019.
<![if !supportLists]>· <![endif]>Traders look for Malaysian palm oil July 1-10 exports to decline 15 percent from the same period a month ago.

Updated 7/1/20 – soy and meal revised higher
August soybeans are seen in a $8.75-$9.15 range, over the medium term (MT).
August soybean meal is seen in a $280 to $315 range over the short term. (ST)
August soybean oil range is seen in a 27.50 to 29.00 range over the short term
<![if !supportLists]>· <![endif]>US wheat continued the rally today on concerns over global supplies. Also helping wheat is short-covering and technical buying. The spec short is near flat after the 2-day rally. WU0 was able to break the 100-day moving average at 525.00c/bu, but unable to settle above it.
Around 11% of the US spring wheat crop is in drought area, compared to 27% last week according to the USDA weekly drought report. This reflects the beneficial rains we saw in the Northern Plains the past week.
<![if !supportLists]>· <![endif]>French Farm Ministry reported that France's soft wheat harvest will drop by nearly 21% this year at 31.31 million tons from 39.55 million tons from last year.
<![if !supportLists]>· <![endif]>Funds were net buyers of 7,000 net contracts on the session.
<![if !supportLists]>· <![endif]>Don't discount USDA reporting a smaller than expected world wheat production figure on Friday.
<![if !supportLists]>· <![endif]>Note trade estimates look for the USDA to reduce new crop stocks and lower US production on Friday. The US crop could end up below 2019 and well below a ten-year average. Below 2020 FI estimate.
<![if !supportLists]>· <![endif]>Paris wheat finished at 188.75 on the December contract, up 1.00 euro.
<![if !supportLists]>· <![endif]>The Philippines passed on 110,000 tons of feed wheat.
<![if !supportLists]>· <![endif]>No word yet for Thailand seeking 44,400 tons of feed barley.
<![if !supportLists]>· <![endif]>Jordan seeks 120,000 tons of wheat, optional origin, on July 14.
Ethiopia seeks 400,000 tons of wheat on July 10 for shipment within two months.

Syria seeks 200,000 tons of milling wheat from Russia by July 28.
Rice/Other
Updated 7/8/20 – short term
Chicago September is seen in a $4.90-$5.25 range, over the short term.
KC September$4.10 support; $4.25-$4.75 range over the medium term.
MN September $5.10-$5.40 range. ($5.40 was not revised)
Terry Reilly
Senior Commodity Analyst – Grain and Oilseeds
Futures International │190 S LaSalle St., Suite 410│Chicago, IL 60603
W: 312.604.1366
AIM: fi_treilly
ICE IM: treilly1
Skype: fi.treilly
Trading of futures, options, swaps and other derivatives is risky and is not suitable for all persons. All of these investment products are leveraged, and you can lose more than your initial deposit. Each investment product is offered only to and from jurisdictions where solicitation and sale are lawful, and in accordance with applicable laws and regulations in such jurisdiction. The information provided here should not be relied upon as a substitute for independent research before making your investment decisions. Futures International, LLC is merely providing this information for your general information and the information does not take into account any particular individual's investment objectives, financial situation, or needs. All investors should obtain advice based on their unique situation before making any investment decision. The contents of this communication and any attachments are for informational purposes only and under no circumstances should they be construed as an offer to buy or sell, or a solicitation to buy or sell any future, option, swap or other derivative. The sources for the information and any opinions in this communication are believed to be reliable, but Futures International, LLC does not warrant or guarantee the accuracy of such information or opinions. Futures International, LLC and its principals and employees may take positions different from any positions described in this communication. Past results are not necessarily indicative of future results.