Attached are our updated US soybean complex S&D's.
Conab soybean production came in below expectations. The US will see localized rain bias Midwest this week before net drying occurs during the 6-10 period. The soybean complex ended lower led by soybean oil amid profit taking and Egypt passing on vegetable oils. Corn ended higher following sharply higher wheat that has been trading lower production estimates for the EU and Black Sea region. Global Grain Asia is July 9-10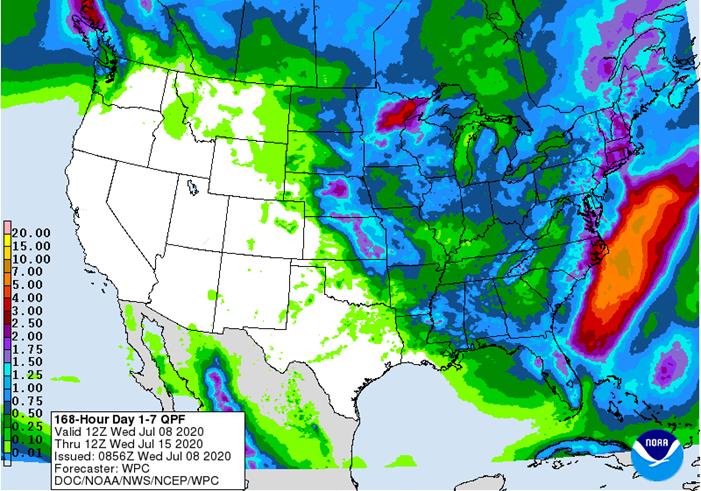 MARKET WEATHER MENTALITY FOR CORN AND SOYBEANS: Concern over U.S. weather, northwestern Europe weather, eastern Black Sea weather and the central New Lands weather will maintain some bullishness to market mentality today. Weather in China may also be contributing some bullishness because of flooding, although most of the crop damage has not been in key corn and soybean production areas.
India's weather looks very good and canola establishment in southern Australia is advancing favorably. Canada's Canola will receive some timely rainfall to provide some improvement to crop conditions.
Overall, weather today will likely provide a mixed influence on market mentality with a bullish bias.
MARKET WEATHER MENTALITY FOR WHEAT: Wheat harvest weather in the U.S. will be fair to good over the next ten days. Very good conditions are expected in western and central Europe and the eastern Black Sea region as well. Rain may be threatening grain quality in Eastern Europe, including western Ukraine, Belarus and western Russia. China wheat quality may have slipped a little in recent weeks because of some rainy weather.
Spring wheat in northeastern China is in good condition. Some improvement in wheat is expected in Canada as rainfall increases in the Prairies, although some of the crops in the driest areas in Saskatchewan have already advanced too far to benefit from rain. Crop conditions may also improve in the U.S. northern Plains. Rain is needed in the U.S. Pacific Northwest, although much of that crop is irrigated. Crop conditions in southeastern Canada are rated favorably.
There is some concern over future Russia spring wheat conditions in the central New Lands where net drying is expected.
Australia winter grains are establishing relatively well, although more rain is needed in Queensland and South Australia. Rain is also needed in western Argentina. Too much rain may fall in southern Brazil soon that could result in some crop damage.
Overall, weather today is likely to produce a mixed influence on market mentality.
Source: World Weather Inc. and FI
EIA U.S. weekly ethanol inventories, production, 10:30am
Brazil's crop agency Conab releases data on area, output and yield of corn, soybeans
China's CNGOIC releases monthly report on supply and demand of soy and corn
FranceAgriMer monthly crop report
THURSDAY, July 9:
USDA weekly crop net-export sales for corn, soybeans, wheat, cotton, pork, beef, 8:30am
Port of Rouen data on French grain exports
Brazil's Unica may release cane crush, sugar production during the week (tentative)
EARNINGS: Suedzucker, Barry Callebaut, Agrana
HOLIDAY: Argentina
FRIDAY, July 10:
USDA's monthly World Agricultural Supply and Demand (Wasde) report, noon
China farm ministry's CASDE monthly crop supply- demand report
Malaysian Palm Oil Board's data on reserves, exports and production in June
ICE Futures Europe weekly commitments of traders report, 1:30pm (6:30pm London)
CFTC commitments of traders weekly report on positions for various U.S. futures and options, 3:30pm
FranceAgriMer weekly update on crop conditions
Malaysia's palm oil export data for July 1-10
Cherkizovo trading update
HOLIDAY: Singapore (election day), Argentina
Source: Bloomberg and FI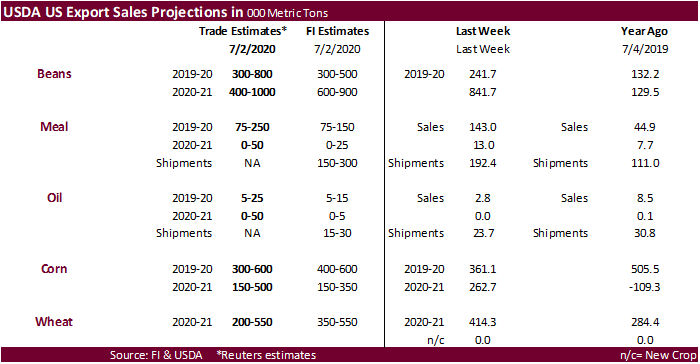 US DoE Crude Oil Inventories (W/W) 03-Jul: 5654K (est -3250K; prev -7195K)
– Distillate Inventories (W/W): 3135K (est 287K; prev -593K)
– Cushing OK Crude Inventories (W/W): 2206K (prev -263K)
– Gasoline Inventories (W/W): -4839K (est 550K; prev 1199K)
– Refinery Utilization (W/W): 2.00% (est 0.60%; prev 0.90%)
Corn started the day lower on a less than threatening US weather outlook, then traded higher after wheat rallied by most for a one-day period since March 19. Yesterday there was talk China was a large buyer of US and Ukraine corn over the last two weeks. EIA ethanol figures showed a less than expected increase in production and stocks increased from the previous week.
<![if !supportLists]>· <![endif]>Conab reported the 2019-20 Brazil corn production at 100.6 million tons, at the average trade guess and 0.4 million below the previous month.
<![if !supportLists]>· <![endif]>The USD was 39 points lower by late afternoon.
<![if !supportLists]>· <![endif]>Anec revised higher their July Brazil corn export projection to 5.16 million tons from 3.9 million tons.
<![if !supportLists]>· <![endif]>Ukraine exported a record 57 million tons of grain in 2019-20, 6.8 more than year earlier- Ministry for Economic Development.
<![if !supportLists]>· <![endif]>Global Grain Asia is July 9-10.
<![if !supportLists]>· <![endif]>China is looking for sell 20,000 tons of pork out of reserves.
Platts – Brazilian June ethanol exports highest in seven years: SECEX "Brazil's total ethanol export in June was at 298.84 million liters, up 75% from June 2019 and the highest for any June since 2013 when the country exported 280 million liters, according to data released late July 6 by the Secretariat of International Trade, or SECEX. From total exports, 129 million liters or 43.2% shipped to the US and South Korea was the second highest importer, receiving 82 million liters. Accumulated exports in the first six months of 2020 were at 843.6 million liters, up 20% on the year. Considering exports since April 1, when the CS crop period 2020-21 started total volume was at 526 million liters, up 56% from the same period of 2019."
<![if !supportLists]>· <![endif]>US weekly ethanol production increased 14 million barrels per day to 914,000 barrels, up 10 consecutive weeks, highest level since March 27. A Bloomberg poll looked for weekly US ethanol production to be up 18,000. Ethanol stocks increased 456,000 barrels to 20.620 million. This snapped a 10 consecutive week decline. A poll looked for a 148,000-barrel increase. Days of inventory were 22.1, down from 26.9 a month ago and compare to 21.8 year ago. Year to date production is down 10.2 percent from the same period a year ago. At 914,000 barrels, implied corn use is finally back over 5.0 billion bushels. Note there were imports of 36,000 barrels, first weekly import record since February 21.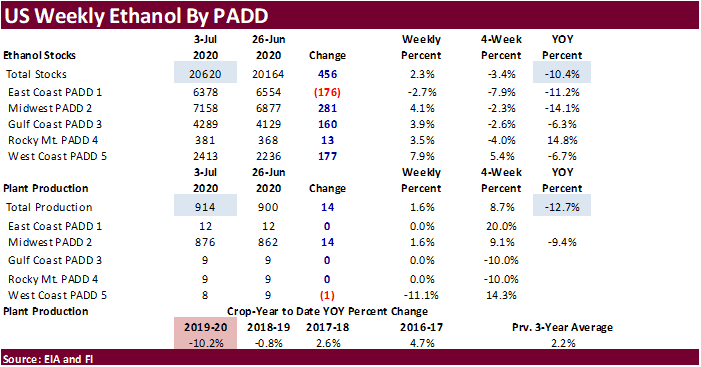 September corn is seen in a $3.20 and $3.65 range over the short term. December lows could reach $3.05 if US weather cooperates.