PDF Attached
Calls: soybeans steady, corn up 1-2, Chicago wheat steady/higher, KC steady and MN steady.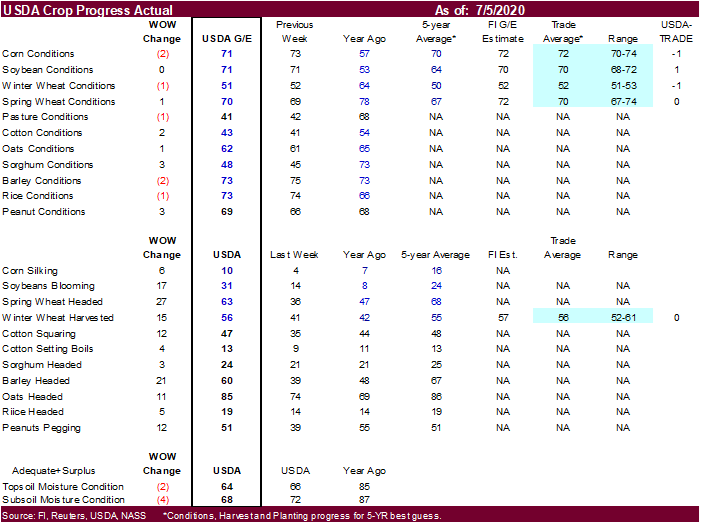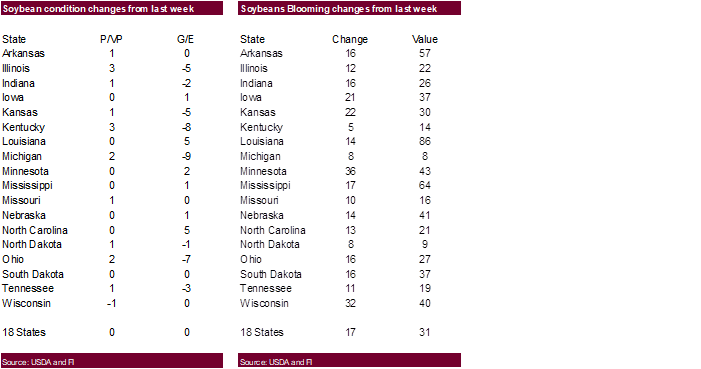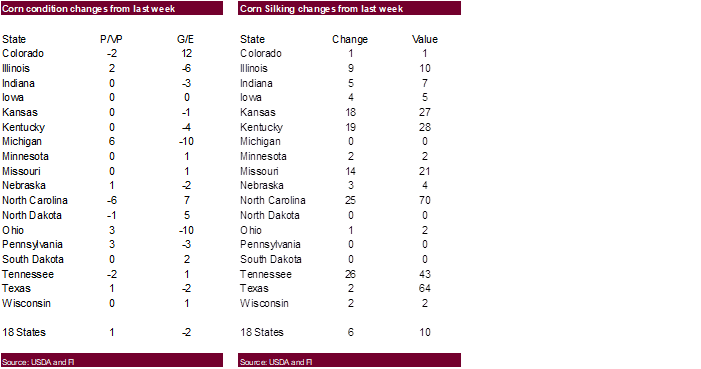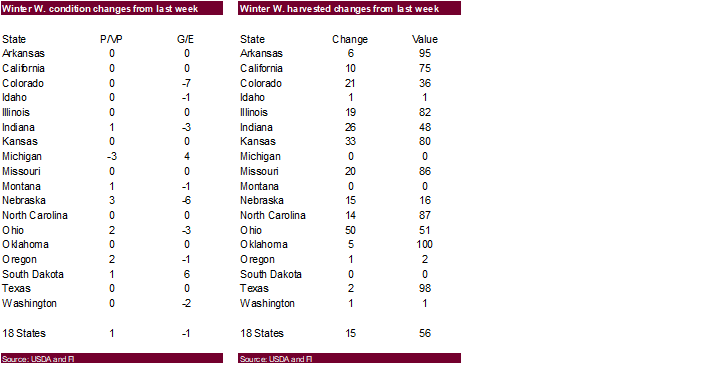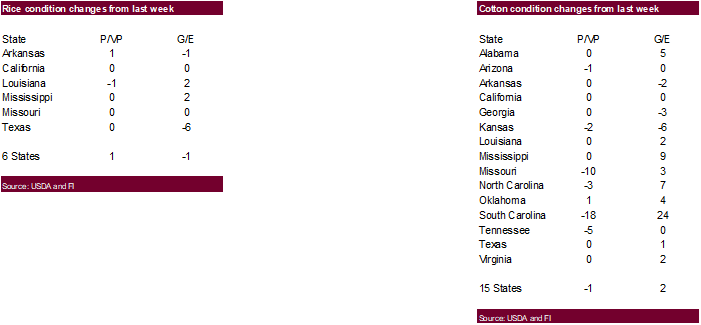 MARKET WEATHER MENTALITY FOR CORN AND SOYBEANS: Concern over U.S. weather, northwestern Europe weather, eastern Black Sea weather and the central New Lands weather will provide some bullishness to market mentality today. Weather in China may also be contributing some bullishness because of flooding, although most of the crop damage has not been in key corn and soybean production areas.
India's weather looks very good and canola establishment in southern Australia is advancing favorably. Canada's Canola will receive some timely rainfall to provide some improvement to crop conditions.
Overall, weather today will likely provide a mixed influence on market mentality with a bullish bias.
MARKET WEATHER MENTALITY FOR WHEAT: Wheat harvest weather in the U.S. will be fair to good over the next ten days. Very good conditions are expected in western and central Europe and the eastern Black Sea region as well. Rain may be threatening grain quality in Eastern Europe, including western Ukraine, Belarus and western Russia. China wheat quality may have slipped a little in recent weeks because of some rainy weather.
Spring wheat in northeastern China is in good condition. Some improvement in wheat is expected in Canada as rainfall increases in the Prairies, although some of the crops in the driest areas in Saskatchewan have already advanced too far to benefit from rain. Crop conditions may also improve in the U.S. northern Plains. Rain is needed in the U.S. Pacific Northwest, although much of that crop is irrigated. Crop conditions in southeastern Canada are rated favorably.
There is some concern over future Russia spring wheat conditions in the central New Lands where heat and dryness are expected soon.
Australia winter grains are establishing relatively well, although more rain is needed in Queensland and South Australia. Rain is also needed in western Argentina. Too much rain may fall in southern Brazil soon that could result in some crop damage.
Overall, weather today is likely to produce a mixed influence on market mentality.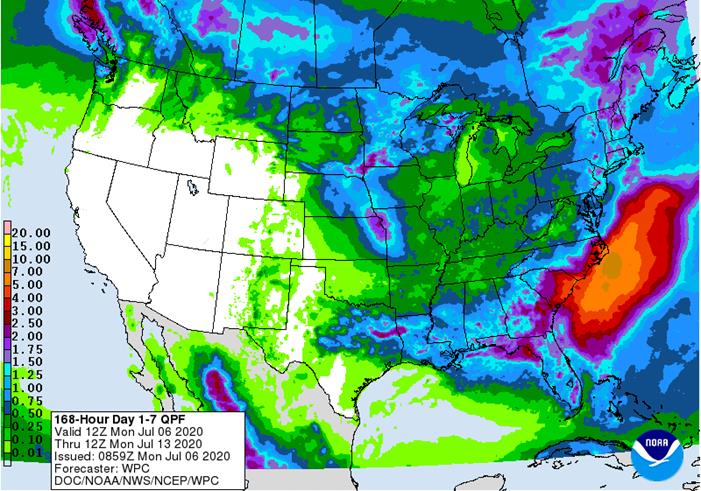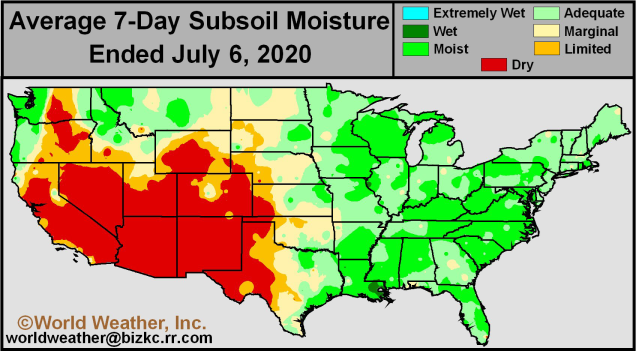 USDA weekly corn, soybean, wheat export inspections, 11am
U.S. crop progress, conditions — soybeans, wheat, cotton, 4pm
French Agriculture Ministry crop report due during the week
CFTC Commitment of Traders Report, delayed from Friday
EU weekly grain, oilseed import and export data
New Zealand commodity prices
Ivory Coast cocoa arrivals
HOLIDAY: Thailand
TUESDAY, July 7:
U.S. Purdue Agriculture Sentiment, 9:30am
New Zealand global dairy trade auction
WEDNESDAY, July 8:
EIA U.S. weekly ethanol inventories, production, 10:30am
Brazil's crop agency Conab releases data on area, output and yield of corn, soybeans
China's CNGOIC releases monthly report on supply and demand of soy and corn
FranceAgriMer monthly crop report
THURSDAY, July 9:
USDA weekly crop net-export sales for corn, soybeans, wheat, cotton, pork, beef, 8:30am
Port of Rouen data on French grain exports
Brazil's Unica may release cane crush, sugar production during the week (tentative)
EARNINGS: Suedzucker, Barry Callebaut, Agrana
HOLIDAY: Argentina
FRIDAY, July 10:
USDA's monthly World Agricultural Supply and Demand (Wasde) report, noon
China farm ministry's CASDE monthly crop supply- demand report
Malaysian Palm Oil Board's data on reserves, exports and production in June
ICE Futures Europe weekly commitments of traders report, 1:30pm (6:30pm London)
CFTC commitments of traders weekly report on positions for various U.S. futures and options, 3:30pm
FranceAgriMer weekly update on crop conditions
Malaysia's palm oil export data for July 1-10
Cherkizovo trading update
HOLIDAY: Singapore (election day), Argentina
Source: Bloomberg and FI
USDA inspections versus Reuters trade range
Wheat 326,448 versus 450000-650000
Corn 962,445 versus 1050000-1350000
Soybeans 521,638 versus 250000-450000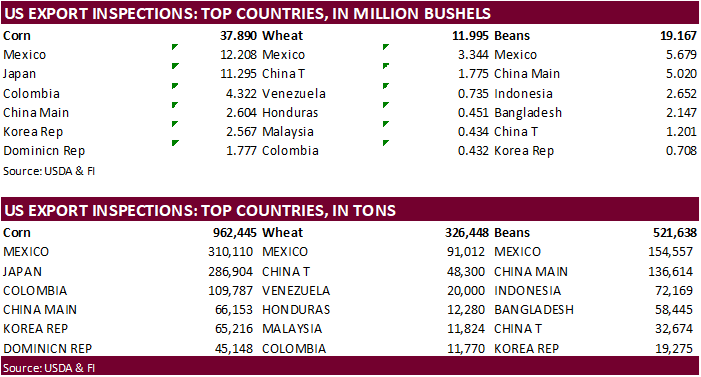 CFTC Commitment of Traders


<![if !supportLists]>· <![endif]>CBOT corn traded higher led by bull spreading despite new-crop US crop concerns. For the day, September corn traded in a narrow 4.5 cent range. This does not seem very bullish given the current US weather situation. China interest for US corn was seen supportive. USDA also reported corn sales to Mexico. The corn sales for China indicate stocks might be much tighter than what USDA has penciled in. China reserve sales have reached 24 million tons. USDA projects China 2019-20 corn carryout stocks at 207.1 million tons, down from 210.3 million tons. 2019-20 stocks represent 66 percent of the global carryout. In comparison, the US carryout was projected at 53.4 million tons. Note Brazil fob corn is about $3-$4 cheaper than US Gulf corn. USDA Attaché estimates 2020-21 China production at 250 million tons, 10 million less than USDA official. While total consumption is 278 million tons, above USDA official of 276 million (271 for 2019-20). https://apps.fas.usda.gov/newgainapi/api/Report/DownloadReportByFileName?fileName=Grain%20and%20Feed%20Update_Beijing_China%20-%20Peoples%20Republic%20of_06-28-2020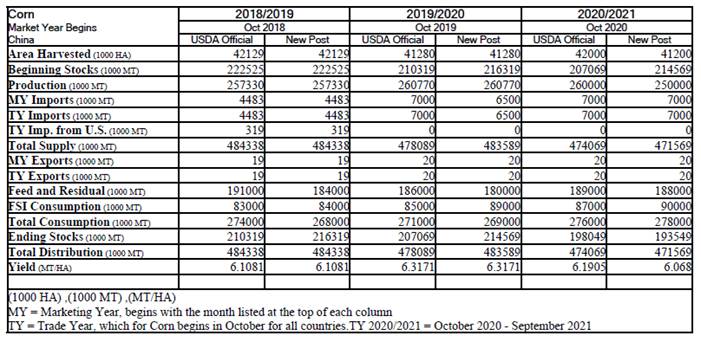 <![if !supportLists]>· <![endif]>10 percent of the US corn crop is in the silking stage, below 16 percent average. Texas was at 64 percent, one of the areas where the most intense heat is expected for the US this week. NE was at 27 percent. IL 10 percent (28 average).
<![if !supportLists]>· <![endif]>US corn conditions were 71% G/E vs 73% last week, and 57% a year ago. IA, MN, SD, TN, and PA are seeing the best conditions.
<![if !supportLists]>· <![endif]>The USD was under a good amount of pressure today in part to a rally in the Chinese yuan and uptick in positive US economic news. The euro reached a 2-week high.
<![if !supportLists]>· <![endif]>USDA US corn export inspections as of July 02, 2020 were 962,445 tons, below a range of trade expectations, below 1,241,038 tons previous week and compares to 721,419 tons year ago. Major countries included Mexico for 310,110 tons, Japan for 286,904 tons, and Colombia for 109,787 tons.
<![if !supportLists]>· <![endif]>Funds remain very short with managed money estimated net short 216,000 contracts.
<![if !supportLists]>· <![endif]>Argentina corn exports so far, this local season are running 11 percent higher than year ago (4 months 16 million tons).
<![if !supportLists]>· <![endif]>Late last week the US EPA put on hold their decision for 2021 US biofuel mandates. It was expected to come out in late June or early July.
Under the 24-hour announcement system, US exporters sold 202,000 tons of corn to China for 2020-21 delivery.
The USDA also announced 182,880 tons of corn for Mexico, of which 121,920 tons was for 2020-21 and 60,960 tons for 2021-22.
September corn is seen in a $3.20 and $3.65 range over the short term. December lows could reach $3.05 if US weather cooperates.