PDF Attached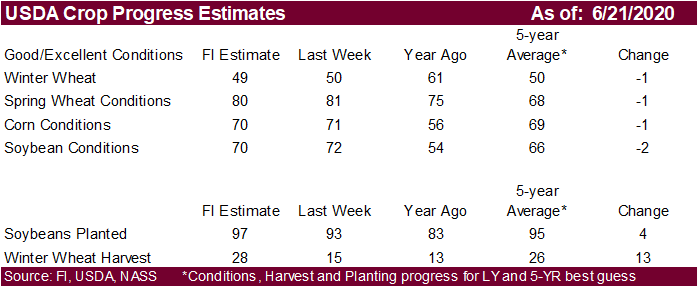 MARKET WEATHER MENTALITY FOR CORN AND SOYBEANS:
U.S. crop weather remains mostly good and should stay that way through the next ten days. Southeastern Canada's crop conditions will remain mostly good. Canola in Canada's Prairies varies from being too wet in the west to too dry in parts of the east. Rain will fall periodically in the Prairies over the next couple of weeks, but the rain will be erratic enough to leave some of the drier areas in need of more moisture.
India's planting weather for coarse grain and oilseeds will be good over the next couple of weeks. Relief to dryness in east-central China last week has improved summer crop prospects in some areas. However, net drying in parts of the North China Plain and northern Yellow River Basin this week will raise unirrigated crop stress. Flooding in rapeseed areas recently may have reduced crop quality and certainly delayed harvesting.
Australia's weather will be favorable for canola areas over the next ten days. South Africa's western canola benefited from some rain during the weekend, but more is needed.
Argentina's harvest has advanced well recently and will continue to move forward around periods of rain. Brazil's Safrinha corn is maturing, although some late season filling occurred while dryness prevailed resulting in greater worry over late season yield and quality declines. Brazil's weather has not been seriously impacting late season crops, but some small impact is expected.
Europe weather has been favorable for most crops. Some drier and warmer weather in the next week to ten days will be welcome in the wetter areas, but might drying a few locations in the northwest enough to raise some short term concern.
Net drying from the Volga River Basin into Kazakhstan could harm some summer coarse grain and oilseed crops if the trends last deeply into the summer.
Overall, weather will likely have a bearish bias to market mentality because of anticipated better U.S. weather and the National Weather Service outlook still calling for wetter biased conditions for the next 90 days across the lower Midwest, Delta and southeastern states.
MARKET WEATHER MENTALITY FOR WHEAT:
Periodic rain in Canada's Prairies and eventually in the U.S. northern Plains will bring a little improvement to small grain crops, but more rain will be needed. Eastern and far south-central Saskatchewan and parts of Manitoba are still quite dry along with western North Dakota and eastern Montana. Additional opportunity for rain will evolve later this week for some of the drier areas. In the meantime, parts of Alberta are still too wet and will stay that way for a while this week.
Quebec and eastern Ontario crop conditions will be mostly good over the next ten days.
Good harvest weather is expected in U.S. hard red winter wheat areas and a favorable environment for late season filling will occur in Nebraska, northern Kansas as well as across the Midwest this week. Wetter conditions next week could interfere with some farming activity.
Europe weather will be mostly good for winter crops, although there may be some need for drier weather in early maturing crop areas to protect small grains from wet weather disease. Drying from the Volga River Basin into Kazakhstan may be a threat to unirrigated winter crops, but most of the region's crops are still rated favorably today. Spring wheat areas in the eastern Russia New Lands are also experiencing mostly favorable conditions, but some rain is needed near the Kazakhstan border.
China's southern wheat quality may be slipping because of recent heavy rainfall. Drier weather will be slow to return and that may prolong harvest delays and concern over grain quality.
Australia's recent rain was good for improving establishment for wheat and barley across the nation, although more rain is still needed in many areas.
South Africa recent rain in the far west was welcome, but rain is needed in other winter crop production areas. Rain coming up in Argentina during mid-week this week will be a tremendous help for wheat germination and emergence.
Overall, weather today will likely provide a mixed influence on market mentality.
Source: World Weather Inc. and FI
WPC 5-day Quantitative Precipitation Forecast
FRIDAY, June 19:
ICE Futures Europe weekly commitments of traders report, 1:30pm (6:30pm London)
CFTC commitments of traders weekly report on positions for various U.S. futures and options, 3:30pm
FranceAgriMer weekly update on crop conditions
U.S. Cattle on Feed, 3pm
SATURDAY, June 20:
Malaysia's palm oil export data for June 1-20
MONDAY, June 22:
USDA weekly corn, soybean, wheat export inspections, 11am
U.S. crop progress, conditions — soybeans, wheat, cotton, 4pm
U.S. cold storage data – pork, beef, poultry, 3pm
Malaysian Palm Oil Council online seminar on price trends
EU weekly grain, oilseed import and export data
Ivory Coast cocoa arrivals
EARNINGS: Copersucar
TUESDAY, June 23:
China cotton, corn, wheat and sugar imports
WEDNESDAY, June 24:
EIA U.S. weekly ethanol inventories, production, 10:30am
U.S. poultry slaughter, 3pm
THURSDAY, June 25:
USDA weekly crop net-export sales for corn, soybeans, wheat, cotton, pork, beef, 8:30am
International Grains Council monthly report
Port of Rouen data on French grain exports
Malaysia's palm oil export data for June 1-25
USDA hogs and pigs inventory, red meat production, 3pm
FRIDAY, June 26:
ICE Futures Europe weekly commitments of traders report, 1:30pm (6:30pm London)
CFTC commitments of traders weekly report on positions for various U.S. futures and options, 3:30pm
FranceAgriMer weekly update on crop conditions
Source: Bloomberg and FI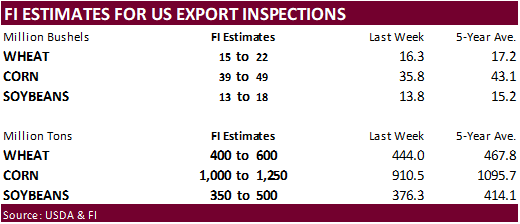 | | | | | | |
| --- | --- | --- | --- | --- | --- |
| | May 2020 | April 2020 | May 2019 | YOY% | |
| Cattle on feed (June 1) | 11,671 | 11,200 | 11,728 | -0.5% | -1.1% |
| Placements | 2,037 | 1,432 | 2,063 | -1.3% | -3.1% |
| Marketed | 1,500 | 1,459 | 2,070 | -27.5% | -26.2% |
| Disappearances | 66 | 70 | 72 | -8.3% | n/a |
Corn.
<![if !supportLists]>· <![endif]>Corn rose today on hopes of Chinese buying after secretive talks with China in Hawaii.
<![if !supportLists]>· <![endif]>No real short covering noted today, but the market is approaching overbought territory when looking at RSI and Stochastics. While current weather is crop friendly, the weather bulls keep trying to get a weather story going.
<![if !supportLists]>· <![endif]>CFTC reported that corn speculators cut their net short positions by 22,320 contracts to net short 309,965 for the week ending June 16.
<![if !supportLists]>· <![endif]>Funds were net buyers of 6,000 corn contracts on the session.
Corn Export Developments
South Korea's FLC seeks 69,000 tons of corn for October shipment.
<![if !vml]>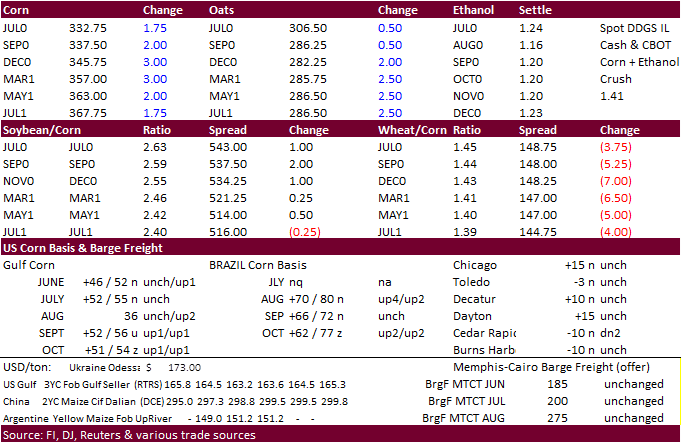 <![endif]>
<![if !supportLists]>· <![endif]>September corn is seen in a $3.25 and $3.50 range over the short term. December lows could reach $2.90 if US weather cooperates.