PDF Attached
Weather
US week one GFS showed southern Plains wetter Thursday into Saturday but southwestern Kansas and eastern Oklahoma was wetter.
MARKET WEATHER MENTALITY FOR CORN AND SOYBEANS:
U.S. crop weather remains mostly good and should stay that way through the next ten days. Southeastern Canada's crop conditions will remain mostly good. Canola in Canada's Prairies varies from being too wet in the west to too dry in the east. Some relief to the Prairies weather will occur over the next two weeks with less rain in the west and more in the east for a little while.
India's planting weather for coarse grain and oilseeds will be good over the next couple of weeks. Relief to dryness in east-central China last week has improved summer crop prospects in some areas. However, net drying in parts of the North China Plain and northern Yellow River Basin this week will raise unirrigated crop stress. Flooding in rapeseed areas recently may have reduced crop quality and certainly delayed harvesting.
Australia's weather will be favorable for canola areas over the next ten days. South Africa's western canola benefited from some rain during the weekend, but more is needed.
Argentina's harvest has advanced well recently and will continue to move forward around periods of rain. Brazil's Safrinha corn is maturing, although some late season filling occurred while dryness prevailed resulting in greater worry over late season yield and quality declines. Brazil's weather has not been seriously impacting late season crops, but some small impact is expected.
Europe weather is trending sufficiently wet to improve many crops. Net drying from the Volga River Basin into Kazakhstan could harm some summer coarse grain and oilseed crops if the trends last deeply into the summer.
Overall, weather will likely have a bearish bias to market mentality because of anticipated better weather.
MARKET WEATHER MENTALITY FOR WHEAT:
Periodic rain in Canada's Prairies and eventually in the U.S. northern Plains will bring a little improvement to small grain crops, but more rain will be needed. Eastern and far south-central Saskatchewan and parts of Manitoba are still quite dry along with western North Dakota and eastern Montana. Additional opportunity for rain will evolve later this week for some of the drier areas. In the meantime, parts of Alberta are still too wet and will stay that way for a while this week.
Quebec and eastern Ontario crop conditions will be mostly good over the next ten days.
Good harvest weather is expected in U.S. hard red winter wheat areas and a favorable environment for late season filling will occur in Nebraska, northern Kansas as well as across the Midwest this week. Wetter conditions next week could interfere with some farming activity.
Europe weather will be mostly good for winter crops, although there may be some need for drier weather in early maturing crop areas to protect small grains from wet weather disease. Drying from the Volga River Basin into Kazakhstan may be a threat to unirrigated winter crops, but most of the region's crops are still rated favorably today. Spring wheat areas in the eastern Russia New Lands are also experiencing mostly favorable conditions, but some rain is needed near the Kazakhstan border.
China's southern wheat quality may be slipping because of recent heavy rainfall. Drier weather will be slow to return and that may prolong harvest delays and concern over grain quality.
Australia's recent rain was good for improving establishment for wheat and barley across the nation, although more rain is still needed in many areas.
South Africa recent rain in the far west was welcome, but rain is needed in other winter crop production areas. Rain coming up in Argentina during mid-week this week will be a tremendous help for wheat germination and emergence.
Overall, weather today will likely provide a mixed influence on market mentality.
Source: World Weather Inc. and FI
WPC 5-day Quantitative Precipitation Forecast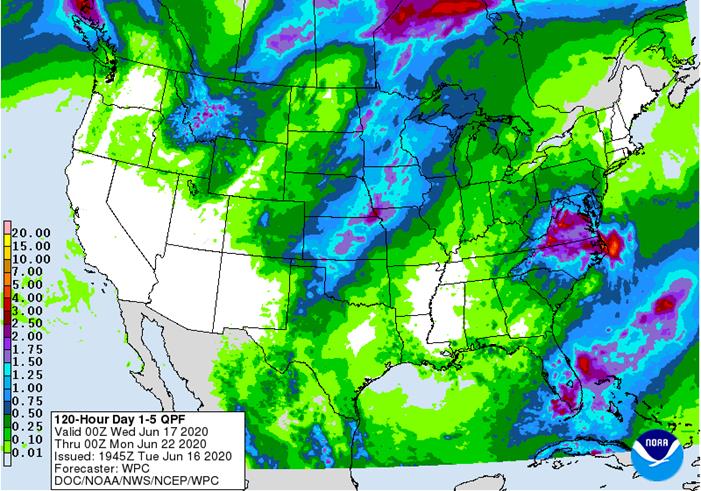 New Zealand global dairy trade auction
Abares agricultural commodities report for June quarter 2020
Asia Trade Exchange 2020, day 2
WEDNESDAY, June 17:
EIA U.S. weekly ethanol inventories, production, 10:30am
Asia Trade Exchange 2020, day 3
THURSDAY, June 18:
USDA weekly crop net-export sales for corn, soybeans, wheat, cotton, 8:30am
Brazil Conab releases 2nd estimate for 2020 coffee crop, Sao Paulo
Port of Rouen data on French grain exports
USDA total milk production, 3 pm
FRIDAY, June 19:
ICE Futures Europe weekly commitments of traders report, 1:30pm (6:30pm London)
CFTC commitments of traders weekly report on positions for various U.S. futures and options, 3:30pm
FranceAgriMer weekly update on crop conditions
U.S. Cattle on Feed, 3pm
SATURDAY, June 20:
Malaysia's palm oil export data for June 1-20
Source: Bloomberg and FI
US Retail Sales Advance (M/M) May: 17.7% (exp 8.4%; prev -16.4%)
– Retail Sales Ex Auto (M/M) May: 12.4% (exp 5.5%; prev =17.2%)
– Retail Sales Ex Auto And Gas May: 12.4% (exp 5.1%; prev -16.2%)
– Retail Sales Control Group May: 11.0% (exp 5.2%; prev -15.3%)
US Industrial Production (M/M) May: 1.4% (exp 3.0%; R prev -12.5%)
– Capacity Utilization May: 64.8% (exp 66.9%; R prev 64.0%)
Corn.
<![if !supportLists]>· <![endif]>Corn closed marginally down on the day but spent most of the session higher on the G/E crop decline revealed yesterday's USDA crop conditions report. The market expects rallies to run into farmer selling and we may have seen that today into the close.
<![if !supportLists]>· <![endif]>Corn crop conditions foe good-to-excellent declined 4 points due to large downward revisions in WCB states and 2 points declines in the "I" states. We lowered our corn yield but still considered relatively high. At 178.0 it would be up from 167.8 bushels per acre.
<![if !supportLists]>· <![endif]>Ukraine's Economy Minister raised the grain crop forecast to 68 million tons from 65-68 million.
<![if !supportLists]>· <![endif]>USDA Cattle on Feed is due out at the end of the week.
<![if !supportLists]>· <![endif]>Funds were net sellers of 1,000 corn contracts on the session.
Corn Export Developments
Taiwan's MFIG seeks 65,000 tons of corn on Wednesday for October 2-21 shipment.
Bloomberg Survey for EIA Ethanol Report
Survey Results

EIA

Avg

Low

High

Prev. Week

Production (k bpd)

876

843

905

837

Stockpiles (m bbl)

21.748

21.502

22.000

21.802

Source: Bloomberg and FI

<![if !supportLists]>· <![endif]>July corn is seen in a $3.20 and $3.40 range. December lows could reach $2.90 if US weather cooperates.