PDF Attached
USDA's
largest surprise today was likely in US soybean oil stocks.  USDA reported 720,000 tons of soybeans were sold to China.  USDA due out later.   China S&D's unchanged for 2020-21.  USD is higher and WTI crude sharply lower.  US Dow futures are down nearly 900
points.  The US Fed estimates a three-year recovery in GDP. 
USDA
released it June report update 
Bearish
soybean oil and wheat.  Bull spreading corn justified with change in 2019-20 and 2020-21 US ending stocks.

USDA
NASS and OCE executive summaries
https://www.nass.usda.gov/Newsroom/Executive_Briefings/index.php

https://www.usda.gov/oce/commodity/wasde/Secretary_Briefing/index.htm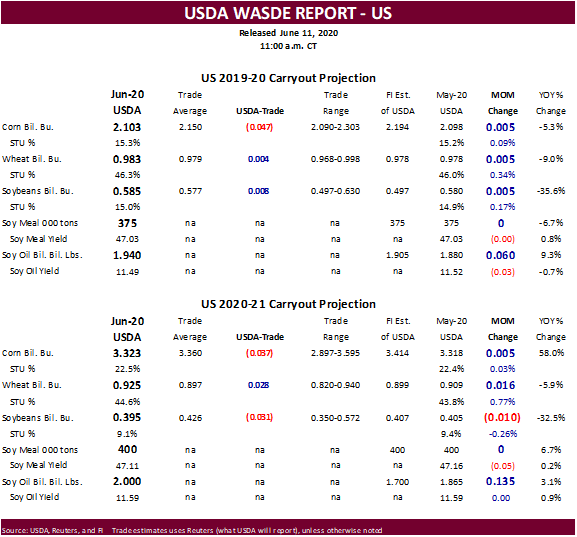 USDA
increased 2020 US wheat production by 27 million bushels by increasing HRW by 25 million and winter white by a small amount.

US
all wheat ending stocks were taken up 16 million bushels to 925 million, 6 percent below 2019-20.

<![if !supportLists]>·
<![endif]>US 2019-20 corn ending stocks came in 47 million bushels below trade expectations at 2.103 billion, 5 million above the previous month, promoting bull spreading. This is because new-crop US corn stocks of 3.323 billion ended up
37 million bushels below an average trade guess.  US corn for ethanol for 2019-20 was

<![if !supportLists]>·
<![endif]>US new-crop (2020-21) soybean oil stocks were upward revised 135 million pounds, the biggest surprise in this report, in our opinion.  USDA took the 2019-20 soybean crush up 15 million bushels and to compliment new-crop, they
raised 2020-21 US crush by 15.  This added a combined 285 million pounds of soybean oil to supply.  At 2.0 billion pounds ending stocks for 2020-19 and 2019-20 stocks forecast at 1.940 million, soybean oil prices fell further late this morning.  USDA increased
2019-20 US soybean oil exports by 150 million pounds and raised new-crop exports by 100 million.  Biodiesel was again cut by USDA for 2019-20, this time by 100 million pounds to 7.500 billion, too low in our opinion.


<![if !supportLists]>·
<![endif]>US soybean stocks for 2019-20 were near expectations and new-crop were reported 31 million below the trade guess. USDA lowered 2019-20 US soybean exports by 25 million to reflect higher Brazilian exports.

<![if !supportLists]>·
<![endif]>There was no change in soybean meal stocks by USDA increased domestic use for 2019-20 by 400,000 short tons and raised new-crop by 300,000 short tons.

<![if !supportLists]>·
<![endif]>2019-20 world ending stocks for corn and soybeans tightened slightly, and world wheat was up slightly.  USDA took 2019-20 Brazil soybean exports up 1 million tons to 85 million tons.

<![if !supportLists]>·
<![endif]>New-crop world wheat stocks increased 6.0MMT to 310 million, 6.8 percent higher than end of 2019-20.  India's wheat production was upward revised a large 4.2 million tons to 107.2 million tons, and if the government provides an
incentive for exporters, India could easily contribute to the world trade.