PDF Attached
US
balances for the soybean complex attached. We did not make any major changes to FI's balances other than update crush stats and trade data for April. Reflects USDA update for June. Note we will be revising our SBO price projection next week after revising
production for corn, soybeans, and wheat.
It
was a busy day with reports. Grain and oilseeds were choppy and mostly higher pre-USDA report. Prices immediately rocketed higher for corn but soybeans traded sharply lower, taking wheat down with them, post report. Remainder of the session prices traded
choppy, with many contracts fluctuating up and down.
USDA
export sales were largely within expectations. Conab reported a higher-than-expected corn production estimate for Brazil at 96.4 million tons but that is down 10 million from their previous estimate, a large reduction. Brazil soybeans at 136 million tons
were up 0.5 million tons from the previous month and 1 million below expectations. Malaysian palm oil end of May stocks were less than expected at 1.569 million tons (1.64MMT est.) despite a lower-than-expected palm export figure. China in its CASDE report
lowered domestic feed and food use.



USDA
released their June supply and demand outlook
Reaction:
Bullish
corn, neutral wheat and bearish to neutral soybeans. Look for the trade to quickly shift focus on crop conditions, weather, and June
Acreage report due out at the end of the month.
Next
major report is June Acreage, followed by the July S&D. USDA typically does not adjust supply for corn and soybeans in July, but if corn conditions continue to decline at a rapid pace, there is a chance USDA could cut the July yield from May/June.
At this point we don't think it will be revised. USDA's first survey of spring wheat is July.

US
old-crop corn carryout was cut 150 million bushels to 1.357 billion, a tight 7.4 percent STU, due to a more than expected increase in corn for ethanol use of 75 million and upward revision to the exports by 75 million (Brazil). We were surprised USDA lowered
the Brazil corn crop by only 3.5 million tons to 98.5 million, 1.2 million above an average trade guess. Argentina corn was unchanged. Back to the US corn balance, USDA made no changes to new-crop categories other than reflecting the lower carry in. We
thought the US soybean and wheat ending stock revisions were neutral. New crop all-wheat exports were lowered only 4 million bushels. Beginning stocks were lowered 20 million bushels to reflect higher old crop exports (crop year ended), which was offset
by an upward revision to all-wheat production by 26 million to 1.898 billion bushels. USDA raised feed use for 2021-22 by 10 million to 180 million, 80 million higher than 2020-21. Wheat production by class below.

USDA
raised Brazil's soybean production by 1 million tons. Argentina was left unchanged. USDA left 2020-21 US exports unchanged but unexpectedly cut the crush by 15 million bushels to 2.175 billion. We think it will end up higher than that unless some plants
are unable to source the soybeans during the summer or crush margins erode. For new-crop, USDA raised the crush by 15 million, which was needed given the strong demand for new-crop soybean oil for renewable diesel. Speaking of which, USDA made no changes
to old and new crop biofuel demand, but increased food use for 2020-21 by 225 million pounds to 14.325 billion. We agree. Old crop SBO exports were lowered 400 million pounds. Note export sales shipments have been low recently. Imports were lowered 50 million.
Production was lowered 135 million reflecting the lower crush. The result lowered the carryout by 10 million pounds. New crop soybean oil categories were unchanged other than to reflect a lower carry in. Soybean meal production for old crop was taken down
200,000 short ton. Imports were increased 50,000 short tons (Canada?) to 700,000 tons and domestic use taken down 150,000 tons. With a healthy May and June crush rate, we are surprised exports were not lifted higher given the amount of meal in the pipeline.
New crop was unchanged. The increase in US soybean stocks by 15 million initially caught the trade off guard, but prices paired losses in new-crop from higher corn.

As
we mentioned above, crop conditions and weather are back on the table. Look for volatility in these markets to last into FH July, unless NA weather significantly improves.

USDA
OCE Secretary Briefing
https://www.usda.gov/sites/default/files/documents/june-2021-wasde-lockup-briefing.pdf
Highlights
<![if !supportLists]>·
<![endif]>Brazil's second crop corn (2020/21) was reduced further on the persistent drought conditions that pushed yields below average despite recent rains. Lower yields were moderated by an increase in area.
<![if !supportLists]>·
<![endif]>Brazil's 2020/21 cotton production was reduced, reflecting lower area due to a delayed start to planting and relatively unfavorable cotton prices at planting.
<![if !supportLists]>·
<![endif]>Favorable May weather in Europe supports prospects for higher wheat and rapeseed production.
<![if !supportLists]>·
<![endif]>Russia wheat production was raised 1.0 MMT, to a new record.

<![if !supportLists]>·
<![endif]>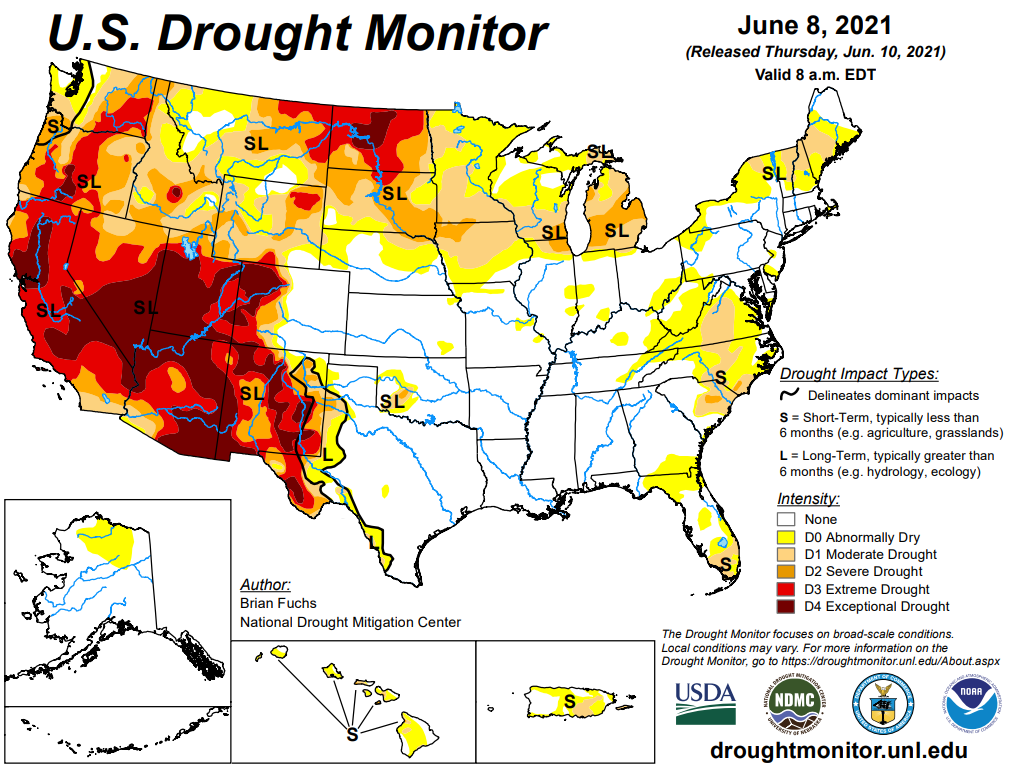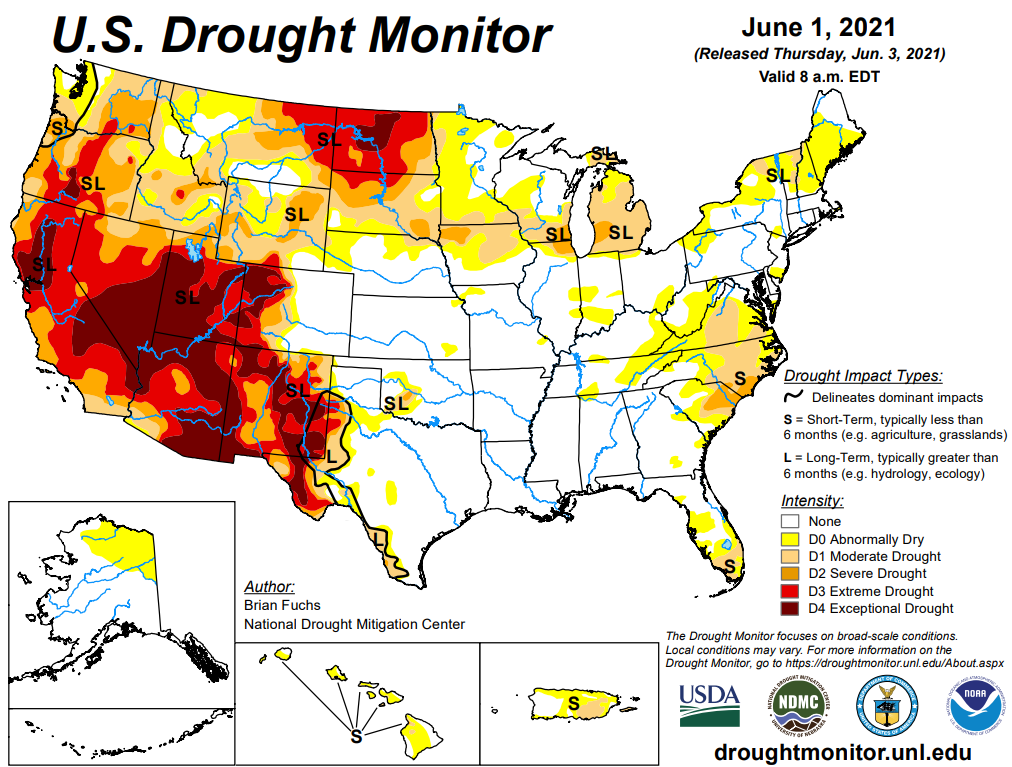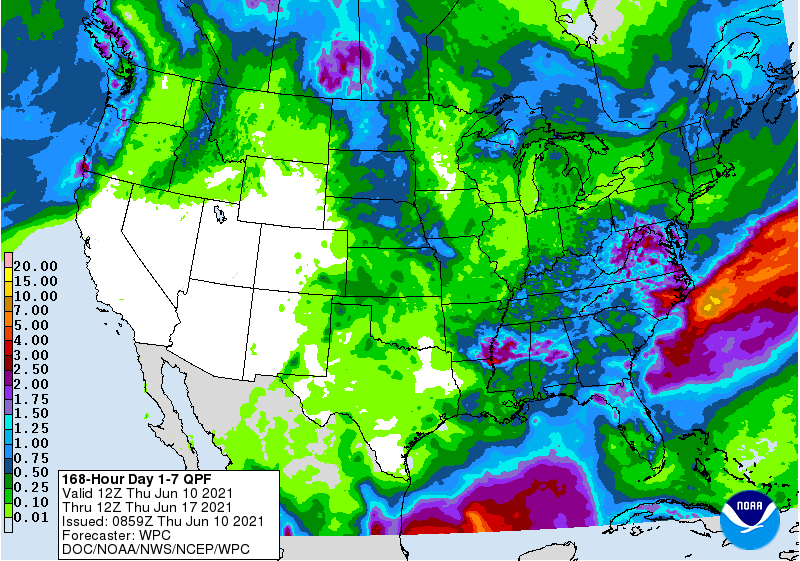 WORLD
HIGHLIGHTS
Much
of the Midwest Corn and Soybean Belt will experience a net decline in soil moisture over the next ten days to possibly two weeks
<![if !supportLists]>o
<![endif]>Scattered showers and thunderstorms are expected periodically, but resulting rainfall may have a tough time countering evaporation
<![if !supportLists]>o
<![endif]>The European forecast model is quite dry for the Midwest with hot weather in the northern Plains early next week and in the western and central Corn Belt during mid-week
Some
of the heat and dryness is a little extreme, but the trend is correct
<![if !supportLists]>o
<![endif]>The GFS model run has a little too much rain in the outlook and not enough heat; so, as usual there is need for a compromise in the models

<![if !supportLists]>o
<![endif]>Net drying is the bottom line with increasing crop stress in the north and western Corn Belt with a few pockets of exception

Rainfall
coming tonight and Friday has been reduced in the northern Plains over that advertised earlier this week, but rain will still occur in the Dakotas and western Minnesota tonight and Friday adding to the moisture that has already fallen to continue the "temporary"
improving trend for crops in the region
<![if !supportLists]>o
<![endif]>Drying is expected this weekend through a large part of next week, despite a few sporadic showers and temperatures will be very warm to hot again during the Sunday through Tuesday or Wednesday period
The
heat will quickly draw down soil moisture after this week's increase in moisture

Hot
temperatures will occur in the Dakotas today ahead of the overnight thunderstorms

<![if !supportLists]>o
<![endif]>Fast drying is expected with temperatures in the 90s and near 100 Fahrenheit
<![if !supportLists]>o
<![endif]>Similar heat is expected early next week
It
is very difficult to get far ahead on soil moisture when rain events are surrounded by bouts of hot weather

Russia's
southeastern New Lands and northern Kazakhstan spring wheat and sunseed production areas will receive very little rain over the next two weeks and net drying is expected
<![if !supportLists]>o
<![endif]>No excessive heat is presently expected which will help keep crop stress low as the region dries down
India's
monsoon depression seems to lose more intensity as each day goes by, but moderate to heavy rain is expected from Odisha to Madhya Pradesh this weekend into next week
<![if !supportLists]>o
<![endif]>The risk of serious flooding has been greatly reduced, but local flooding is still expected and the rain will disrupt planting of summer crops with a few of the wettest areas having need for a little replanting
Interior
western and southern India will continue drier than usual for this time of year and this trend may continue into late June raising some eventual concern over delayed rainfall and delayed planting
U.S.
high pressure ridge aloft is still expected to shift westward into the Rocky Mountains and high Plains region this weekend and especially next week creating a northwesterly wind flow pattern aloft over the Midwest
<![if !supportLists]>o
<![endif]>In this pattern there may be some shower and thunderstorms and less heat in the Midwest
<![if !supportLists]>o
<![endif]>Crop conditions will only improve if generalized rain falls and today's outlook still suggests net drying over the next couple of weeks

<![if !supportLists]>o
<![endif]>Moisture in the northwestern Corn Belt will be restricted especially if a tropical cyclone comes into the Gulf of Mexico a week from now as suggested by some forecast models today
As
noted a week ago, the potential for tropical cyclone development in a part of the western Atlantic Ocean Basin will be highest next week.

<![if !supportLists]>o
<![endif]>Recent forecast models have suggested the period from June 17-21 may be a time period to watch for a tropical system in the Gulf of Mexico.

East-central
China, including the Yellow River Basin and North China, will receive rain this weekend through all of next week to ease the region from recent dryness
<![if !supportLists]>o
<![endif]>Crop stress relief is expected
<![if !supportLists]>o
<![endif]>Some welcome rain fell Wednesday and early today from northern Shaanxi to parts of Hebei with a few areas in northern Hebei getting 1.00 to more than 2.50 inches of rain
<![if !supportLists]>o
<![endif]>Rain also fell overnight in Liaoning where another 0.60 to nearly 3.00 inches resulted
Northeast
China crop weather will be mostly good over the next two weeks with a mix of rain and sunshine while temperatures are little warmer than usual
Southern
China will remain plenty wet for the next two weeks
Xinjiang,
China will trend a little cooler than usual in the northeast during the coming week with periods of rain possible
<![if !supportLists]>o
<![endif]>Extreme lows in northeastern Xinjiang will slip to the 40s Fahrenheit Saturday morning

Rainfall
Wednesday varied up to 0.50 inch and high temperatures were confined to the 70s Fahrenheit
<![if !supportLists]>o
<![endif]>Southwestern areas will see a little cooler bias in temperatures and limited rain potential; these temperatures will be much closer to normal than in the northeast part of the province
Lower
U.S. Midwest, Delta and southeastern states will continue to see a good mix of weather for a while, although the Delta and Tennessee River Basin will need to dry down after recent heavy rain and flooding
<![if !supportLists]>o
<![endif]>Delta and Tennessee River Basin rainfall the past two days was greater than expected with 3.00 to 9.00 inches resulting in more widespread flooding
West
Texas will be hot over the next two days with highs of 100 to 108 Fahrenheit
<![if !supportLists]>o
<![endif]>Scattered showers will pop up during the weekend and next week as the region cools back down for a little while
Far
western U.S. crop areas will continue quite dry during the next ten days with temperatures turning warmer than usual next week and continuing into the following weekend
Canada's
Prairies have been experiencing relief from dryness this week and additional rain into Saturday will perpetuate the trend.

<![if !supportLists]>o
<![endif]>Relief has been imperative after recent drying and soil moisture rated short to very short Tuesday before the rain began
<![if !supportLists]>o
<![endif]>Crop stress is being eased and will continue to be eased through Saturday
<![if !supportLists]>o
<![endif]>Rain will occur from Saskatchewan through Manitoba today into Saturday morning with tonight and Friday wettest
Rainfall
of 0.50 to 1.50 inches will be common with local totals of up to 2.75 inches



<![if !supportLists]>o
<![endif]>This weekend through June 22 will be a little drier and warmer biased once again

Mexico
rainfall will continue confined to southern parts of the nation during the next two weeks leaving drought in dominance of western, central and northern Mexico
<![if !supportLists]>o
<![endif]>Recent rain in eastern Mexico eased long term dryness
Nicaragua
and Honduras have been drier biased for the past month and need rain
<![if !supportLists]>o
<![endif]>Some improvement is expected over the next week to ten days as rain develops in some of the driest areas
Safrinha
corn areas of Brazil will experience no serious weather changes over the next ten days
<![if !supportLists]>o
<![endif]>Dryness will remain in Mato Grosso, Goias, southwestern Minas Gerais and northern Sao Paulo
<![if !supportLists]>o
<![endif]>Showers and thunderstorms farther to the south in Brazil periodically will be good for wheat and late Safrinha crops
<![if !supportLists]>o
<![endif]>Safrinha corn and cotton production will be down this year, despite periodic rainfall in the south
Argentina's
summer crop harvest has advanced well in recent weeks
<![if !supportLists]>o
<![endif]>Winter wheat areas are drying down and there are some areas in Cordoba that need significant moisture
The
dry bias will prevail over the next week to ten days

Australia
will see some periodic showers and some sunshine during the next two weeks
<![if !supportLists]>o
<![endif]>Greater volumes of rain are needed especially in South Australia, Queensland and, northwestern Victoria and western New South Wales
Portions
of Western Europe will be trending drier over the coming week
<![if !supportLists]>o
<![endif]>Temperatures will be warm, but not excessively hot
<![if !supportLists]>o
<![endif]>Drying will raise the need for rain in time
Southeast
Asia rainfall increased in the mainland areas Tuesday while staying light in Philippines, Indonesia and Malaysia

<![if !supportLists]>o
<![endif]>The rain was welcome
Much
of Southeast Asia is expecting bouts of rain through the next ten days, although amounts will be lighter than usual at times.

A
monsoon depression has evolved in the South China Sea and may bring significant rain to Hainan, China early this weekend and then to northern Vietnam and northern Laos late this weekend into Monday

South
Africa rain will be minimal for a while supporting summer crop harvesting and winter crop planting
<![if !supportLists]>o
<![endif]>A boost in rain is always needed in winter crop areas
West
Africa rainfall will increase over the next ten days
<![if !supportLists]>o
<![endif]>Greater rain is needed in many areas, including Ghana and some west-central Ivory Coast coffee, cocoa, rice and sugarcane production areas
A
boost in cotton rainfall would also be welcome
<![if !supportLists]>o
<![endif]>Rainfall will continue lighter than usual, but at least some showers will occur periodically
East-central
Africa has been drying down and needs greater rain soon to maintain the best coffee, cocoa, rice, sugarcane and other crop production potentials
<![if !supportLists]>o
<![endif]>Rainfall will increase in Ethiopia this week while little change occurs elsewhere
Southern
Oscillation Index is mostly neutral at -0.78 and the index is expected to begin leveling off during the balance of this week after a steady decline
North
Africa weather will trend a little wetter in northern Algeria and Tunisia this weekend and early next week

<![if !supportLists]>o
<![endif]>No winter crop quality issues are expected
New
Zealand weather during the coming week to ten days will be drier and warmer than usual

<![if !supportLists]>o
<![endif]>the exception will be along the west coast of South Island where rain is expected this weekend into next week
Source:
World Weather, Inc.
Thursday,
June 10:
USDA's
monthly World Agricultural Supply and Demand (WASDE) report, 12pm
USDA
weekly crop net-export sales for corn, soybeans, wheat, cotton, pork, beef, 8:30am
China's
agriculture ministry (CASDE) releases monthly report on supply and demand for corn and soybeans
Malaysian
Palm Oil Board inventory, output and export data for May
Brazil's
Conab releases output, yield and acreage data for corn and soybeans
Port
of Rouen data on French grain exports
Malaysia
June 1-10 palm oil export data
Friday,
June 11:
ICE
Futures Europe weekly commitments of traders report (6:30pm London)
CFTC
commitments of traders weekly report on positions for various U.S. futures and options, 3:30pm
FranceAgriMer
weekly update on crop conditions
Source:
Bloomberg and FI
USDA
export sales
Soybean
corn export sales were slow but in a range of expectations. Soybean meal and oil sales were near expectations but meal shipments were down from the previous week. SBO shipment were also up to 18,600 tons from 9,300 tons previous week. Corn export sales were
near the low end of expectations while wheat was withing expectations. We see the sales report slightly supportive for SBO while other markets continue to firm from positioning ahead of the USDA report due out later.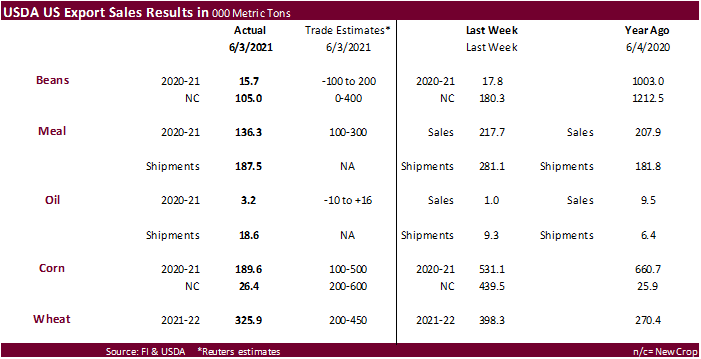 US
CPI (M/M) May: 0.6% (est 0.5%; prev 0.8%)
US
CPI Ex Food, Energy (M/M) May: 0.7% (est 0.5%; prev 0.9%)
US
CPI (Y/Y) May: 5.0% (est 4.7%; prev 4.2%)
US
CPI Ex Food, Energy (Y/Y) May: 3.8% (est 3.5%; prev 3.0%)
US
Initial Jobless Claims Jun 5: 376K (est 370K; prev 385K)
US
Continuing Claims May 29: 3499K (est 3665K; prevR 3757K; prev 3771K)
US
Real Avg Weekly Earnings (Y/Y May: -2.2% (prevR -1.7%; prev -1.4%)
US
Real Avg Hourly Earnings (Y/Y) May: -2.8% (prev -3.7%)
Corn
Export
developments.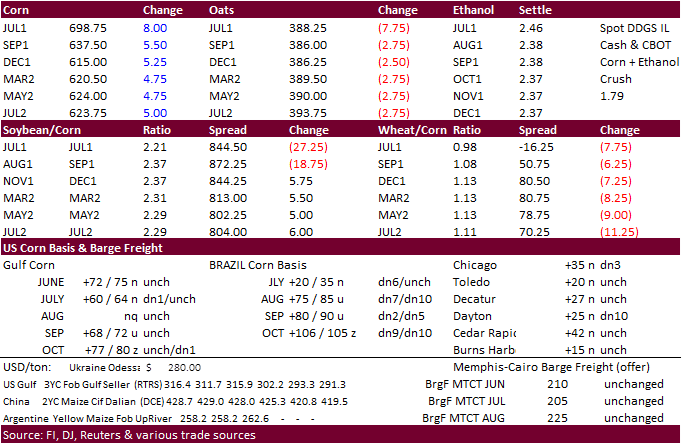 Updated
6/10/21
July
corn seen in a $6.50 and $7.50 range (up 50 front end, up 25 back end)
December
corn is seen in a $4.75-$7.00 range.
Soybeans

Bear
spreading pulled July meal $4.80 lower. July soybean oil fell 113 points, Aug down 29 points and December up 59 points. With USDA cutting the old crop crush by 15 million bushels resulting in less soybean oil produced for the remainder of the crop year,
we think the bear spreading was overdone.