PDF Attached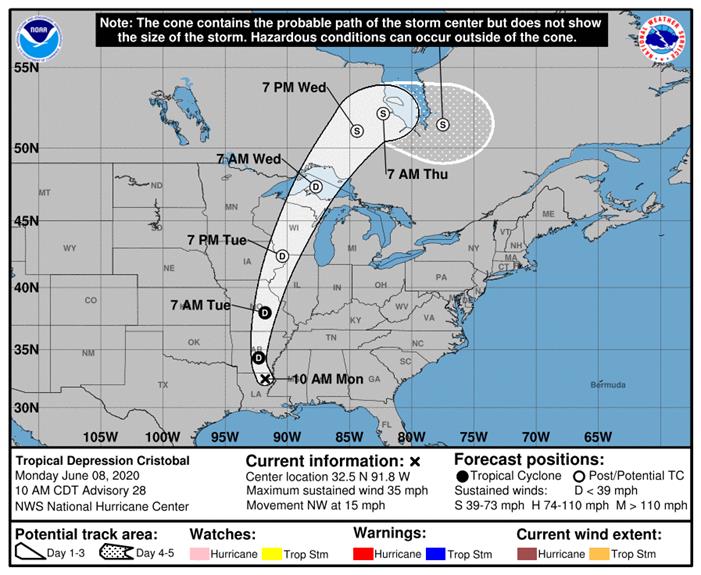 MARKET
WEATHER MENTALITY FOR CORN AND SOYBEANS: Once remnants of Tropical Depression Cristobal leave the Corn Belt, net drying is expected for a while. Soil moisture will be favorable for good crop development in most areas, although slowly declining soil
moisture in the eastern Midwest and parts of the Tennessee River Basin will be closely monitored. Timely rain will be very important for all of these areas late this month and in July.


Weekend rainfall in Canada's Prairies was good for "some" of its canola, but additional rain will be needed in parts of the region this week. Dryness remains in a part of the eastern Prairies and rain will have to fall more significantly soon to ensure that
the dryness does not become a greater problem.

South America weather remains mostly good for maturing crops and their harvest. Dryness in some eastern and northern Safrinha crops may have harmed late season yields. Argentina's harvesting will continue aggressively.

Rain is needed in South Africa and Australia to improve canola planting conditions. Some rain is expected in Australia late this week.

Philippines rainfall has become erratic and light and needs to be bolstered in a major way. Most of Malaysia and Indonesia rainfall is still rated favorably and likely to prevail for a while.


Europe weather will remain mostly good for coarse grain and oilseed development, although some additional warming is needed in Eastern Europe. A boost in rainfall coming for Western Europe will likely translate into improving summer crop development potential,
although it may come a little late for winter rapeseed.

Drying in Russia's Southern Region, Kazakhstan and central and eastern Ukraine will raise some interest for soybeans, corn and sunseed development, but the region is not too dry today except in parts of Kazakhstan and Russia's Southern Region.


The bottom line will make weather a growing interest for coarse grain and oilseed development around the world, although it does not seem like there is an immediate threat to production. Just enough concern may help induce some rising market premium as time
moves along.
MARKET
WEATHER MENTALITY FOR WHEAT: Rain
in Canada's Prairies during the weekend helped to improve wheat conditions, although there are still some pockets that need greater rainfall. Dryness is also a concern in parts of the northern U.S. Plains. In the meantime, less rain in the eastern Midwest
will be good for soft wheat as it fills and matures over the next few weeks.




U.S. hard red winter wheat is finishing out relatively well, but dryness and frost damage in the southwestern Plains has left production low in some areas. Rain in Nebraska, parts of Kansas and a few Colorado locations today will benefit late season crop development.


Rain in Europe has improved small grain conditions in recent weeks and will continue to support crops, although some areas need temperatures to trend just a little warmer. Spring cereals are still rated favorably with little change expected this week. There
will be some interest in eastern Russia's spring wheat as time moves along this summer, but for now the environment is still mostly good.


Australia's rain event expected late this week and into the weekend should improve some crops, but there will be an ongoing need for greater moisture. South Africa and parts of Argentina still need greater rainfall to support wheat planting and establishment.


Overall, weather today will likely provide a mixed influence on market mentality.
Source:
World Weather Inc. and FI
Brazil's
Conab grains report
WEDNESDAY,
June 10:
EIA
U.S. weekly ethanol inventories, production, 10:30am
International
Grains Council virtual conference
FranceAgriMer
crop report and press briefing
Crop
report by Australia's Abares
Malaysia
MPOB palm oil stockpiles, export, production data for May
Cargo
surveyors release Malaysia export numbers for June 1-10
THURSDAY,
June 11:
USDA's
monthly World Agricultural Supply and Demand (Wasde) report, noon
USDA
weekly crop net-export sales for corn, soybeans, wheat, cotton, 8:30am
China
CASDE monthly crop supply and demand report
Vietnam's
coffee, rice and rubber export data for May
Malaysian
Palm Oil Council webinar: Palm oil in post- pandemic
HOLIDAY:
Brazil
FRIDAY,
June 12:
ICE
Futures Europe weekly commitments of traders report on coffee, cocoa, sugar positions
CFTC
commitments of traders weekly report on positions for various U.S. futures and options, 3:30pm
FranceAgriMer
weekly update on crop conditions
New
Zealand food prices
Shanghai
exchange's weekly commodities inventory
HOLIDAY:
Russia
Source:
Bloomberg and FI

www.conab.gov.br/info-agro/safras/graos




<![if !supportLists]>·
<![endif]>Goldman Roll began on Friday
<![if !supportLists]>·
<![endif]>An increase in US crop ratings and US Midwest forecast for rain this week are prompting CBOT corn futures to take a breather after three consecutive days of higher prices.

<![if !supportLists]>·
<![endif]>Funds sold an estimated net 16,000 corn contracts.

<![if !supportLists]>·
<![endif]>Conab reported the 2020 corn crop at 101 million tons, 1.2 million tons above a Bloomberg estimate and down 1.3 million tons projected last month.

<![if !supportLists]>·
<![endif]>Yesterday AgRural lowered its second corn production estimate to 65.3 million tons from 66.7 million tons previously, 4 million tons below 2019. Conab is at 74.233 million for the second crop, down
from 75.913 million in May.
<![if !supportLists]>·
<![endif]>USDA reported a one-point increase for the US corn crop condition to 75 percent G/E categories, in line with trade expectations. 97 percent of the corn crop had been planted.

<![if !supportLists]>·
<![endif]>Goldman Roll started on Friday.

<![if !supportLists]>·
<![endif]>Soybean and Corn Advisory
www.soybeansandcorn.com