PDF Attached
As
we learned last week, most CME/CBOT pits are now permanently closed. Video link provided takes us back what they used to look like.
https://www.youtube.com/watch?v=a25jc54YFzo


Last
7 days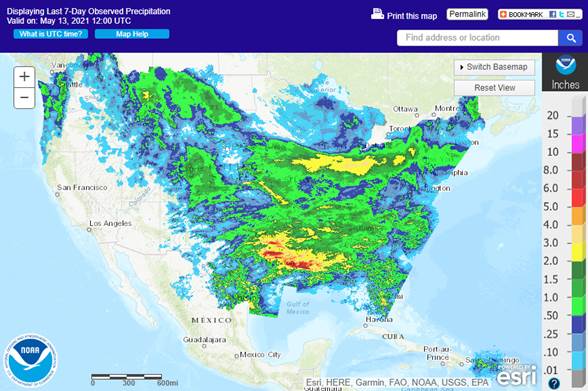 World
Weather, Inc.
MOST
IMPORTANT WEATHER IN THE WORLD
Tropical
cyclone 1A is developing off the lower west coast of India and promises to become a significant tropical cyclone this weekend and early next week before moving inland during mid-week next week over western Gujarat and/or southeastern Pakistan

Property
damage is expected along with some loss of early season summer crops and unharvested winter crops

Agricultural
losses are expected to be low and there is plenty of time to replant some crops




Winter
crop harvesting should be quite advanced across some of the threatened production areas

Some
frost and freezes occurred this morning in minor crop areas of far southern and extreme northeastern Rio Grande do Sul into southeastern Santa Catarina

The
cold missed all of the most important crop areas and should have had a minimal impact

Canada's
eastern Prairies are not likely to see much significant rainfall over the coming week, although a few sporadic showers will continue to tease some of the region with minimal amounts of moisture

Alberta
and far western Saskatchewan have some potential to receive meaningful rain late next week into the following weekend, but there is plenty of time for the advertised storm to change

Temperatures
will turn very warm to hot in the eastern Canada Prairies during the late weekend through early half of next week

The
northern U.S. Plains are not expecting very much "meaningful" rain over the next week and concern over drought will expand this late weekend into early next week as temperatures rise over 80 degrees Fahrenheit
U.S.
Upper Midwest will have some potential for rainfall late next week and into the following weekend; until then the region will stay mostly dry
Frequent
rain will fall in the central and southern U.S. Plains during the coming week to ten days possibly inducing some flooding over time.


Eastern
Kansas, Missouri, Oklahoma, the Texas Blacklands, the northwestern U.S. Delta and the lower most Midwest will be wettest


Excessive
rain is expected in a part of Oklahoma and southeastern Kansas wheat production areas


Wheat
conditions will stay mostly good, but drier weather will be needed soon after this period to protect crops from wet weather disease and a threat to early maturing crop quality

West
Texas rain potentials are still looking very good over the coming week

Scattered
showers and thunderstorms will begin tonight night and be most significant Saturday night into Sunday until early to mid-week next week when the most generalized rainfall is expected

Good
coverage is anticipated by this time next week with sufficient rain to improve planting moisture in much of the region
The
intensity and coverage of rain has been reduced today, although all areas will get rain

The
storm system in the central and southern Plains, Missouri and Arkansas may rob some of the moisture from falling in West Texas especially near the New Mexico border where rain amounts will be lightest

Cotton,
corn, rice, soybean and sorghum areas of central and southern Texas will benefit from rain during the next ten days, although some local flooding may evolve
U.S.
southeastern states will experience net drying during the coming week to ten days

Southern
Georgia, northern Florida, southeastern Alabama and South
Carolina will be included in the driest conditions

Good
field working opportunities will remain, but the ground is expected to eventually become a bit too dry

U.S.
Pacific Northwest unirrigated winter crop areas are still being stressed by dryness and there is no significant relief coming anytime soon
California,
the Great Basin and most of the southwestern desert states will be dry through the next ten days
Southeast
Canada corn, soybean and wheat production areas are favorably moist and poised for good field progress and crop development this year
Brazil's
Safrinha crop areas will receive no meaningful rainfall through next Friday morning and then scattered showers will occur in many areas May 21-23 with resulting rainfall mostly under 0.50 inch

Additional
showers are possible after May 23 in Brazil's corn country, but confidence is low

The
European continent will continue wet over the next ten days

Spain
and Portugal will be the only drier biased countries

Russia's
New Lands are continuing to dry out and this will become a market interest soon as the regions turns warmer than usual and becomes a little too dry


The
area includes the southern Ural Mountains region, northern Kazakhstan and neighboring areas to the north in Russia's southeastern New Lands and perhaps also impacting eastern portions of the lower Volga River Basin
This
region is not too dry today and is expected to see aggressive spring planting and early crop development until the soil becomes too dry

Mainland
areas of Southeast Asia and Luzon Island, Philippines still need greater rain
West
Africa will receive lighter than usual rainfall for a while in the coming week

A
boost in precipitation is needed, but unlikely for a while

Australia
will be dry over the next ten days

Rain
is needed to support better wheat, barley and canola planting conditions

Argentina
weather will remain favorable for its harvest

Restricted
rainfall and seasonable temperatures are expected in the next ten days

China
rainfall in the Yangtze River Basin will be excessive in the coming week to ten days resulting in some flooding


The
rain is spread out over multiple days and flooding should not be nearly as serious as that of last year
Some
excessive rain has already been reported in random locations in the interior southern parts of China over the past several days

Portions
of China's North China Plain and Yellow River Basin will receive some needed rain through Saturday and into early Sunday easing dryness that has evolved recently and restoring favorable crop and field conditions in both winter and spring production areas

Hebei,
Liaoning and Shandong will not receive nearly as much rain as other areas and will have a growing need for precipitation during the balance of this month
Shanxi,
Henan and a few neighboring areas will be wettest

Northeastern
China will continue to experience periodic rainfall that will keep spring planting moving along a little sluggishly for a while
Xinjiang
China's cotton areas will be cooler than usual through the weekend and again late next week

The
environment will be poor for degree day accumulations
Showers
are expected today and Saturday, although most of the precipitation will be key very light
Temperatures
will cool to the upper 50s and 60s in the northeast followed by lows in the middle and upper 30s into the 40s Saturday


Cooling
in the southwest will force high temperatures to the 60s and 70s briefly through Saturday

Warming
will occur early to mid-week next week with temperatures returning closer to normal
Another
bout of cooling is expected late next week
The
cool weather is slowing crop development and there is some concern over the overall condition of crops because of so much cool weather this spring

Mexico
drought remains quite serious, but there is some rain and thunderstorms advertised for southern and eastern parts of the nation during the next two weeks

The
precipitation will begin erratically and then increase over time this week and then decrease again next week
Water
supply is quite low and winter crops in a few areas have not performed well
The
moisture will help improve planting, emergence and establishment conditions for most summer crops in the wetter areas, but the west-central and northwest parts of the nation will continue quite dry.


Australia
precipitation will be restricted over the coming week, although some showers are now being suggested for late next week and into the following weekend

Temperatures
will be close to normal in the east and warmer than usual in the west
The
bottom line supports aggressive planting in Western Australia where significant rain fell last week, but most other areas will wait on significant rain to bolster soil moisture for improved autumn planting and germination conditions in unirrigated areas


South
Africa will not receive much rain in the coming two weeks favoring summer crop maturation and harvest progress

Winter
crop planting is under way and additional rain would be welcome for that purpose
Temperatures
will be warmer than usual

India
winter crop harvesting has advanced well in the dry areas, but some rain has hindered fieldwork in a few areas

Rain
will diminish over the next few days as the tropical cyclone moves northward off the west coast.


Southern
Oscillation Index is mostly neutral at +5.57 and the index is expected to move higher for a while this weekend
North
Africa rainfall is expected to be minimal over the next ten days

Temperatures
will be warmer than usual
Winter
small grains will be rushed toward maturation faster than usual without much moisture

West-central
Africa will see a mix of rain and sunshine through the coming week.

Temperatures
will be near to above average and rainfall will be below average

A
boost in precipitation will be needed later this month to ensure soil moisture stays as good as possible and crop development continues normally

East-central
Africa rainfall has been erratic in recent weeks and a boost in rainfall is under way in Kenya, Ethiopia and northern Tanzania during the coming week
Southeast
Asia rainfall will be favorably distributed in Indonesia, Malaysia and most of the mainland areas during the next two weeks

However,
the mainland areas are reporting below to well below average rainfall recently and a boost in rain is needed in Vietnam's Central Highlands and neighboring areas

Greater
rain is also needed in the northern and western Philippines

Sulawesi
also needs a boost in rainfall

Most
of these areas will see improving rainfall May 20-26 with scattered showers and thunderstorms until then


Luzon
Island, Philippines will be last to get significant rain

New
Zealand precipitation for the next week to ten days will be periodic across North Island and more frequent in western portions of South Island


Temperatures
will be a little cooler than usual
Source:
World Weather, Inc.
Friday,
May 14:
ICE
Futures Europe weekly commitments of traders report, 6:30pm London
FranceAgriMer
weekly update on crop conditions
CFTC
commitments of traders weekly report on positions for various U.S. futures and options, 3:30pm
HOLIDAY:
Indonesia, Malaysia, Dubai
Monday,
May 17:
USDA
export inspections – corn, soybeans, wheat, 11am
U.S.
crop plantings – soybeans, cotton; winter wheat condition, 4pm
U.S.
Green Coffee Association releases monthly green-coffee stockpiles
EU
weekly grain, oilseed import and export data
Ivory
Coast cocoa arrivals
Malaysia
crude palm oil export tax for June (tentative)
Tuesday,
May 18:
China
customs to publish trade data, including imports of corn, wheat, sugar and cotton
New
Zealand global dairy trade auction
Brazil's
Conab releases cane, sugar and ethanol production data
International
Sugar Organization and Datagro to hold New York sugar & ethanol conference
Wednesday,
May 19:
EIA
weekly U.S. ethanol inventories, production
BMO
Farm to Market Conference, day 1
International
Sugar Organization and Datagro to hold New York sugar & ethanol conference
HOLIDAY:
Hong Kong
Thursday,
May 20:
USDA
weekly crop net-export sales for corn, soybeans, wheat, cotton, pork, beef, 8:30am
China
customs to release trade data, including country breakdowns for commodities such as soybeans
BMO
Farm to Market Conference, day 2
Black
Sea Grain conference
Port
of Rouen data on French grain exports
Malaysia
May 1-20 palm oil export data
USDA
total milk, red meat production, 3pm
EARNINGS:
Suedzucker
Friday,
May 21:
ICE
Futures Europe weekly commitments of traders report (6:30pm London)
CFTC
commitments of traders weekly report on positions for various U.S. futures and options, 3:30pm
FranceAgriMer
weekly update on crop conditions
Black
Sea Grain conference
U.S.
Cattle on Feed, 3pm
Source:
Bloomberg and FI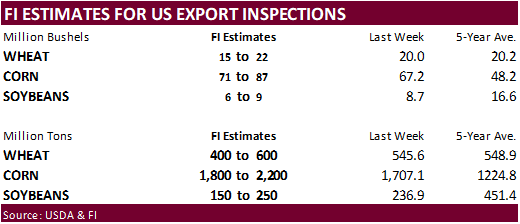 IHS
Markit 2021 Plantings:
Corn:
96.8 mil acres, up 3.26 mil from last month and 5.7 mil above USDA
Soybeans:
88.5 mil, down 1.3 mil from prior estimate and 885,000 above USDA
Other
Spring: 11.6 mil, down 130,000 from USDA
Cotton:
11.7 mil, down 355,000 from USDA
-Trade

Traditional
funds were much less long than expected for corn, soybeans, wheat and meal.







The
net long position gained over corn by a large amount for the week ending May 11.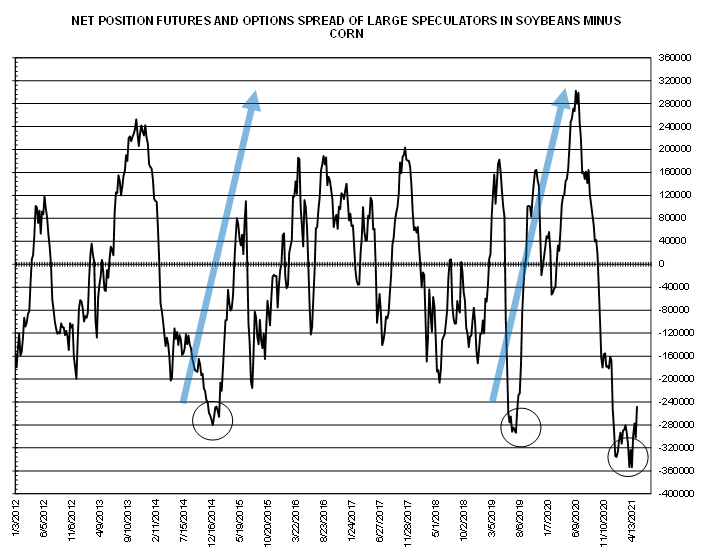 Are
CBOT soybean oil prices getting into a dangerously high territory as the net long position for managed money funds fail to test early January net long highs?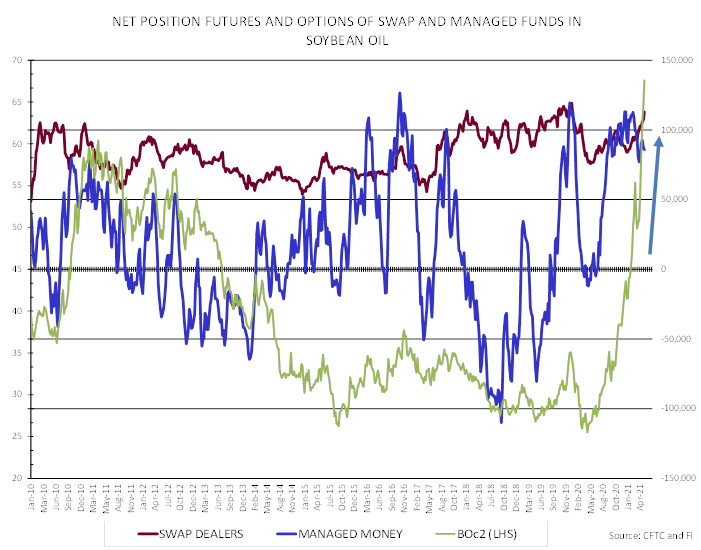 Macro
US
Retail Sales Advance (M/M) Apr: 0.0% (est 1.0%; prevR 10.7%; prev 9.8%)
US
Retail Sales Ex-Autos (M/M) Apr: -0.8% (est 0.6%; prevR 9.0%; prev 8.4%)
US
Retail Sales Ex-Autos, Gas Apr: -0.8% (est 0.3%; prevR 8.9%; prev 8.2%)
US
Retail Sales Control Group Apr: -1.5% (est -0.2%; prevR 7.6%; prev 6.9%)
US
Import Price Index (Y/Y) Apr: 10.6% (est 10.2%; prev 6.9%)
US
Import Price Index (M/M) Apr: 0.7% (est 0.6%; prevR 1.4%; prev 1.2%)
US
Import Price Index Ex-Petroleum (M/M) Apr: 0.7% (est 0.5%; prev 0.9%)
US
Export Price Index (Y/Y) Apr: 14.4% (est 14.0%; prev 9.1%)
US
Export Price Index (M/M) Apr: 0.8% (est 0.8%; prevR 2.4%; prev 2.1%)
Canadian
Manufacturing Sales (M/M) Mar: 3.5% (est 3.3%; prev -1.6%)
Canadian
Wholesale Trade Sales (M/M) Mar: 2.8% (est 1.0%; prev -0.7%)
US
Industrial Production (M/M) Apr: 0.7% (est 0.9%; prev 1.4%)
US
Capacity Utilization Apr: 74.9% (est 75.0%; prev 74.4%)
US
Manufacturing (SIC) Production Apr: 0.4% (est 0.3%; prev 2.7%)
Corn
futures were in a freefall again during the day session led by the July contract. For the week they declined by most for one week in nearly five years. July fell 12.1% this week and stands at $6.4375, off 31 cents and well off its contract absolute high of
$7.3525 (91.50 cents). July oats dropped 11.2% this week. Funds sold an estimated net 25,000 net corn contracts.

CBOT
corn attempted to rebound on a lower USD (down 43 by 1:50 pm CT), strength in WTI crude oil (up $1.55) and higher US equities but broke during the early day session after July position started to sell off. A private form estimated the US corn planted area
well above USDA's March estimate. The US Coast Guard lifted river restriction on Lower Mississippi River near I-40 bridge, according to a news release, but this did little to slow the selling post new flash announcement. As of Friday morning, there were
62 vessels and 1,058 barges in queue. The selling in the July contract was likely related to profit taking in July/December spreads and a pickup in producer movement as 2021 US plantings start to wind down. The absolute high on the
July/December corn spread was $1.26 (May 12) and Friday it was last $1.0225.

IHS
Markit estimated the US corn planted area at 96.85 million acres, above USDA March of 91.144 million. Using normal abdomen and near trend yield, this estimate, if realized, could add 800 to a billion bushels to supply. We agree the US corn area is too low
and look for June plantings to come in greater than March intentions. Domestic and export demand for corn should be strong for 2021-22, and we believe any access supply realized by USDA could be absorbed by exports, feed and possibly ethanol use, keeping
the US carryout near their working 1.5-billion-bushel estimate.
China
bought 1.36 million tons of new-crop corn per USDA on Friday. So far during the month of May China bought 5.1 million tons of new-crop corn under the 24-hour reporting system.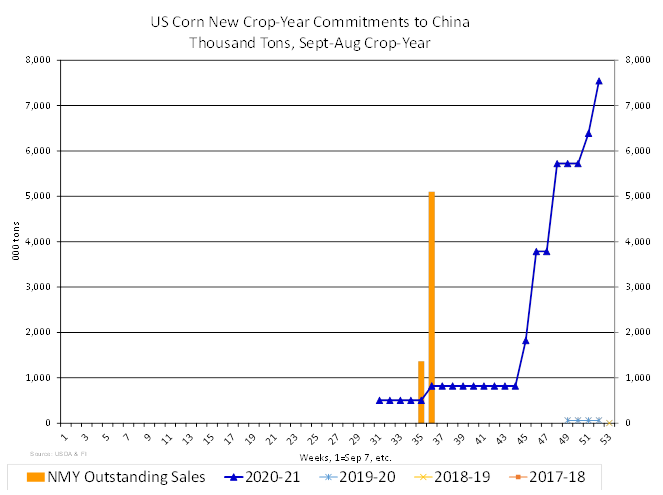 China's
sow herd expanded 1.1% in April from the previous month and rebounded 23% over a year earlier. The sow herd in April stood at 97.6% of the end-2017 level, according to Reuters. Newborn piglets up 58.8% from last year. China has 180,000 large pig farms, up
from 161,000 at the beginning of last year, according to the AgMin.

FranceAgriMer
reported the French corn planting progress at 95% complete as of May 10, up from 89% the previous week and 88% a year ago.
Ukraine
planted about 74% percent of their planned corn area, or about 3.9 million tons. Ukraine early spring plantings are near complete with more than 1.9 million hectares sowed as of May 13. The area included 1.33 million hectares of barley, 229,600 hectares
of peas, 186,800 hectares of oats and 174,700 hectares of spring wheat.

EIA:
In 2020, U.S. exports of fuel ethanol fell for the second consecutive year
https://www.eia.gov/todayinenergy/detail.php?id=47956&src=email