PDF Attached
WASHINGTON, May 13, 2021—Private exporters reported to the U.S. Department of Agriculture export sales of 680,000 metric tons of corn for delivery to China during the 2021/2022 marketing year.
Yesterday the US Coast Guard closed a section of the Mississippi River near Memphis, to all vessel traffic, due to a several problems including a crack in a steel box beam for the I-40 bridge. Reuters reported more than 400 barges were affected. It is unknown when it will open.

Weather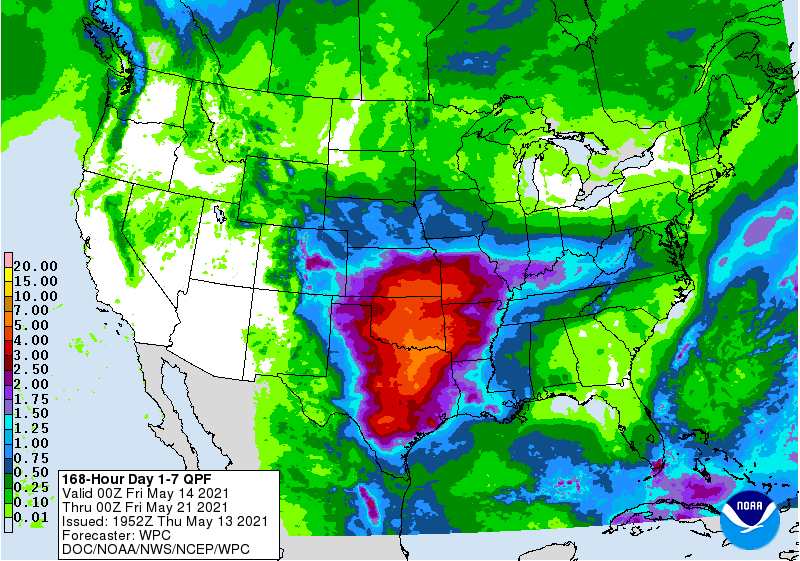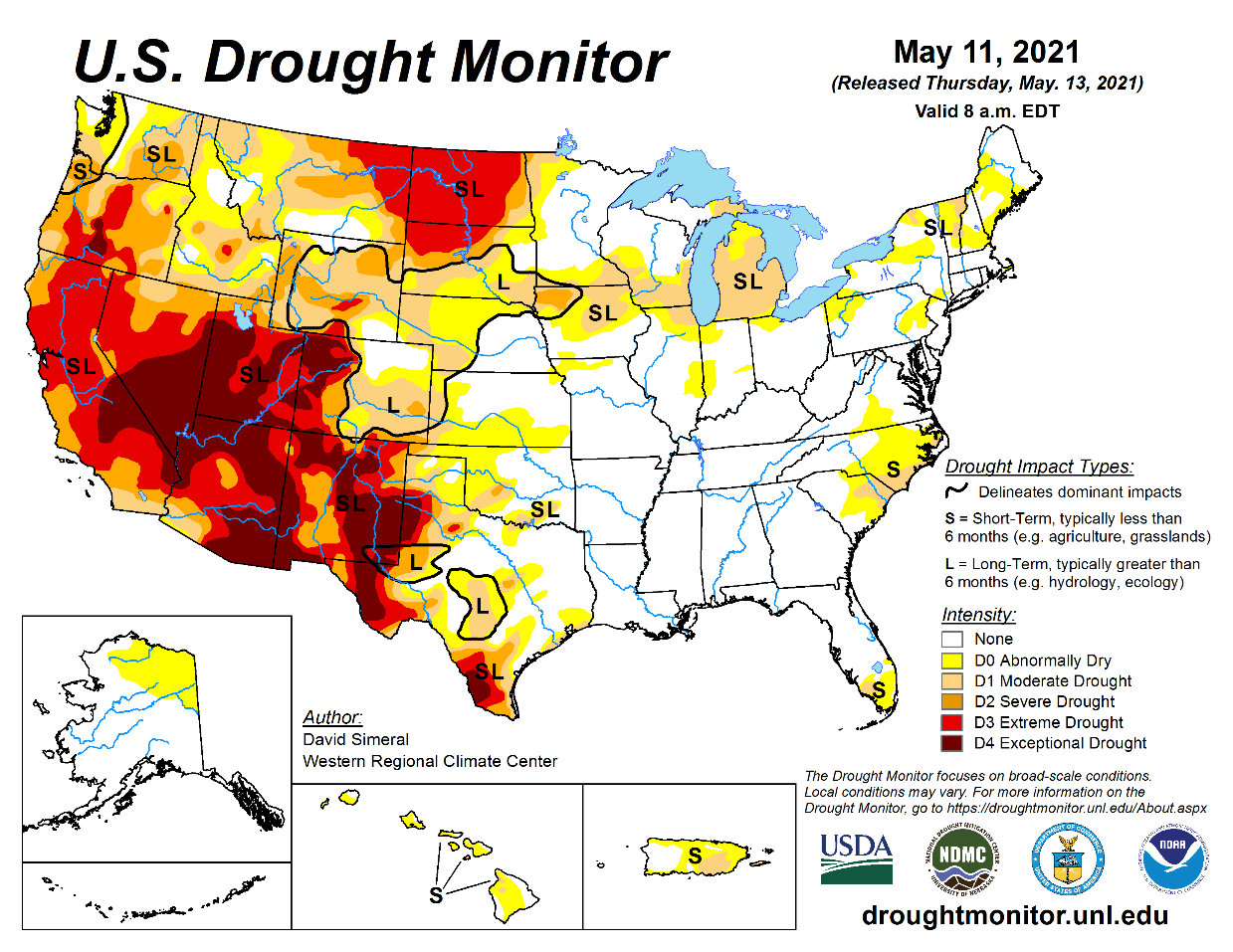 World Weather, Inc.
TODAY'S HIGHLIGHTS
Canada's Prairies and the northern U.S. Plains may see a boost in rainfall during the second week of the two week outlook

Dry conditions will prevail in this first week of the outlook
Temperatures will trend very warm to hot early next week ahead of the rising potential for rain

Frequent rain in a part of the central and southern Plains will be closely monitored for possible wet weather disease in wheat areas and if the rain prevails too long it could raise a quality issue for early maturing crops in the south
Lower Midwest and northern Delta precipitation will also become substantial next week slowing fieldwork and inducing local flooding possibly
Net drying is expected in the southeastern U.S. for a while
U.S. Pacific Northwest dryness will continue a concern in unirrigated areas of the region
Brazil's Safrinha crop areas will receive no meaningful rainfall for the next week to 8 or 9 days and then a few showers may evolve lightly

Rain after May 23 in Brazil's corn country is too intense and may be too widespread on the GFS model runs, but some showers are expected

The European continent will continue wet over the next ten days
Russia's New Lands are continuing to dry out and this will become a market interest soon as the regions turns warmer than usual and becomes a little too dry

The area includes the southern Ural Mountains region, northern Kazakhstan and neighboring areas to the north in Russia's southeastern New Lands and perhaps also impacting eastern portions of the lower Volga River Basin

This region is not too dry today and is expected to see aggressive spring planting and early crop development until the soil becomes too dry

A developing tropical cyclone off the lower west coast of India will be closely monitored as it quickly intensifies and moves up the west coast of India

Landfall is advertised near the Gujarat/Pakistan border early to mid-week next week

The storm could have quite an impact if it is as intense as advertised and follows the advertised path

Mainland areas of Southeast Asia and Luzon Island, Philippines still need greater rain
West Africa will receive lighter than usual rainfall for a while in the coming week
Australia will be dry over the next ten days
Argentina weather will remain favorable for its harvest
China will continue too wet in the Yangtze River Basin
Hebei, Shandong and Liaoning, China will dry down over the next ten days, but should not become threateningly dry
Source: World Weather, Inc.
Thursday, May 13:
New Zealand April food prices, 10:45am local
Port of Rouen data on French grain exports
USDA net-export sales for corn, soy, wheat, cotton, pork, beef, 8:30am
HOLIDAY: Indonesia, Malaysia, Singapore, India, Dubai, France, Germany
Friday, May 14:
ICE Futures Europe weekly commitments of traders report, 6:30pm London
FranceAgriMer weekly update on crop conditions
CFTC commitments of traders weekly report on positions for various U.S. futures and options, 3:30pm
HOLIDAY: Indonesia, Malaysia, Dubai
Source: Bloomberg and FI
USDA Export Sales
US export sales for the soybean complex were poor, corn at the high end of expectations and wheat within expectations. The net reduction in old-crop corn were a marketing year low and included reductions primarily for China of 334,300 tons and unknown destinations of 192,600 MT. Corn 2021-22 net sales of 2,083,600 MT were primarily for China (1,360,000 MT), unknown destinations (254,000 MT), and Mexico (219,500 MT). Sorghum sales were 71,100 tons and included China. Old crop soybean sales were a low 94,300 tons but it does not appear China cancelled any commitments. Shipments of meal were ok but soybean oil was only 2,100 tons. Pork sales slowed to 14,700 tons with China taking only 3,000 tons. All wheat sales of 30,300 tons old crop and 268,000 tons new crop were within expectations and included Mexico and unknown as the primary destinations for new-crop.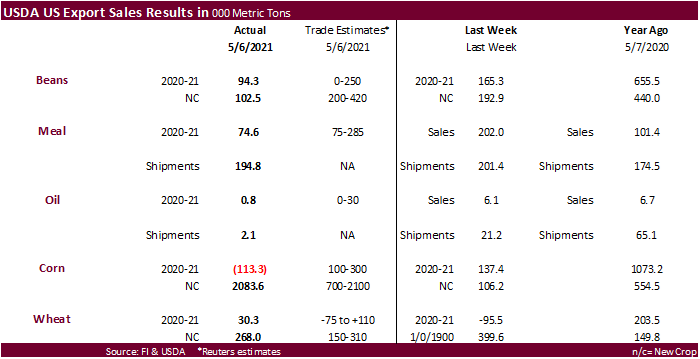 Macro
US Initial Jobless Claims May 8: 473K (est 490K; prevR 507K; prev 498K)
US Continuing Claims May 1: 3655K (est 3650K; prevR 3700k; prev 3690K)
US PPI Final Demand (Y/Y) Apr: 6.2% (est 5.8%; prev 4.2%)
US PPI Ex Food, Energy (Y/Y) Apr: 4.1% (est 3.8%; prev 3.1%)
US PPI Ex Food, Energy, Trade (Y/Y) Apr: 4.6% (est 4.3%; prev 3.1%)
US PPI Final Demand (M/M) Apr: 0.6% (est 0.3%; prev 1.0%)
US PPI Ex Food, Energy (M/M) Apr: 0.7% (est 0.4%; prev 0.7%)
US PPI Ex Food, Energy, Trade (M/M) Apr: 0.7% (est 0.3%; prev 0.6%)
University of Illinois
Kuck, G. and G. Schnitkey. "An Overview of Meat Consumption in the United States." farmdoc daily (11):76, Department of Agricultural and Consumer Economics, University of Illinois at Urbana-Champaign, May 12, 2021. https://farmdocdaily.illinois.edu/2021/05/an-overview-of-meat-consumption-in-the-united-states.html
Export developments.
WASHINGTON, May 13, 2021—Private exporters reported to the U.S. Department of Agriculture export sales of 680,000 metric tons of corn for delivery to China during the 2021/2022 marketing year.

On May 18 USDA seeks a total of 4,770 tons of packaged oil for use in Title II, PL480 and the McGovern-Dole Food for Education export programs. Shipment was set for June 16-July 15 (July 1-31 for plants at ports).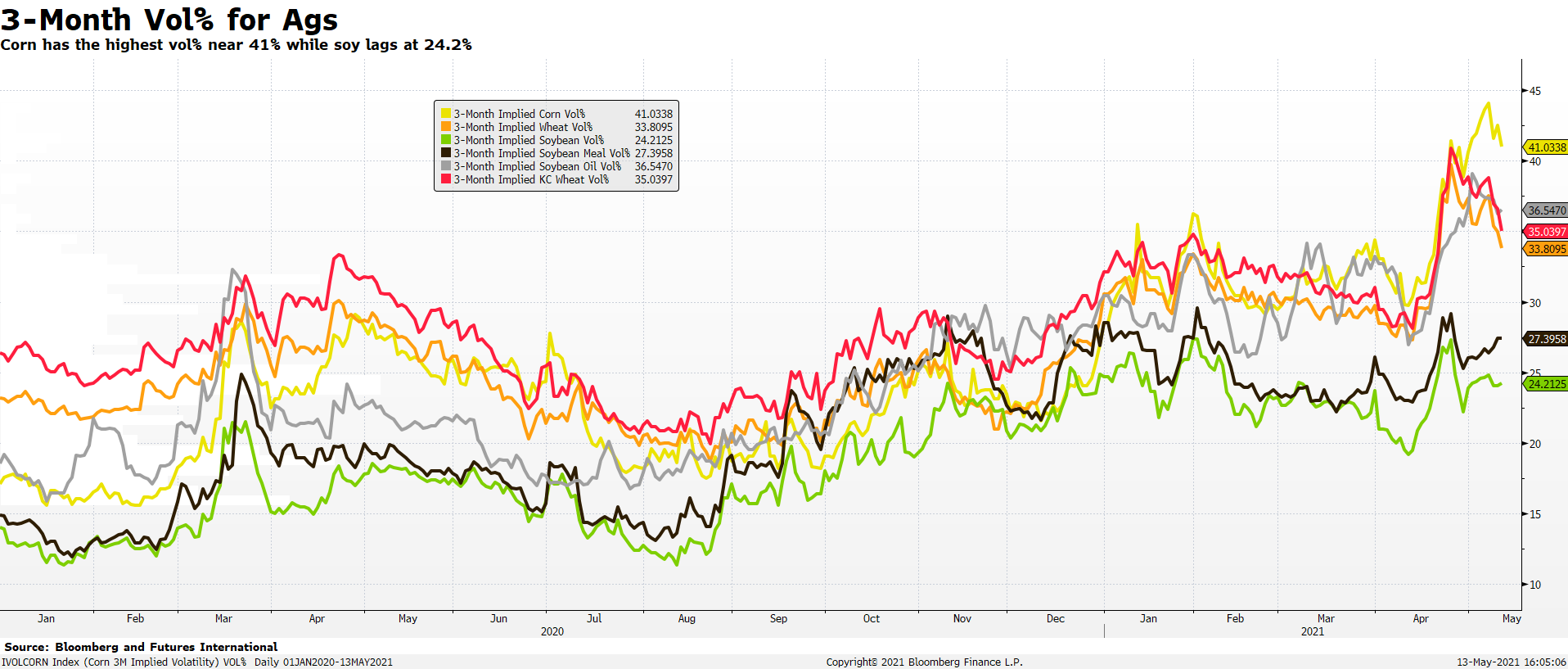 Export Developments.
Results awaited: Taiwan Flour Millers' Association seeks 89,425 tons US milling wheat on May 13. One consignment of 42,505 tons is sought for shipment between July 2 and July 16. A second consignment of 46,920 tons is sought for shipment between July 19 and Aug. 2.
Japan seeks 80,000 tons of feed wheat and 100,000 tons of feed barley on May 19 for arrival by October 28.
Japan seeks 122,180 tons of food wheat from the US, Canada, and Australia this week.

Rice/Other
<![if !supportLists]>· <![endif]>Results awaited: South Korea's Agro-Fisheries & Food Trade Corp seeks 134,994 tons of rice from Vietnam, China, the United States and Australia, on May 13, for arrival between September 2021 and January 2022.
Terry Reilly
Senior Commodity Analyst – Grain and Oilseeds
Futures International
One Lincoln Center
18 W 140 Butterfield Rd.
Oakbrook Terrace, Il. 60181
W: 312.604.1366
ICE IM: treilly1
Skype: fi.treilly

Trading of futures, options, swaps and other derivatives is risky and is not suitable for all persons. All of these investment products are leveraged, and you can lose more than your initial deposit. Each investment product is offered only to and from jurisdictions where solicitation and sale are lawful, and in accordance with applicable laws and regulations in such jurisdiction. The information provided here should not be relied upon as a substitute for independent research before making your investment decisions. Futures International, LLC is merely providing this information for your general information and the information does not take into account any particular individual's investment objectives, financial situation, or needs. All investors should obtain advice based on their unique situation before making any investment decision. The contents of this communication and any attachments are for informational purposes only and under no circumstances should they be construed as an offer to buy or sell, or a solicitation to buy or sell any future, option, swap or other derivative. The sources for the information and any opinions in this communication are believed to be reliable, but Futures International, LLC does not warrant or guarantee the accuracy of such information or opinions. Futures International, LLC and its principals and employees may take positions different from any positions described in this communication. Past results are not necessarily indicative of future results.