PDF Attached include US cash crush, World STU, and USDA snapshot
USDA's
report triggered a negative reaction for feedgrains and supportive for oilseeds. Brazil's Conab reported a higher than expected 2020-21 corn production estimate. China, in their monthly S&D update, estimated new-crop (2021-22) imports for soybeans at 102
million tons (+2 YOY) and corn at 20 million tons (-2MMT YOY).

Inflation
gage:
US
CPI (Y/Y) Apr: 4.2% (est 3.6%; prev 2.6%)
US
CPI (M/M) Apr: 0.8% (est 0.2%; prev 0.6%)
US
Real Avg Weekly Earnings (Y/Y) Apr: -1.4% (prev 3.9%US CPI Ex Food, Energy (Y/Y) Apr: 3.0% (est 2.3%; prev 1.6%)
US
CPI Ex Food, Energy (M/M) Apr: 0.9% (est 0.3%; prev 0.3%)

-livesquawk
WASHINGTON,
May 12, 2021—Private exporters reported to the U.S. Department of Agriculture export sales of 100,000 metric tons of corn for delivery to Mexico. Of the total, 30,000 metric tons is for delivery during the 2020/2021 marketing year and 70,000 metric tons is
for delivery during the 2021/2022 marketing year.
USDA
released their May supply and demand outlook
Reaction:
Neutral
to bearish feedgrains, at least for new crop, and neutral to friendly for soybeans. Bottom line is if the US realizes larger soybean and corn plantings when NASS updates the area at the end of June, look for USDA to increase selected demand categories for
those US balance sheets in July. Therefore, we expect new-crop corn and soybean prices to remain above $5 and $12, respectively, through the summer growing season, unless US crop conditions suggest yields well above trend. Old crop prices should continue
to be underpinned on tight global stocks.
USDA
OCE Secretary Briefing
https://www.usda.gov/sites/default/files/documents/may-2021-wasde-lockup-briefing.pdf
We
remain bullish the soybean complex based on strong global crush demand and China import demand. One figure that stood out was new-crop China corn imports projected at 26 million tons, same as the current crop-year. Note the USDA Attaché put corn imports below
the current year in anticipation of a larger 2021 China corn production.
USDA's
data dump didn't really have any other eye-catching surprises, but there were a few notable items that caught the trade off guard. Old and new crop US wheat ending stocks came in 26 and 44 million bushels above expectations, respectively. Old crop US corn
ending stocks were a little tighter than expected but new-crop was reported 163 million bushels above expectations at 1.507 billion, a level that would be "comfortable." US soybean old and new-crop stocks were reported near expectations.

Looking
new-crop (2021-22) global stocks, USDA looks for the world corn carryout to increase 3.1% from 2020-21, wheat to be near unchanged, and soybeans to increase 5.3% from the current crop-year. As expected, USDA reported very large new-crop South American corn
and soybean production estimates. USDA cut Brazil's 2020-21 corn production by 7 million tons to 102 million. We are near 98 million tons. For new crop they see Brazil corn production rising to 118 million tons, and that could put a dent in US exports.
USDA looks for new-crop Argentina corn output to increase 4 million tons from this year. China corn production for 2021-22 is expected to increase 7.3 million tons to 268 million but as mentioned above imports are expected to remain strong. USDA looks for
China domestic corn use to increase a modest 5 million tons. We think this is light given their initiative to expand animal unit production and use more corn for ethanol use. For soybeans, USDA sees new-crop Brazil production increasing 5.9% or 8 million
tons to a record 144 million tons, and for Argentina new-crop output to increase 10.6% to 52 million tons. We think if the US export campaign falls short of expectations for 2021-22, much of the balance of what is not exported could be used by crushers as
renewable fuel demand increase. Brazil 2021-22 soybean exports were projected at 93 million tons, up 7 million tons from 2020-21, a good reason to justify for a contraction in new-crop US exports from the current year.

USDA
increased its US hard winter and hard spring ending stocks by 12 million bushels each, increased soft red winter by 8, and lowered white and durum stocks by 11 and 1 million, respectively. USDA looks for new-crop feed wheat to increase 70 million bushels
to 170 million from the current crop year. I think some of the trade was penciling in higher wheat for feed for the current marketing year due to the rise in corn prices but remember most of the wheat that is used for feed occurs during the summer quarter.
US wheat ending stocks, along with the global carryout, is seen comfortable.



USDA's
US soybean oil biofuel category indicates strong demand for soybean oil, in part to the emerging renewable biodiesel industry.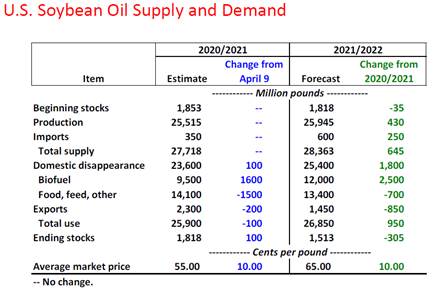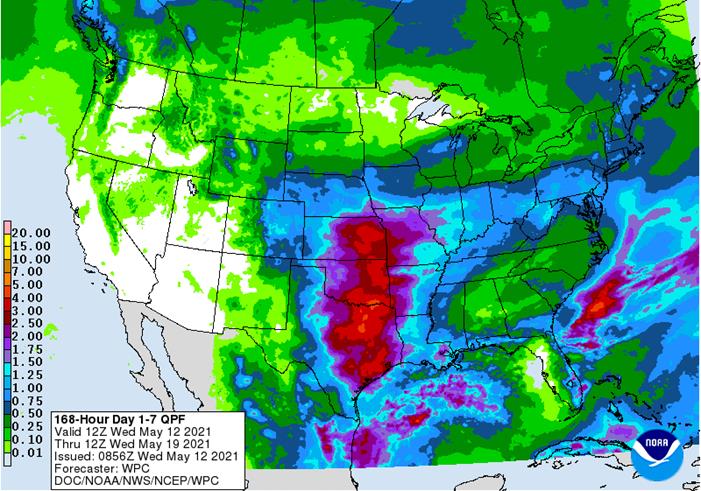 World
Weather, Inc.
MOST
IMPORTANT WEATHER IN THE WORLD
Safrinha
corn in Parana received rain overnight with nearly 65% of the production region in the state reporting 0.30 to 1.10 inches which was about as expected

The
moisture will improve short term crop development
Other
Safrinha corn areas were left dry and will not be impacted by this weather system

Some
follow up showers will be possible late this week coming out of Paraguay and passing through southern Mato Grosso do Sul to Sao Paulo and Parana, but rainfall will be less than 0.25 inch
Today's
GFS model runs have been suggesting much improved rainfall potential for Mato Grosso do Sul, Parana, Paraguay and immediate neighboring areas after May 21

Some
of the rain advertised was quite impressive varying in the 2.00- to 4.00-inch range

This
event is much too far out in the forecast period to have confidence and a close watch on future model runs is warranted

For
now, the advertised precipitation seems to be much too great, but some rain in that period of time cannot be ruled out

Argentina's
weather still looks favorable for crop maturation and harvest progress, although some rain may evolve briefly next week
U.S.
Northern Plains and Canada's Prairies will continue fighting dryness over the next seven days with only sporadic showers of limited significance expected and seasonable temperatures
U.S.
Northern Plains and Canada rain prospects may improve in the May 20-26 period, although confidence is still low, despite some rising potential for rain in at least some of the drier biased areas
Frequent
rain in the central and southern U.S. Plains, lower Midwest and Delta will keep those areas favorably wet with some areas eventually getting to be a little too wet as time moves along
West
Texas rain potentials are still looking very good next week, but the High Plains may continue to struggle for the greatest rainfall

Some
showers will occur prior to that period of time, but they will be more erratic and light

Cotton,
corn, rice, soybean and sorghum areas of central and southern Texas will benefit from rain during the next ten days
U.S.
Pacific Northwest will continue to deal with dryness during this first week of the outlook and then a part of the region will have opportunity for showers in the May 20-26 period
U.S.
southwestern states and western Mexico will continue drought stricken for an extended period of time
Wet
weather is expected to return to western parts of Russia later this week and into next week after a short term break from rainy weather

Eastern
Russia New Lands and Kazakhstan spring wheat areas are drying down and will need s some greater rain soon

Southwestern
portions of the region will be driest; including the southern Ural Mountains region, the lower Volga River Basin and areas east into north-central Kazakhstan

China
rainfall in the Yangtze River Basin will become excessive in the coming week to ten days resulting in some flooding


The
rain is spread out over multiple days and flooding should not be nearly as serious as that of last year
Some
excessive rain has already been reported in random locations in the interior southern parts of China over the past several days

Portions
of China's North China Plain and Yellow River Basin will receive some needed rain Thursday into Saturday easing dryness that has evolved recently and restoring favorable crop and field conditions in both winter and spring production areas

Hebei,
Liaoning and Shandong will not receive nearly as much rain as other areas and will have a growing need for precipitation during the balance of this month
Shanxi,
Henan and a few neighboring areas will be wettest

Northeastern
China will continue to experience periodic rainfall that will keep spring planting moving along a little sluggishly for a while
Xinjiang
China's cotton areas will trend cooler and wetter over the balance of this week




Daily
rainfall will vary from 0.05 to 0.60 inch with a few totals over 1.00 inch, although the greater rainfall will be rare
Temperatures
will cool to the upper 50s and 60s in the northeast followed by lows in the middle and upper 30s into the 40s

Cooling
in the southwest will force high temperatures to the 70s and lows into the 40s after being in the 80s and lower 90s recently

Crop
development and additional planting are occurring favorably. Rain will disrupt some farming operations this week, but fieldwork will occur around the precipitation and the long term benefits of rain will outweigh the disruption to farming activity.


Mexico
drought remains quite serious, but there is some rain and thunderstorms advertised for southern and eastern parts of the nation during the next two weeks

The
precipitation will begin erratically and then increase over time this week and then decrease again next week
Water
supply is quite low and winter crops in a few areas have not performed well
The
moisture will help improve planting, emergence and establishment conditions for most summer crops in the wetter areas, but the west-central and northwest parts of the nation will continue quite dry.


Europe
will receive waves of rain this week bolstering soil moisture for many areas including France, Italy, Germany and the U.K. which have been driest

Temperatures
will be near to below average for a while with the west and southeast coldest relative to normal while northeastern Europe is warmest
Some
flooding is possible in the Alps this week and some immediate neighboring crop areas

Spain
will be driest along with parts of Portugal

Australia
precipitation will be restricted over the coming week to nearly ten days

Temperatures
will be close to normal
Weekend
precipitation was erratic and mostly quite light failing to change soil moisture in a significant manner
The
GFS suggests some rain will fall in Western Australia during the May 20-26 period, but confidence is low on the timing and amounts
The
bottom line supports aggressive planting in Western Australia where significant rain fell last week, but most other areas will wait on significant rain to bolster soil moisture for improved autumn planting and germination conditions in unirrigated areas


South
Africa will not receive much rain in the coming two weeks favoring summer crop maturation and harvest progress

Winter
crop planting is under way and additional rain would be welcome for that purpose
Temperatures
will be warmer than usual

India
winter crop harvesting has advanced well in the dry areas, but some rain has hindered fieldwork in a few areas

Scattered
showers will occur this week in far northern, southern and extreme eastern India resulting in near to above average amounts of rain
The
moisture coming could disrupt farming activity from time to time, but the greatest rain will be in West Bengal into the far Eastern States and in and small part of southwestern India leaving most other areas to experience a mostly favorable environment for
crops.

No
tropical cyclones are present in the western tropical Pacific Ocean

A
tropical disturbance will evolve in the eastern Arabian Sea Thursday and Friday before moving parallel to the west coast of India for a few days during the weekend and early part of next week

Some
forecast models take the storm into Pakistan next week, but confidence in this is low

Southern
Oscillation Index is mostly neutral at +3.18 and the index is expected to move erratically this week
North
Africa rainfall is expected to be minimal over the next ten days

Temperatures
will be warmer than usual
Winter
small grains will be rushed toward maturation faster than usual without much moisture

West-central
Africa will see an erratic mix of rain and sunshine this week.

Temperatures
will be near to above average and rainfall will be below average

A
boost in precipitation will be needed later this month to ensure soil moisture stays as good as possible and crop development continues normally

East-central
Africa rainfall has been erratic in recent weeks and a boost in rainfall is under way in Kenya, Ethiopia and northern Tanzania during the coming week
Southeast
Asia rainfall will be favorably distributed in Indonesia, Malaysia and most of the mainland areas during the next two weeks

However,
the mainland areas are reporting below to well below average rainfall recently and a boost in rain is needed in Vietnam's Central Highlands and neighboring areas

Greater
rain is also needed in the northern and western Philippines

Sulawesi
also needs a boost in rainfall

Most
of these areas will see improving rainfall May 20-26 with scattered showers and thunderstorms until then


Luzon
Island, Philippines will be last to get significant rain

New
Zealand precipitation for the next week to ten days will be frequent across North Island and in western portions of South Island


Temperatures
will trend cooler with the increasing rainfall
Source:
World Weather, Inc.
Wednesday,
May 12:
China
farm ministry's CASDE outlook report
FranceAgriMer
monthly grains report
USDA's
monthly World Agricultural Supply and Demand (WASDE) report, 12pm
EIA
weekly U.S. ethanol inventories, production
Conab's
data on yield, area and output of corn and soybeans in Brazil
Brazil's
Unica data on cane crush and sugar output (tentative)
Thursday,
May 13:
New
Zealand April food prices, 10:45am local
Port
of Rouen data on French grain exports
USDA
net-export sales for corn, soy, wheat, cotton, pork, beef, 8:30am
HOLIDAY:
Indonesia, Malaysia, Singapore, India, Dubai, France, Germany
Friday,
May 14:
ICE
Futures Europe weekly commitments of traders report, 6:30pm London
FranceAgriMer
weekly update on crop conditions
CFTC
commitments of traders weekly report on positions for various U.S. futures and options, 3:30pm
HOLIDAY:
Indonesia, Malaysia, Dubai
Source:
Bloomberg and FI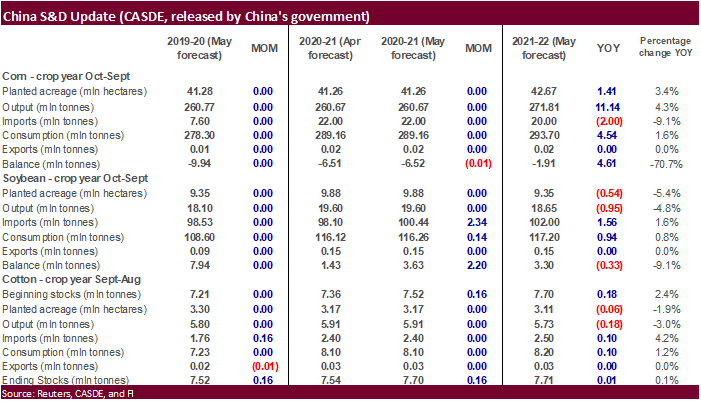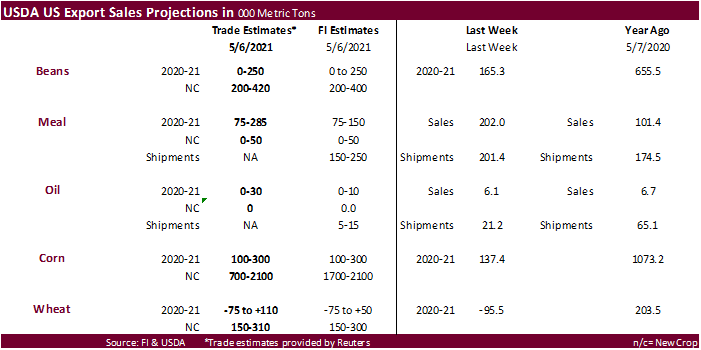 Macro
US
DoE Crude Oil Inventories (W/W) 07-May: -426K (est -2100K; prev -7990KJ)
–
Distillate Inventories (W/W): -1734K (est -1500K; prev -2896K)
–
Cushing Crude Inventories (W/W): -421K (prev 254K)
–
Gasoline Inventories (W/W): 378K (est 0K; prev 737K)
–
Refinery Utilization (W/W): -0.40% (est 0.40%; prev 1.10%)
China,
in their monthly S&D update, estimated new-crop (2021-22) imports for soybeans at 102 million tons (+2 YOY) and corn at 20 million tons (-2MMT YOY).

Argentina
producer selling for corn is running at 26.3 million tons, 3.4 million tons above the same period a year ago. Concerns the government could soon increase export taxes on grains has left producers scrambling to sell their crop.

USDA
in its weekly Broiler Report showed eggs set up 7 percent from a year ago and chicks placed up 14 percent. Cumulative placements from the week ending January 9, 2021 through May 8, 2021 for the United States were 3.36 billion. Cumulative placements were
up slightly from the same period a year earlier.
Weekly
US ethanol production rose a large 27 thousand barrels to 979,000 barrels per day, highest since November 20, 2020, and stocks decreased 1.047 million barrels to 19.393 million, lowest weekly stocks figure since December 30, 2016. PADD1 stocks fell 487,000
barrels and PADD3 stocks dropped 346,000, an indication exports could have been robust in early May and/or a good amount of ethanol was in-transit. Gasoline stocks increased 378,000 barrels to 236.2 million. Gasoline demand fell from the previous week but
is up 19 percent from this time last year but off 3.8% from two year ago. Refinery and blender net input of oxygenates fuel ethanol was 888,000 barrels, 1,000 higher than the previous week. Ethanol blended into finished motor gasoline was running at 91.6%,
slightly above the previous week.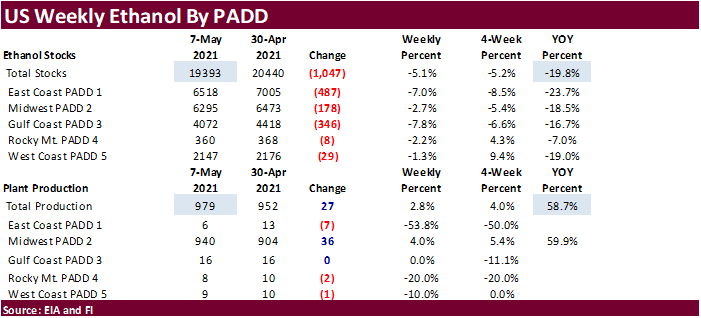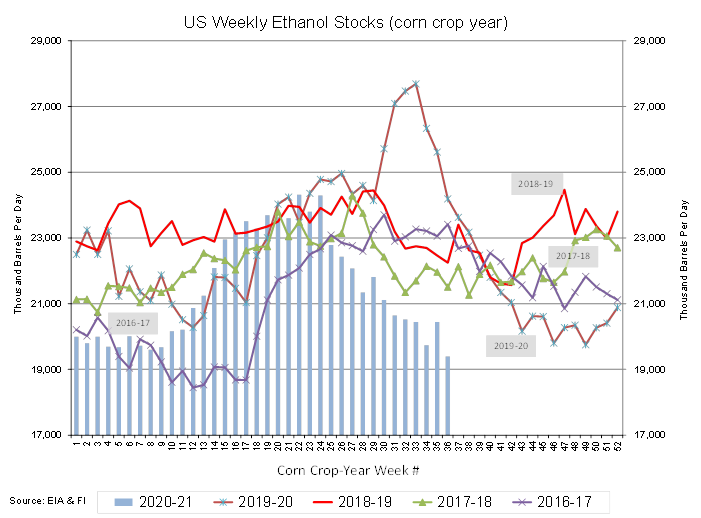 Export
developments.
Under
the 24-hour announcement system, private exporters sold 100,000 tons of corn to Mexico. Of the total, 30,000 metric tons is for delivery during the 2020/2021 marketing year and 70,000 metric tons is for delivery during the 2021/2022 marketing year.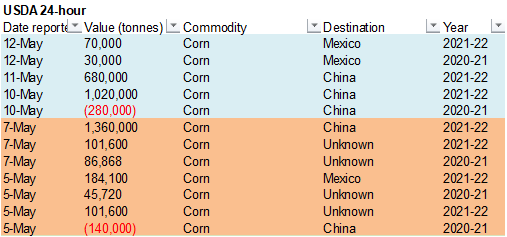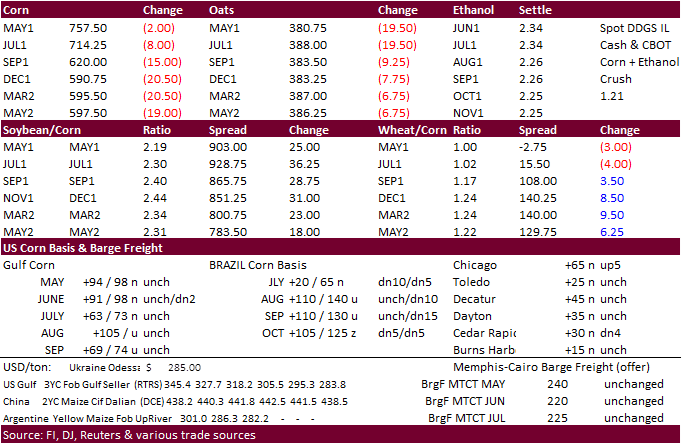 Updated
5/7/21
July
is seen in a $6.00 and $7.75 range
December
corn is seen in a $4.75-$7.00 range.
The
US needs to see a massive crop to pull new-crop futures below $4.00, which could happen for 2022 contracts if the export campaign for Q1 (SON) does not end up a record. Keep an eye on new-crop corn commitments this summer.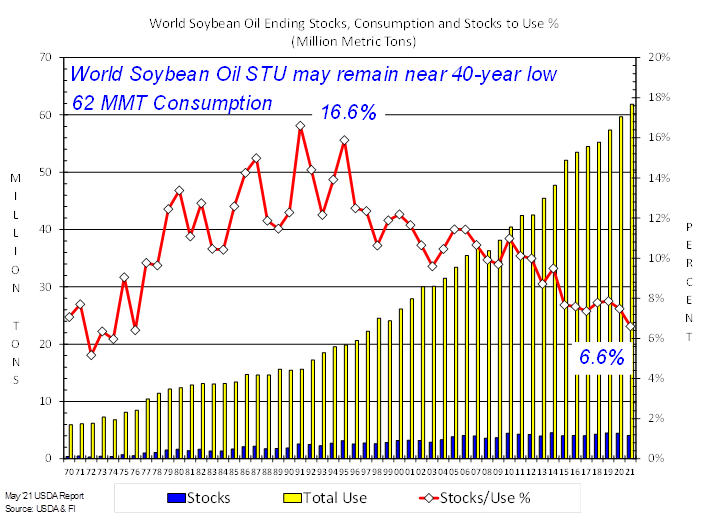 Funds
bought an estimated net 10,000 soybeans, 5,000 soybean meal and 7,000 soybean oil.

US
soybean meal basis eased about $1.00 for selected IN and IL locations.
Ukraine
sunflower oil exports were running at 3.914 million tons in the first seven months of the 2020-21 season. Another 1.5 million tons could be exported by the end of the crop year according to the sunoil producers association.

Brazil
port workers delayed their planned strike this week over COVID-19 vaccination priority concerns.
Conab
pegged the Brazil soybean crop at 135.4 million tons, down from 135.54 million previously.

India
April palm oil imports were up 82% from a year earlier to 701,795 tons.
Argentina
producer selling for soybeans were 886,100 tons last week, lifting the total for the season to 17.3 million tons, according to the AgMin. Sales are below the previous season which was running at 21.4 million tons this time last year. The Rosario grains exchange
expects production to end up around 45 million tons, down from 50.7 million tons a year ago.

On
May 18 USDA seeks a total of 4,770 tons of packaged oil for use in Title II, PL480 and the McGovern-Dole Food for Education export programs. Shipment was set for June 16-July 15 (July 1-31 for plants at ports).

Yesterday
Egypt's GASC bought 29,000 tons of domestic soyoil and 10,000 tons of international sunflower oil for arrival July 11-31 at $1,590 a ton for payment at sight. The following for domestic soybean oil:

12,000
tons of soyoil at 21,200 EGP/mt (eqv $1,348.60)
10,000
tons of soyoil at 21,200 EGP/mt (eqv $1,348.60)
4,000
tons of soyoil at 21,200 EGP/mt (eqv $1,348.60)
3,000
tons of soyoil at 21,200 EGP/mt (eqv $1,348.60)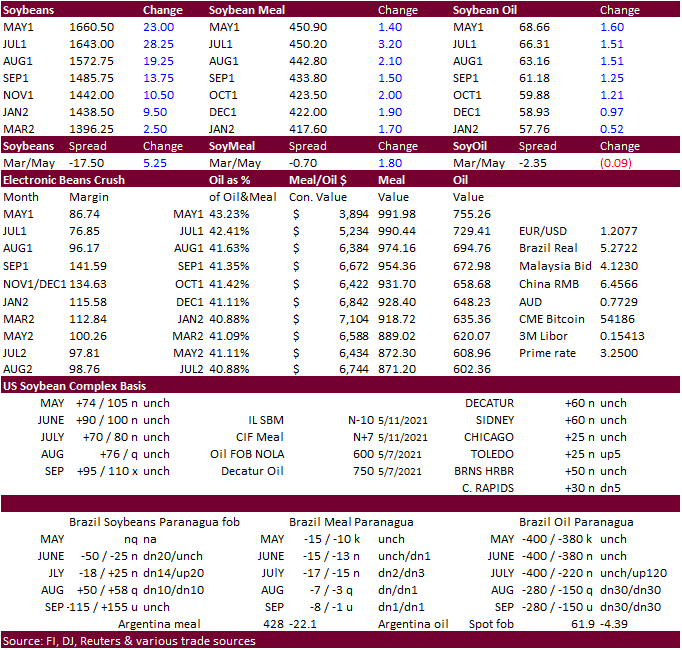 Updated
5/11/21
July
soybeans are seen in a $14.75-$16.50; November $12.75-$15.00
Soybean
meal – July $400-$460; December $380-$460
Soybean
oil – July 60-68; December 48-60 cent range
Export
Developments.
Japan
seeks 80,000 tons of feed wheat and 100,000 tons of feed barley on May 19 for arrival by October 28.

Japan
seeks 122,180 tons of food wheat from the US, Canada, and Australia this week.




Taiwan
Flour Millers' Association seeks 89,425 tons US milling wheat on May 13. One consignment of 42,505 tons is sought for shipment between July 2 and July 16. A second consignment of 46,920 tons is sought for shipment between July 19 and Aug. 2.
Rice/Other
<![if !supportLists]>·
<![endif]>South Korea's Agro-Fisheries & Food Trade Corp seeks 134,994 tons of rice from Vietnam, China, the United States and Australia, on May 13, for arrival between September 2021 and January 2022.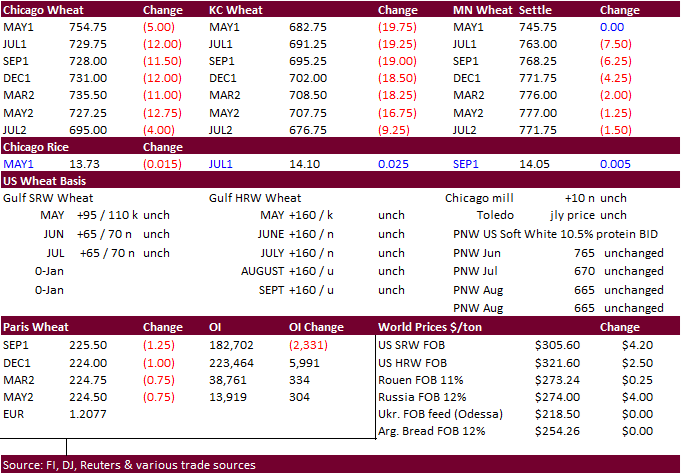 Updated
5/10/21
July
Chicago wheat is seen in a $6.75-$8.00 range
July
KC wheat is seen in a $6.60-$7.50
July
MN wheat is seen in a $7.25-$