PDF Attached
Inflation-led fund buying was the theme today following the CPI data this morning which showed the largest advance in almost nine years. Following a year of lockdowns causing pent-up demand and massive stimulus being injected into the economy we have seen the funds return. Wall Street banks are promoting commodities given the fact we have pulled back from the highs earlier this year.

1-5 day precipitation by WPC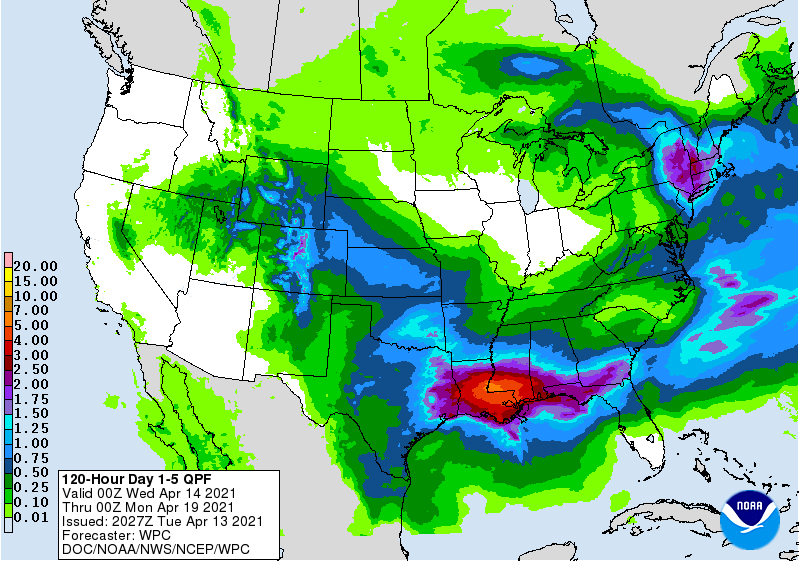 48-hour Probability of Snow Accumulation ≥ 2 inches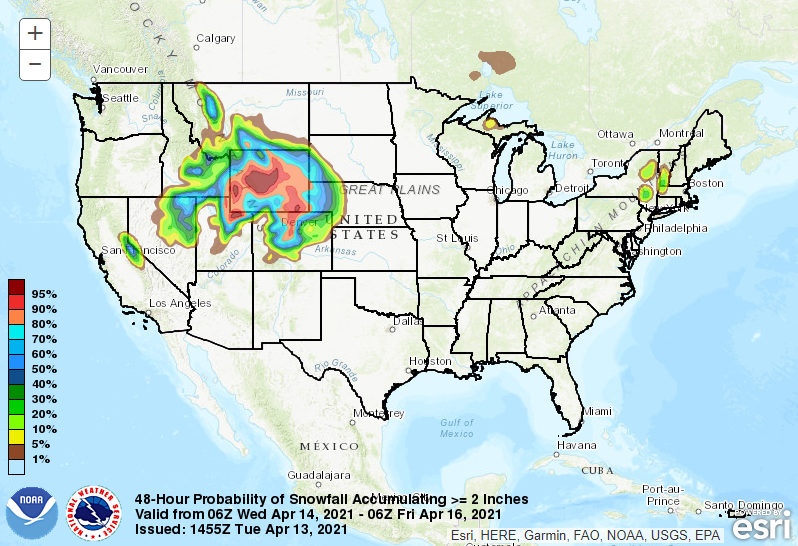 6-10 Day Outlook – Temperature Probability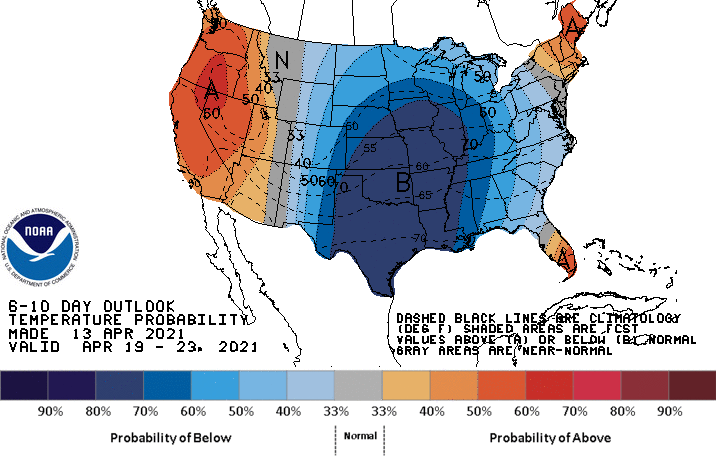 World Weather Inc.
MOST IMPORTANT WEATHER ISSUES OF THE DAY
U.S. hard red winter wheat areas will get rain Thursday into Saturday to recharge the topsoil with moisture for improved crop development after recent drying and heat
Snow continues to fall in central and southern Saskatchewan and southern Manitoba as well as North Dakota and northern Minnesota this morning

Moisture from this snow as it melts will improve topsoil moisture for better planting of early season crops, but follow up moisture will be imperative for the driest areas in Canada's eastern and southern Prairies and in North Dakota

Despite this week's snow event, Canada's Prairies are still drought ridden along with the northwestern U.S. Plains

Worry over drought in southern Alberta, southwestern Saskatchewan, Montana and parts of North Dakota and northwestern South Dakota will continue through the spring until there is a general soaking of rain which is not likely for the next couple of weeks

Drought continues in unirrigated small grain areas in the U.S. Pacific Northwest with little to no relief likely through early next week
West and South Texas precipitation will continue restricted although not completely absent over the next ten days

Significant rain is needed in both regions

U.S. Delta and southeastern states will experience a mix of rain and sunshine over the next ten days with temperatures cooler biased

Some sluggish field progress is expected in the wetter biased areas

U.S. Midwest will experience mild temperatures and enough precipitation to maintain favorable field moisture over the next ten days

Greater precipitation will eventually be needed in Iowa, southeastern Minnesota and southwestern Wisconsin

Southwestern U.S. drought will continue without disruption next two weeks
Brazil's Safrinha crops will remain in good shape in Mato Grosso and parts of Goias during the next two weeks, but areas to the south will need greater rain to restore soil moisture before seasonal rains end

Crop moisture stress has become common and showers in the coming week from Mato Grosso do Sul, western and northern Parana into Sao Paulo and southwestern Minas Gerais will bring relief, but greater rain will be needed to restore long term soil moisture

Argentina will experience good summer crop maturation and harvest weather over the coming week with wetter conditions possible in the following week
China crop weather will remain very good over the next two weeks, although net drying is expected in the North China Plain for a while
India's weather will be mostly good, although scattered showers will occur periodically to slow some of the winter harvest progress
Australia will continue in a net drying mode for the next ten days supporting good harvest progress in the east while raising the need for moisture in most of the south for future winter wheat, barley and canola planting
Western Europe will be drying down again for a while, but recent rain fell in France and Spain to induce a short term improvement in soil moisture

Additional rain will be needed in the west and north parts of the continent when seasonal warming finally kicks in more significantly

Temperatures will be cool for most of this coming week and April 21-27 will trend warmer

Warming in the western CIS Monday helped to melt more snow in Russia and accelerated drying rates

This process will continue for a few days this week before the region trends wetter and a little cooler gain April 21-27

Some improved greening conditions are likely in Ukraine and Russia's Southern Region
Tropical Depression 02W has formed well southeast of the Philippines and is expected to stay east of the nation through the next week while it becomes a typhoon
Mainland areas of Southeast Asia will experience a net boost in precipitation over the next few weeks that will improve corn planting conditions and maintain an improving trend in sugarcane, rice and coffee production areas

Some beneficial rain fell across parts of this region recently, but southern areas are still dry

Philippines weather is good for most crops, but a boost in rainfall would be welcome
Indonesia and Malaysia crop weather is expected to be mostly good for the next ten days to two weeks with most areas getting rain
North Africa will experience a favorable mix of weather over the next ten days, although resulting rainfall is not likely to be very great in some areas

All of the moisture will be welcome, but resulting amounts may be a little erratic and light leaving need for more moisture
Northwestern Algeria and southwestern Morocco need rain most
Temperatures will be near to above average

West-central Africa coffee and cocoa weather has been very good recently and that is not likely to change much for a while; some rice and sugarcane has benefited from the pattern as well

Rainfall will be a little lighter and less frequent than usual over for a while longer, but improved rainfall should occur later this week and into the coming weekend
Temperatures have been and will continue to be warmer than usual keeping evaporation rates very strong until greater rain evolves

East-central Africa rainfall has been erratic recently and a boost in precipitation should come to Ethiopia this month while Tanzania slowly begins to dry down
South Africa weather will continue favorably for early maturing summer crops and the development of late season crops

Net drying is expected for a while which will support faster crop maturation and will eventually support early season harvest progress
Temperatures will be warmer than usual and that will dry out the soil relatively quickly

New Zealand weather will be a little lighter than usual during the coming ten days, but recent rain in western parts of South Island and a few areas in western North Island was welcome and good for moistening the soil

Many areas are still drier biased and need the increased rainfall
Temperatures will be seasonable

Southeastern Canada will see below average precipitation and warmer than usual temperatures over the next ten days
Mexico precipitation will continue limited to a few eastern and far southern locations during the next week to ten days

Rain is needed in many areas
Drought is prevailing across most of the nation

Southern Oscillation Index this morning was +0.83 and the index will move lower over the next few days
Source: World Weather Inc. & FI
Tuesday, April 13:
China customs to publish trade data, including imports of soy, edible oils, meat and rubber
France's agriculture ministry updates on 2021 crop plantings
Malaysian Cocoa Board releases 1Q 2021 cocoa grinding numbers
HOLIDAY: Thailand
Wednesday, April 14:
EIA weekly U.S. ethanol inventories, production
Unica's data on cane crush and sugar production in Brazil's center-south region (tentative)
FranceAgriMer monthly grains report
European Cocoa Association's quarterly grind data (tentative)
HOLIDAY: India, Bangladesh, Thailand
Thursday, April 15:
USDA weekly crop net-export sales for corn, soybeans, wheat, cotton, pork, beef, 8:30am
Malaysia's April 1-15 palm oil export data
The U.S. National Confectionery Association releases first quarter cocoa grinding data for North America
USDA updates monthly North American sugar and sweeteners outlook
White sugar May contract expires
New Zealand food prices
HOLIDAY: Thailand
Friday, April 16:
ICE Futures Europe weekly commitments of traders report (6:30pm London)
CFTC commitments of traders weekly report on positions for various U.S. futures and options, 3:30pm
Cocoa Association of Asia releases 1Q 2021 cocoa grinding data
FranceAgriMer weekly update on crop conditions
Source: Bloomberg and FI
Corn
CBOT corn closed higher dryness concerns over the US Corn Belt. Also underpinning corn is the fact that Brazil is purchasing Argentine corn to fulfil feed needs by its largest poultry producer.
Constructive news for corn longs is the open interest continuing to increase over the last week.
Instead of "turnaround Tuesday" headlines we are seeing value buying themed headlines following today's reversal in corn.
Funds on Tuesday bought an estimated net 15,000 corn contracts.
A trend channel using January and April price points suggest May corn will not trade above $6.10 over before first notice day (two weeks from Friday), unless it can break above that trend channel.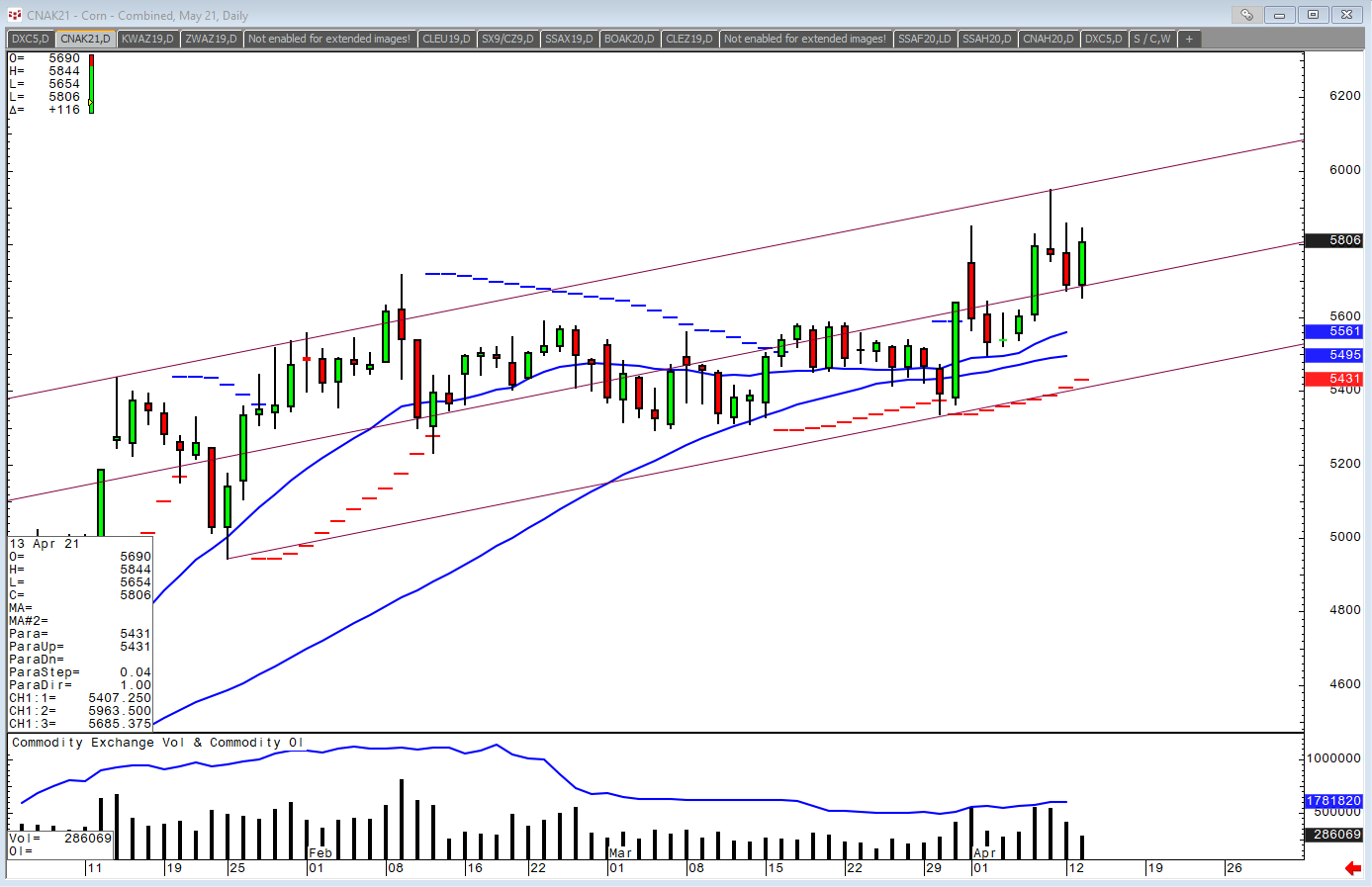 (CQG source)
Estimates for tomorrows ethanol data is calling for higher production and stocks.
Survey Results EIA
Avg Low High Prev. Week
Production (k bpd) 980 970 989 975
Stockpiles (m bbl) 20.719 20.460 21.100 20.642
SOURCE: Bloomberg News


Export developments.
South Korea's FLC bought 65,000 tons of optional origin corn at $296.79/ton c&f for arrival in SK in July.
University of Illinois – Brazil: Corn Production in Three Crops per Year
Colussi, J. and G. Schnitkey. "Brazil: Corn Production in Three Crops per Year." farmdoc daily (11):58, Department of Agricultural and Consumer Economics, University of Illinois at Urbana-Champaign, April 12, 2021.
https://farmdocdaily.illinois.edu/2021/04/brazil-corn-production-in-three-crops-per-year.html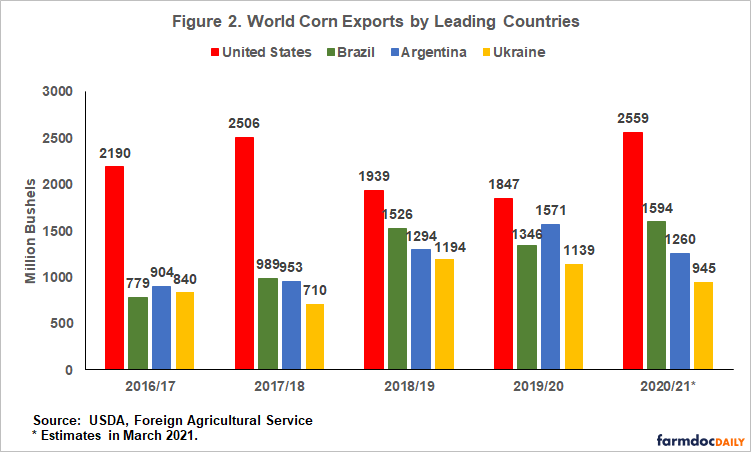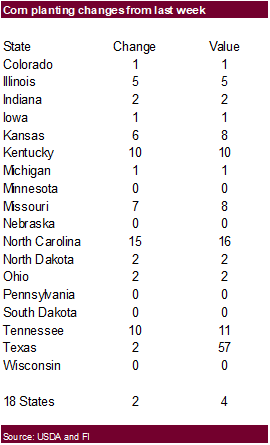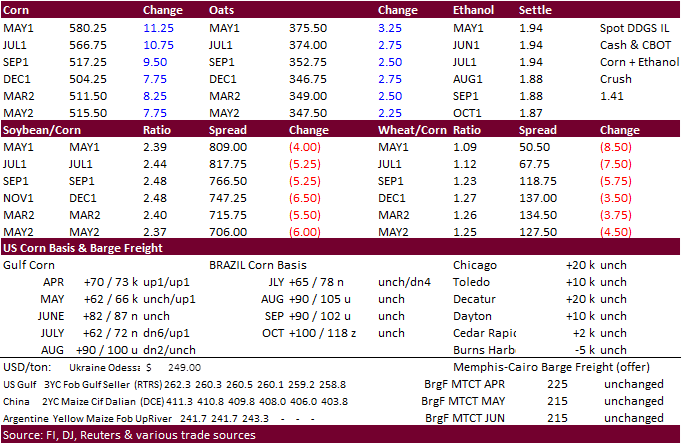 Updated 4/13/21
May corn is seen in a $5.60 and $5.95 range (up 5, dn 5)
July is seen in a $5.25 and $5.90 range (unch, dn 10)
December corn is seen in a $3.85-$5.50 range.
Soybean meal was under pressure from the rally in soybean oil. Feed demand across the US remains good and there is no reason to slow down on crushing US soybeans given decent cash crush margins. Futures crush margins basis the July have been stuck in a 48 to 68 cent range. Decatur, IN, soybean meal basis fell $2.00 to 14 over. Most other key locations for US soybean meal were steady.
Funds on Tuesday bought an estimated net 5,000 soybean contracts, sold 4,000 soybean meal and bought an estimated 5,000 soybean oil.
China soybean imports for the month of March came in at a large 7.77 million tons, up 82 percent form a year ago, in part to slow January and February arrivals because of the delay in the Brazilian soybean harvest. 5 million tons of U.S. soybeans were loaded in January and some of that arrived in March, Reuters noted. Q1 China soybean imports stand at 21.2 million tons, 19 percent higher than a year ago. China also imported 1.02 million tons of meat during March, up 11.4 percent from a year ago, and highest since January 2020. October through December China soybean imports were 25.8 million tons, up from 23.93 million a year earlier. China soybean imports are on track to 100-102 million tons for 2020-21.
Argentina's low crush volume during the Jan-Feb period (46 percent capacity) made the country less dependent on soybean imports during that period but an increase in crush rates during March and arrivals of Paraguayan new crop soybeans prompted good imports. Argentina soybean imports during the month of March were a high 886,000 tons, up from 758,000 tons a year earlier and Q1 totaled 1.407 million tons, down from 2.105 million tons a year ago.
Today French oilseed growers group FOP said that between 40,000 and 50,000 hectares of the rapeseed planted area have been damaged since sowings began, which could cut the final area sown to around 900,000 hectares (5% of initial sowings lost). The French AgMin is at 990,000 hectares, but that was as of April 1. Much of that area lost will go to spring seedings. France plans to raise the agriculture catastrophe fund due to the recent frost damage. Major crops damaged include rapeseed, sugar beets, grapevines and fruit trees.
Export Developments
USDA seeks 35,000 tons of soybean meal for the Food for Progress export program on April 14, of which 11,000 tons for Ivory Coast and 24,000 tons for Ghana.
Egypt's GASC seeks 30,000 tons of soyoil and 10,000 tons of sunflower oil on April 15 for arrival June 1-20. Payment is for at sight and 180-day letter of credit.

Sorriso, Mato Grosso, Brazil – soybeans in USD/ton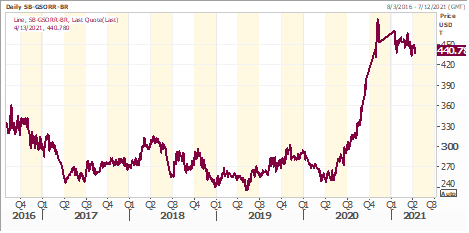 Source: Reuters and FI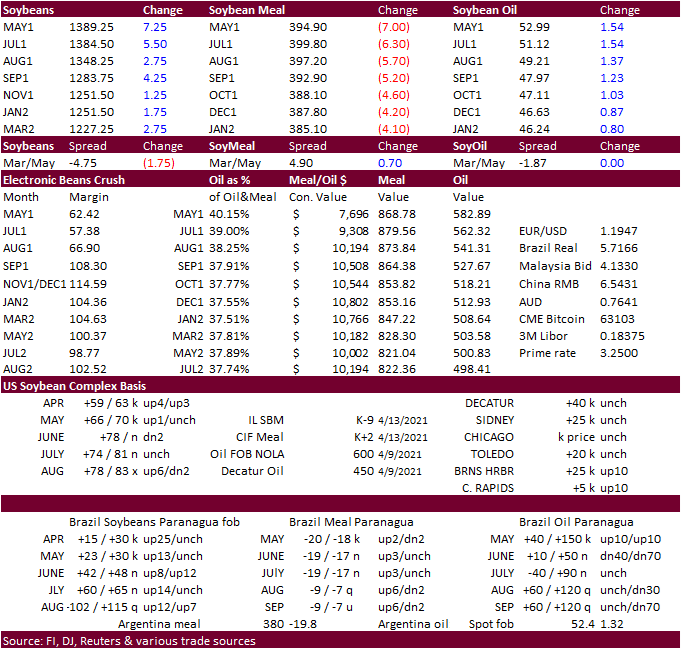 Updated 4/13/21
May soybeans are seen in a $13.65 and $14.50 range (down 10, down $1.00)
July $13.00-$14.60 November $10.50-$14.50
May soymeal is seen in a $385 and $410 range (down $10, down $5)
July $380-$4.40 December $325-$460 (unch, dn $40)
May soybean oil is seen in a 50.25 and 55 cent range (dn 75, unch)
July 47.00-56.00 December 42-53 cent wide range (depends on global biodiesel and renewable fuel expansion)
Oil World pointed out the Russian spring wheat (barley and rapeseed also) seeding area could fall short of expectations because of the snowy and wet spring delaying planting progress.
Many traders have already started to roll to the July contracts for US wheat, September for Paris wheat. FND for the May contracts is two weeks from Friday. Daily old crop export sales announcements, if any, and two weeks of USDA export sales data could influence front month US wheat contracts going forward. New-crop prices should start divorcing themselves from new-crop, and remain more sensitive to global weather developments.
Funds on Tuesday bought an estimated net 3,000 CBOT SRW wheat contracts.
HRW outperformed today despite the improved crop ratings.

September Paris wheat was up 3.00 euros to 201.75 euros.
France's soft wheat spring crop area as of April 1 was estimated by the AgMin at 4.9 million hectares, up 15% from 2020 and in line with the five-year average. Rapeseed plantings were estimated at 990,000 hectares, down 11% from 2020, and 27% below the five-year average. Cold temperatures impacted both winter and early spring crops last week and the AgMin warned of significant losses to some crops. The AgMin plans to provide economic assistant for producers. It may take a couple weeks to get a handle on the damage. Today French oilseed growers group FOP said that between 40,000 and 50,000 hectares of the rapeseed planted area have been damaged since sowings began, which could cut the final area sown to around 900,000 hectares (5% of initial sowings lost). As noted above, the AgMin is at 990,000 hectares, but that was as of April 1. Much of that area lost will go to spring seedings. (Reuters)
Black Sea region crop areas of Belarus, Ukraine, southwest Central Region, and southwest North Caucasus should see rain this week.
Ukraine barley export prices fell to a 5-month low according to APK-Inform. They are down about $15/ton this month to $220-$230/ton. As of April 12 Ukraine exported 36.5 million tons, including 14.5 million tons of wheat, 4.1 million tons of barley and 17.3 million tons of corn.
IKAR reported Russian wheat export prices were higher last week, snapping a five-week decline. Back Sea 12.5% protein was at $247 a ton FOB at the end of last week, up $2 from the previous week. Barley prices fell by $2 to $233 a ton.
ProZerno sees Russian 2021 wheat crop at 78 million tons.
SovEcon on Friday raised their '21 Russian wheat production projection by 1.4 million tons to 80.7.
APK-Inform reported Ukrainian wheat export prices decreased $7 a ton over the past week.

The European Union granted export licenses for 143,000 tons of soft wheat exports, bringing cumulative 2020-21 soft wheat export commitments to 20.806 MMT, well down from 27.557 million tons committed at this time last year, a 24 percent decrease. Imports are near unchanged from year ago at 1.682 million tons.
Japan seeks 90,169 tons of food wheat this week from US and Canada. *no shipment period was provided.

South Korea's MFG bought 66,000 tons of feed wheat at $269.30/ton c&f for arrival around October 25.
Jordan passed on 120,000 tons of animal feed barley.
Algeria's OAIC seeks 50,000 tons of durum wheat on Wednesday, April 14, valid until Thursday, April 15, for shipment between May 1-15 and May 15-31.

Japan in its weekly SGS import tender seeks 80,000 tons of feed wheat and 100,000 tons of barley for arrival by September 30.
Ethiopia seeks 30,000 tons of wheat on April 16.
Ethiopia seeks 400,000 tons of optional origin milling wheat, on April 20, valid for 30 days. In January Ethiopia cancelled 600,000 tons of wheat from a November import tender because of contractual disagreements.
Rice/Other
<![if !supportLists]>· <![endif]>Mauritius seeks 4,000 tons of optional origin long grain white rice on April 16 for delivery between June 1 and July 31.
<![if !supportLists]>· <![endif]>Bangladesh seeks 50,000 tons of rice on April 18.
<![if !supportLists]>· <![endif]>Syria seeks 39,400 tons of white rice on April 19. Origin and type might be White Chinese rice or Egyptian short grain rice.
<![if !supportLists]>· <![endif]>Ethiopia seeks 170,000 tons of parboiled rice on April 20.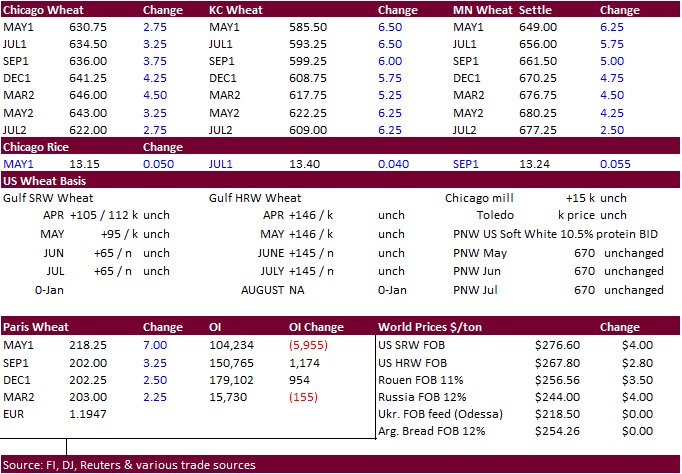 Updated 4/13/21
May Chicago wheat is seen in a $6.20‐$6.65 range (unch, dn 10)
July $6.00-$6.80
May KC wheat is seen in a $5.60‐$6.10 range (dn 10, dn 5) (US HRW wheat conditions are improving)
July $5.40-$6.25
May MN wheat is seen in a $6.30‐$6.80 range (up 5, up 5)
July $6.20-$7.00 (depends on EU crop damage and US spring wheat seedings/development)
Terry Reilly
Senior Commodity Analyst – Grain and Oilseeds
Futures International
One Lincoln Center
18 W 140 Butterfield Rd.
Oakbrook Terrace, Il. 60181
W: 312.604.1366
ICE IM: treilly1
Skype: fi.treilly
Trading of futures, options, swaps and other derivatives is risky and is not suitable for all persons. All of these investment products are leveraged, and you can lose more than your initial deposit. Each investment product is offered only to and from jurisdictions where solicitation and sale are lawful, and in accordance with applicable laws and regulations in such jurisdiction. The information provided here should not be relied upon as a substitute for independent research before making your investment decisions. Futures International, LLC is merely providing this information for your general information and the information does not take into account any particular individual's investment objectives, financial situation, or needs. All investors should obtain advice based on their unique situation before making any investment decision. The contents of this communication and any attachments are for informational purposes only and under no circumstances should they be construed as an offer to buy or sell, or a solicitation to buy or sell any future, option, swap or other derivative. The sources for the information and any opinions in this communication are believed to be reliable, but Futures International, LLC does not warrant or guarantee the accuracy of such information or opinions. Futures International, LLC and its principals and employees may take positions different from any positions described in this communication. Past results are not necessarily indicative of future results.