PDF Attached
US
WINTER WHEAT – 53 PCT CONDITION GOOD/EXCELLENT VS 53 PCT WK AGO (62 PCT YR AGO) -USDA
US
WINTER WHEAT – 5 PCT HEADED VS 4 PCT WK AGO (7 PCT 5-YR AVG) -USDA
US
CORN – 4 PCT PLANTED VS 2 PCT WK AGO (3 PCT 5-YR AVG) -USDA
US
SPRING WHEAT – 11 PCT PLANTED VS 3 PCT WK AGO (6 PCT 5-YR AVG) -USDA
US
RICE – 23 PCT PLANTED VS 14 PCT WK AGO (28 PCT 5-YR AVG) -USDA
US
RICE – 13 PCT EMERGED VS 8 PCT WK AGO (13 PCT 5-YR AVG) -USDA
US
COTTON – 8 PCT PLANTED VS 6 PCT WK AGO (7 PCT 5-YR AVG) -USDA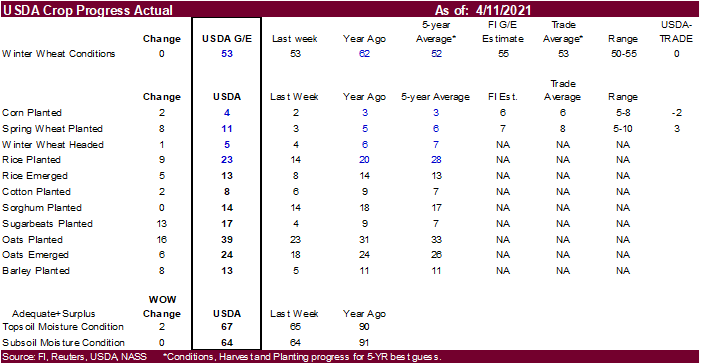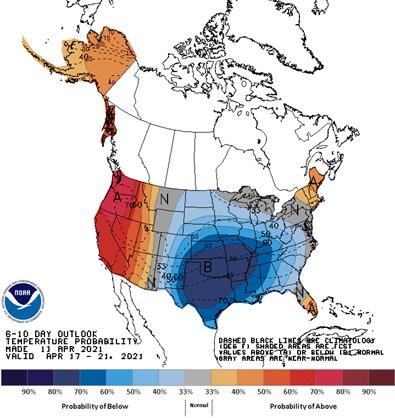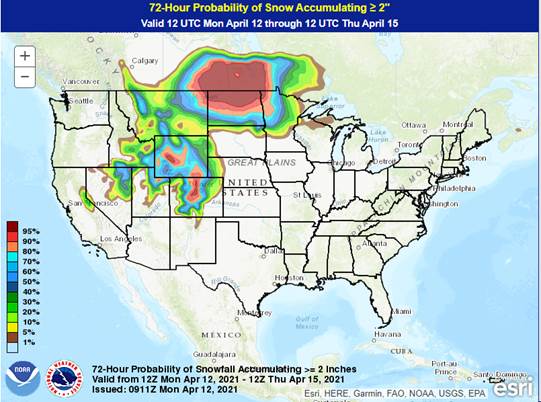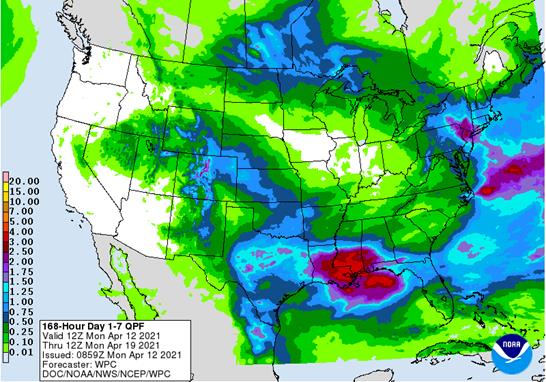 World
Weather Inc.
Tropical
Cyclone Seroja failed to bring as much rain to Western Australia as desired and winter crop areas in the state need more moisture

Wind
speeds reached 105 mph in ports from Shark Bay to Geraldton, Western Australia
Strong
winds also occurred farther inland, but the impact on agriculture was suspected of being low

Brazil's
outlook is a little wetter starting this weekend and continuing into the end of this month with scattered showers and thunderstorms likely

The
moisture will not bring general soakings of rain to Safrinha corn country, but it will support crop development
Greater
rain will be needed to fix long term soil moisture so that dryness does not become a greater issue later this season

Argentina
is not as wet this weekend into next week as it was advertised to be Sunday

The
change was expected and needed
Cold
air advertised for next week was reduced and that helped reduce rainfall as well
The
outlook is better for summer crop maturation and harvest progress, although some rain is still expected

U.S.
outlook has not changed much

Hard
red winter wheat areas are still expecting some rain Wednesday into Friday that will improve crop and field conditions
Beneficial
rain is falling now and will continue into Tuesday into eastern Canada's Prairies, northern and eastern North Dakota and northern Minnesota


The
moisture will improve topsoil conditions for future planting and crop development

Limited
rainfall in the Pacific Northwest and far U.S. northern Plains will continue along with southwestern Canada's Prairies
U.S.
southeastern states will dry down over the next ten days
Additional
rain is expected from Louisiana into southern Alabama later this week and into the weekend


Some
of this region received excessive rain during the weekend

France
and Spain received needed moisture during the weekend bolstering topsoil conditions with moisture and improving short term outlooks for winter crop development and spring planting when it warms up

Snow
cover in Russia continues to recede
Warming
in the western CIS for a little while this week will accelerate the snow melt and raise soil temperatures for more wheat greening in the south

The
warm up will be disrupted by cooling late this week that will last into next week

No
significant changes were noted in India, China, South Africa or North Africa

Although
North Africa will receive a little more rain over the next ten days than advertised Sunday

A
tropical cyclone developing east of the Philippines is expected to stay east of the Philippines and not be a threat to land
MOST
IMPORTANT WEATHER IN THE WORLD
U.S.
Midwest soil conditions are still rated favorably along with that in the Delta

Portions
of the U.S. Delta and central Gulf of Mexico coast states are a little too wet

Some
net drying will occur in the northern Delta for a while

Portions
of the southeastern states have been drying down recently and that trend will continue for the next ten days with the exception of areas from southern Alabama into northern Florida and southern Georgia where a few showers and thunderstorms Wednesday into Thursday
and again Friday into Saturday of this week will produce 0.05 to 0.75 inch of moisture in each event with a few totals over 1.00 inch

Portions
of Iowa, southeastern Minnesota and southwestern Wisconsin have missed out on precipitation in the past two weeks and will not receive much for the next ten days

Soil
moisture is still rated favorably in the region now, but ten days from now there will be a growing need for rain
Mild
to cool weather expected during the period will protect the region from a more serious decline in soil moisture, but greater rain will be needed in late April and May to replenish topsoil moisture before warm temperatures evolve and soil moisture becomes more
seriously depleted
Greater
rain is advertised for April 24-25 by GFS model, but confidence is a little low




Recent
rainfall (past two weeks) has also been restricted in the eastern U.S. Midwest with parts of southern Indiana and immediate neighboring areas of Illinois, Kentucky and Ohio receiving 50-75% of normal precipitation in the past 30 days

Soil
moisture is still rated adequately because of seasonably mild temperatures, but net drying is expected
Temperatures
will continue seasonably mild to cool for the next ten days
Some
rain will fall in these areas, but amounts will be light and erratic leaving need for more rain over the next ten days

Cool
temperatures will keep additional drying moving along slowly

Greater
rain is advertised April 25-26 by the GFS model run, but confidence is a little low today

Drought
continues in the Pacific Northwest impacting unirrigated areas from Washington's Yakima Valley into Oregon

Not
much change to the drought is advertised for the next ten days and perhaps longer

California
will continue dry along with the Great Basin and southwestern desert region over the next two weeks with the exception of a few brief periods of rain Tuesday and Wednesday of this week when rain and mountain snow will fall in the Great Basin with a few lingering
showers Thursday.
The
bottom line to the U.S. is still one of concern for the Pacific Northwest, the northwestern Great Plains, southwestern Canada's Prairies and western and southern Texas. A guarded watch on Iowa and immediate areas will be needed since recent precipitation has
been notably lighter biased and it may not be noticed now, but it will become an issue when warmer temperatures evolves later this month and in May without improved rainfall. Portions of the Delta will see improved weather, but Alabama, parts of Mississippi
and northwestern Florida along with parts of Louisiana will need to dry down soon.

U.S.
weekend weather was wet in parts of the Midwest, Delta and central Gulf of Mexico coast states

Much
of Iowa was dry during the weekend, although the southeastern one-fourth of the state received 0.60 to 2.64 inches

Eastern
Nebraska, the eastern Dakotas and far western Minnesota were also dry, but they received rain late last week
Rain
fell abundantly in Missouri and northwestern Illinois with 1.00 to 2.24 inches resulted with local totals to 2.90 inches

Most
other areas to the east in the Midwest received 0.25 to 0.70 inch with local totals of 1.00 to 1.30 inches in interior southern Michigan, northern Ohio and central Indiana, although central Indiana received 1.72 inches


Rain
from Louisiana through most of Mississippi to Alabama, northwestern Florida and far southwestern Georgia ranged from 1.00 to 3.86 inches, although up to 5.19 inches occurred near the coast

Some
flooding resulted in a part of this region

Lighter
and more sporadic rain fell during the weekend from Florida through the remainder of Georgia and the Carolinas to Kentucky and Virginia

Amounts
ranged from less than 0.20 inch in parts of Georgia, South Carolina and southern Florida to amounts of 0.50 1.53 inches from North Carolina to Virginia

Very
little rain or snow fell across the Great Plains during the weekend, although some rain and drizzle fell from central Nebraska into north-central Oklahoma where moisture totals varied up to 0.65 inch and some light rain and snow evolved in the northern Plains
Sunday night into this morning
Temperatures
turned cooler in the northwestern half of the nation during the weekend with lowest morning temperatures slipping to the teens and 20s, but no permanent damage occurred in any wheat production area

Extreme
lows slipped to the teens in western Nebraska and parts of the Dakotas

Hot
weather occurred Friday in central and southern Texas with middle and upper 90s Fahrenheit noted with a few extremes over 100 occurring in the far southern parts of Texas

An
extreme of 104 occurred at Cotulla, Texas

Friday
afternoon temperatures in the lower Midwest reached into the upper 70s and lower 80s and the same occurred in farther to the south from the Tennessee River Basin into the southeastern states

Canada
Prairies received erratic precipitation through Sunday morning with Alberta receiving the most generalized rain and snow with moisture totals to 0.39 inch with most areas getting up to 0.12 inch

Erratic
rain occurred farther to the east, but the precipitation was intensifying and becoming better organized Sunday and early today in eastern Saskatchewan and Manitoba

Rain
and snow was most significant from eastern Saskatchewan into central North Dakota Sunday evening and this morning with moisture totals to 0.62 inch occurring through 0100 CDT


Temperatures
trended cooler during the weekend with highs falling from the 50s and 60s Friday down to the 30s and lower 40s Sunday except in Manitoba where 50s and 60s were still noted Sunday and Monday

Waves
of snow and rain in eastern Canada's Prairies will change to mostly snow and will prevail through Tuesday with a few insignificant showers or snow and a little rain Wednesday and Thursday

Moisture
totals will vary from 0.25 to 0.80 inch with a few areas to get as much as 1.75 inches by Wednesday from east-central through southeastern Saskatchewan and north-central North Dakota (this includes what fell overnight)

Snow
accumulations will range from 4 to 10 inches with local amounts of 10 to 16 inches
Eastern
Saskatchewan and Manitoba will be most impacted

This
precipitation event will be a huge boon to the eastern Prairies lifting topsoil moisture after prolonged drought. There will be need for additional precipitation, but this event will change the planting outlook for some of the driest areas and provide relief
to producers over planting and early season crop development potential. The western half of Saskatchewan, east-central and southern Alberta will still have a big need for moisture, but that will be harder to come by for a while

Argentina
weather this week will be wettest in the north during mid-week

Rainfall
of 0.30 to 0.80 inch will result with a few amounts of 1.00 to 2.00 inches

Salta
and northern Santiago del Estero to Corrientes and southern Paraguay will be wettest

Net
drying elsewhere
Other
showers and thunderstorms are expected in the west late this week through early next week with net drying elsewhere

Argentina
rainfall April 18-24 weather is advertised drier than that of Sunday improving the summer crop maturation and harvest outlook, despite a few showers
Argentina
temperatures will be near to above average this week and cooler in many areas next week

Frost
and a few freezes may occur in the far south after April 22, but confidence is low

Argentina
rainfall during the weekend was excessively great Friday in east-central Santa Fe where more than 6.00 inches resulted. Similar amounts occurred Thursday into Friday morning in west-central Santa Fe making that region too wet

Rain
surrounding this heavy rainfall region ranged from 1.00 to 2.63 inches with a couple of amounts over 3.00 inches
Rain
also fell from eastern La Pampa to central Buenos Aires with 1.00 to 2.28 inches and local amounts over 3.50 inches
Mostly
dry weather occurred in the far north of Argentina including some important cotton areas while rainfall elsewhere was mostly under 1.20 inches with many areas less than 0.60 inch

Argentina's
bottom line is still viewed as being mostly good, although there may be a little more rain falling a little more often than desired in the far north for a little while this week. Net drying in central Argentina this week will be very important for firming
the soil after recent excessive rain. Fieldwork will be slow resuming in the wettest areas. Returning wet weather April 18-23 in the heart of summer crop production areas may slow down crop maturation and harvest progress once again, but good field work is
expected until then outside the areas that received 6.00 inches of rain recently. Some of the advertised precipitation for next week may be a little overdone. The cold air advertised for mid- to late-week next week is likely overdone as well and as that airmass
moderates so might the rain intensity for next week. Frost and freeze potentials in the far south after April 22 will be closely monitored, but confidence is low for now.

Brazil
was mostly dry during the weekend with temperatures warm in much of the nation, but not excessively warm; quick drying occurred in many areas
Brazil
rainfall will be limited through Thursday from Mato Grosso do Sul and northwestern Parana into Bahia resulting in additional net drying

Some
showers will occur briefly Friday into Saturday, but resulting rainfall will not change topsoil moisture in a significant manner

Alternating
periods of rain and sunshine will occur from Friday into next week, but, resulting rain amounts will be light at times.


Rain
will occur continue more frequently in Mato Grosso and areas east into parts of northern Goias and Tocantins where 0.50 to 1.50 inches of rain will result through Saturday and another 0.25 to 0.75 inch and local totals to 1.25 inches next week


A
full restoration of soil moisture is not likely in interior southern and center south Brazil next week, although relief from dryness is expected. Low subsoil moisture is expected to continue, despite some increase in topsoil moisture. World Weather, Inc.
believes additional showers and thunderstorms will occur in Brazil into the last days of this month, but the intensity and coverage of rain will not be much better than that noted for next week leaving a need for greater rain as May approaches. Safrinha corn
conditions will be most stressed through Friday and then some relief is expected thereafter into late month, but the improvement will still be erratic. All corn needs is timely rainfall during reproduction and its yields can still be favorable, but a bigger
soaking of rain would be preferred.

Tropical
Cyclone Seroja moved through Western Australia Sunday

The
storm brought some beneficial moisture inland, although official amounts were notably lighter than expected

Wheat,
barley and canola production areas of Western Australia did not benefit nearly as much as expected from this storm
Some
wind damage occurred on the coast from Shark Bay to Geraldton; peak wind gusts reached 105 mph near the coast
Power
outages occurred in many areas and reports of tree and property damage occurred in these coastal areas and a short distance inland
No
winter crop has been planted yet and the largest concern was over agricultural property damage due to strong wind speeds

All
of southern Australia will still need generalized rain in the next few weeks to bolster soil moisture for future wheat, barley and canola planting, but Western Australia will benefit from Seroja's moisture
Western
Europe received some needed moisture during the weekend

France
reported 0.30 to 1.58 inches of rain during the weekend and central through northwestern Spain and Portugal received 0.20 to 1.57 inches


The
improved topsoil moisture will be helpful to winter crops that are breaking dormancy and had been drying down recently

Europe
weather this week and out ten days will be wettest from southern Spain into Italy, southern France and a part of the eastern Adriatic Sea nations

The
precipitation will further improve soil moisture in parts of southern France, Spain and parts of Italy

Most
other areas in Europe will either experience status quo soil moisture or net drying conditions
Winter
crops will continue to slow in developing because of ongoing cooler biased weather this week, but next week will trend warmer

CIS
grain and oilseed areas will continue plenty moist except in Russia's Southern Region and Kazakhstan where there is need for more moisture this spring and summer

Winter
crops are still dormant or semi-dormant especially in the central and north where snow is still melting

Greening
is expected in southern areas this week as a notable warming trend occurs

Significant
warming is expected this week that will more significantly melt snow and warm soil temperatures


Some
improved planting conditions may evolve in parts of Ukraine and Russia's Southern Region and winter crops will break dormancy a little more significantly because of the coming warmth

However,
cooling will return during the weekend and into next week limiting the amount of new crop development at evolves


Mainland
areas of Southeast Asia will experience a net boost in precipitation over the next few weeks that will improve corn planting conditions and maintain an improving trend in sugarcane, rice and coffee production areas

Some
beneficial rain fell across parts of this region recently, but southern areas are still dry

Philippines
weather is good for most crops, but a boost in rainfall would be welcome
Indonesia
and Malaysia crop weather is expected to be mostly good for the next ten days to two weeks with most areas getting rain
India
weather will continue good for this time of year with restricted rainfall and warm temperatures supporting winter crop maturation and harvest progress

Rain
may fall heavily in Bangladesh and neighboring areas of eastern India briefly this week and again next week

China
weather remains mostly very good, although portions of the Yangtze River Basin are too wet and need to dry down

Northern
crop areas in China are favorably moist and poised to support aggressive winter and spring crop development this year once additional warming takes place
Net
drying will occur in east-central parts of China including much of the North China Plain over the next two weeks


North
Africa will experience a favorable mix of weather over the next ten days, although resulting rainfall is not likely to be very great in some areas

All
of the moisture will be welcome, but resulting amounts may be a little erratic and light leaving need for more moisture
Northwestern
Algeria and southwestern Morocco need rain most
Temperatures
will be near to above average

West-central
Africa coffee and cocoa weather has been very good recently and that is not likely to change much for a while; some rice and sugarcane has benefited from the pattern as well

Rainfall
will be a little lighter and less frequent than usual over for a while longer, but improved rainfall should occur later this week and into the coming weekend

Temperatures
have been and will continue to be warmer than usual keeping evaporation rates very strong until greater rain evolves

East-central
Africa rainfall has been erratic recently and a boost in precipitation should come to Ethiopia this month while Tanzania slowly begins to dry down
South
Africa weather will continue favorably for early maturing summer crops and the development of late season crops

Net
drying is expected for a while which will support faster crop maturation and will eventually support early season harvest progress
Temperatures
will be warmer than usual and that will dry out the soil relatively quickly

New
Zealand weather will be a little lighter than usual during the coming ten days, but recent rain in western parts of South Island and a few areas in western North Island was welcome and good for moistening the soil

Many
areas are still drier biased and need the increased rainfall
Temperatures
will be seasonable

Southeastern
Canada will see below average precipitation and warmer than usual temperatures over the next ten days except in southwestern Ontario where there will be some increase in rainfall this week
Mexico
precipitation will continue limited to a few eastern and far southern locations during the next week to ten days

Rain
is needed in many areas
Drought
is prevailing across most of the nation

Southern
Oscillation Index this morning was +1.60 and the index will move in a narrow range through next week.

Source:
World Weather inc.
Monday,
April 12:
USDA
export inspections – corn, soybeans, wheat, 11am
U.S.
crop plantings – corn, wheat, cotton, 4pm
Malaysian
Palm Oil Board data on March end-stocks, output, exports
Malaysia's
April 1-10 palm oil export data from SGS
EU
weekly grain, oilseed import and export data
Ivory
Coast cocoa arrivals
Tuesday,
April 13:
China
customs to publish trade data, including imports of soy, edible oils, meat and rubber
France's
agriculture ministry updates on 2021 crop plantings
Malaysian
Cocoa Board releases 1Q 2021 cocoa grinding numbers
HOLIDAY:
Thailand
Wednesday,
April 14:
EIA
weekly U.S. ethanol inventories, production
Unica's
data on cane crush and sugar production in Brazil's center-south region (tentative)
FranceAgriMer
monthly grains report
European
Cocoa Association's quarterly grind data (tentative)
HOLIDAY:
India, Bangladesh, Thailand
Thursday,
April 15: