PDF Attached
USDA
reported another 2 cargoes of soybeans to China.

The
Tropics and Subtropics should be closely monitored

We
are quickly moving into the a more favored period for tropical cyclone development; the most favored period for storm development will occur next week through the end of this month

Tropical
Storm Josephine will not be a threat to the United States

It
remains several hundred miles east southeast of the northern Leeward Islands today and it will pass to the northeast of the Antilles and Bahamas this weekend and early next week

The
system will weaken late Saturday into early next week and may dissipate well east of the U.S.


A
pair of mid-latitude low pressure centers moving off the middle U.S. Atlantic Coast will have potential for development into tropical or subtropical cyclones


The
first low pressure system comes off the North Carolina coast today and the second comes off the Delmarva Peninsula Sunday


A
trough of low pressure expected to be over the southeastern U.S. next week may breed a low pressure center just off the central or northeastern Gulf of Mexico Coast during the middle to latter part of next week and that system will need to be closely monitored
for development as well
The
favorable tropical cyclone formation potential will shift farther to the east into the Atlantic Ocean in the week of August 24

A
monsoon low pressure center in the northern Bay of Bengal may attempt to develop a little more before move from the upper east coast of India to Rajasthan and Gujarat next week


This
system could produce excessive rain a part of eastern and central India next week
A
second monsoon low may evolve late next week and into the week of Aug. 24 producing additional excessive rainfall

India's
potential for flooding in central parts of the nation will increase greatly next week and through the following weekend due to the monsoon lows noted above


The
greatest rain will be falling a week from now and into the week of Aug. 24

Madhya
Pradesh, Chhattisgarh and southern Rajasthan may be most at risk of flood damage, but it is too soon to get any more details

U.S.
outlook continues to trend drier for the second half of this month and possibly extending into early September


Most
forecast models have toned down the rainfall outlook for the Midwest and Great Plains over the past couple of days


The
GFS is still wettest and probably too wet

Net
drying is expected in the heart of the Midwest and in much of the Great Plains with parts of the Delta also expecting only a restricted amount of rain as time moves along
The
wettest areas in the U.S over the next ten days will be in the southeastern states from Virginia to Florida where frequent rain is expected and moderate to some locally heavy amounts expected
The
far northern parts of the Midwest will also experience some significant rain periodically
The
environment is not unusual for late summer and still fits in with what is considered mostly normal summer weather; however, with the active tropical season to influence North America soon the drying bias may fester for "some" areas long enough to raise a little
late season soybean and sorghum stress especially in the areas that are already a little dry
Milder
temperatures during the next couple of weeks will slow some of the drying, but it is still the middle of summer and "normal" usually promotes net drying
The
U.S. weather pattern dominating through the end of August may prevail into September as well with a few "brief" interludes of somewhat warmer and a little wetter conditions

West
Texas was hot again Thursday with highest temperatures of 100 to 112 from southern Oklahoma and southern parts of the Texas Panhandle southward into Mexico
West
Texas will get some showers and thunderstorms periodically during the coming week, but they will be brief and light failing to soak the region and failing to change soil or crop conditions by much

Sufficient
moisture will be present late this weekend into next week to help keep temperatures from becoming excessively hot

Highest
temperatures into Saturday will range from 95 to 108 degrees Fahrenheit

Temperatures
will not be quite as warm late in the coming weekend or next week due to some higher relative humidity and a few showers


High
temperatures may slip to the upper 80s and 90s
U.S.
northwestern Plains and southwestern Canada's Prairies will not receive much rain for the next ten days favoring harvest progress for early season crops, but stressing some of the late season crops
Eastern
Saskatchewan and western Manitoba received some needed rain Thursday and overnight to ease dryness and benefit some of the region's corn, soybeans, flax and late season canola

Rain
totals reached 1.00 to 2.00 inches in southwestern Manitoba and to 1.18 inches in southeastern Manitoba while up to 0.62 inch occurred elsewhere
Rain
will fall additionally in southeastern Manitoba today and early Saturday and then drier weather is expected for a while
Western
and northern Alberta and far northwestern Saskatchewan remain favorably moist while much of central, west-central, southwestern and south-central Saskatchewan along with southern Alberta remains too dry

Dryness
in the central and southwestern Prairies is promoting early season crop maturation and harvest progress, but rain is needed in some areas for late season crops

The
lack of moisture during the next ten days to two weeks will likely leave late season crops stressed

Far
western U.S. weather will be mostly dry and warm during the next ten days as the monsoon flow remains sporadic and light
Ontario
and Quebec weather is mostly good with alternating periods of rain and sunshine over the next two weeks

Recent
rain bolstered topsoil moisture and removed concern over dryness
Some
net drying is expected especially in Ontario

Argentina
remains too dry and concern remains for its wheat and barley production potential

Cordoba
remains driest with parts of Santa Fe, La Pampa and northwestern Buenos Aires drying out recently
The
trend will not change much until Aug. 25 and after that period there may be "some" rain to ease dryness in parts of Buenos Aires and immediate neighboring areas
Cordoba
is unlikely to see significant rain for the next two weeks
World
Weather, Inc. is looking for a little better opportunity for some rain in September in the driest areas

China's
Yangtze River Basin is drying out

The
drying trend will continue for the next week and then some showers will begin to pop up periodically into the end of this month

China
reported locally heavy rain in central and northeastern Sichuan and from Shandong to Heilongjiang Thursday

Amounts
varied from 1.00 to 2.75 inches often with local totals of 3.00 to more than 5.00 inches

Local
flooding resulted
One
location in southeastern Liaoning reported 13.14 inches of rain

Some
heavy rain also fell along the Guangdong coast and in southern Guangxi where flooding also occurred
Rainfall
elsewhere in eastern China was more erratic and light while temperatures were warm

China's
weather will continue to provide net drying in the Yangtze River Basin over the next two weeks while alternating periods of rain and sunshine occur elsewhere

Some
localized areas of flooding will continue in the north and in central Sichuan for a while
Damage
to crops is not very likely
Some
locally heavy rain and local flooding is still possible in northern parts of the nation periodically in the next two weeks, but no new crop damage is expected

Xinjiang,
China weather Thursday was mostly warm and dry, although a few showers produced up to 0.30 inch of moisture near the mountains

Highest
temperatures were in the 80s northeast and the lower to middle 90s elsewhere
The
region will not likely see much change in weather over the next seven to ten days
Russia's
New Lands have either received significant rain recently or going to be receiving it in this coming week

Spring
wheat and sunseed crop improvements have occurred recently and will continue, although some of the coming improvement is occurring a little late

There
is a little concern over late season wheat and sunseed quality for the early maturing crops, but the weather could improve prior to a serious problem evolving

Reports
of lower corn production have been received from Ukraine

Dryness
in Ukraine and Russia's Southern Region has been serious in recent weeks and all unirrigated summer crop yields are likely down


Eastern
and southern Ukraine and most of Russia's Southern region away from Krasnodar and Georgia has been too dry for many weeks

Relief
from dryness is unlikely for at least another week to ten days, but some rain may come later this month

The
moisture will arrive too late, however.

Relief
from drought in France, Germany, Belgium, the U.K. and Netherlands is under way and will last into next week


Rain
Thursday varied from 0.30 to 0.50 inch with coverage of 60% favoring the western and far southeastern parts of the nation
Additional
rain is expected in France and areas to the east and north over the next several days
Improving
soil moisture will be great for future winter crop seeding, but may only stop the recent declines in summer crop condition and yield

A
reversal in the production potential losses in France is highly unlikely, but the rain will stop the decline

West-central
Africa dryness in Ivory Coast, Ghana and neighboring areas is not unusual for this time of year, but the dryness started early and has festered long enough to be of some concern to rice, sugarcane, coffee and cocoa

Seasonal
rains are expected to return, albeit a little slower than usual
Once
the seasonal rains resume they may become heavy in late September and October

More
frequent and more abundant rain is expected in mainland areas of Southeast Asia during the coming ten days

The
moisture boost will be good for rice, sugarcane, coffee and a host of other crops

Flooding
rain is expected in western and southern Myanmar over the next couple of weeks
Rain
continues erratic in Sumatra, Java and parts of Borneo in Indonesia and Malaysia

Temperatures
have been ebbing warmer than usual as well
Rainfall
will continue erratic and light for a while in these areas, but some slowly increasing rainfall is expected through most of next week

Philippines
rain recently has been bolstering soil moisture in many areas from western Luzon Island southward to northern Mindanao

Recent
rainfall has been supportive of crops and little change will occur over the next ten days

South
Africa rain will continue periodically in the southwest over the next week, but most of it will be near the coast and it will not be frequent enough to seriously bolster topsoil moisture for long term crop use

Eastern
winter wheat and barley areas still need a general rain to support dryland crops which represent 8% of the total crop in the region
Temperatures
will be cooler than usual

Australia
rainfall will impact most winter crop areas during the next ten days

However,
much of the resulting rain will be light and there will be some ongoing need for greater rain in Queensland and South Australia
The
bottom line remains a very good outlook for the nation's winter crops, although there will still need follow up rain to fix long term moisture deficits in Queensland as well as South Australia
Southern
Brazil will receive rain today through August 20 and it will be good for some winter wheat, corn planting and early corn establishment

Most
of the precipitation will fall in Rio Grande do Sul, Santa Catarina, Parana, Paraguay and southern Mato Grosso do Sul leaving areas to the north drier biased; including Sao Paulo and a few locations in southern Minas Gerais and Rio Grande do Sul

However,
flooding is expected in Parana and southern Mato Grosso do Sul which may raise the potential for wheat damage especially in Parana


Dry
weather is expected elsewhere in Brazil except coastal areas from Espirito Santo to Bahia where rain is expected periodically

Mexico
precipitation in the coming week to ten days will be greatest in western and southern parts of the nation benefiting many corn, sorghum and dry bean production areas

Coffee,
citrus, sugarcane and many fruit and vegetable crops will also benefit
Northeastern
Mexico will be mostly dry

Some
of the region is still drought stricken

Central
America rainfall will increase this week and continue plentiful next week
New
Zealand rainfall will be below average for a few more days and then trend above normal in parts of the nation next week into August 27

Southern
Oscillation Index was +4.52 this morning and it will continue positive into next week
Source:
World Weather Inc.

7
Day Precipitation Outlook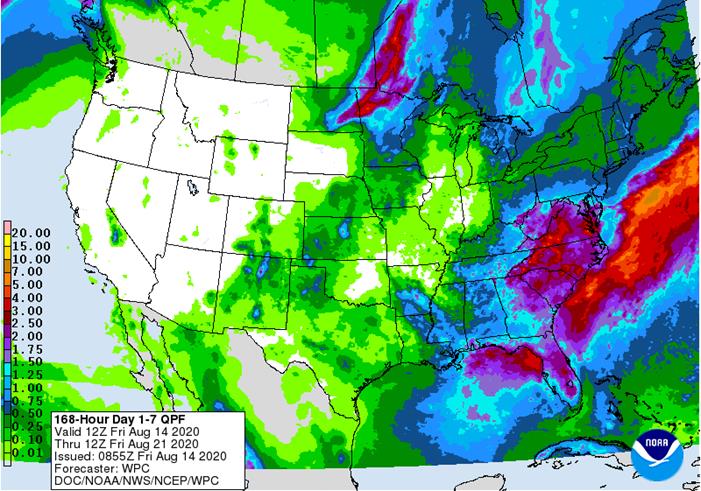 Malaysia
palm oil export data for Aug 1-15 from AmSpec
MONDAY,
August 17:
USDA
weekly corn, soybean, wheat export inspections, 11am
U.S.
crop conditions for soybeans, corn, cotton; wheat harvesting progress, 4pm
U.S.
monthly green coffee stockpile data from Green Coffee Association
EU
weekly grain, oilseed import and export data
Ivory
Coast cocoa arrivals
HOLIDAY:
Indonesia
TUESDAY,
August 18:
New
Zealand global dairy trade auction
WEDNESDAY,
August 19:
EIA
U.S. weekly ethanol inventories, production, 10:30am
ISO
online conference on Sugar and Health
USDA
total milk production
THURSDAY,
August 20:
USDA
weekly crop net-export sales for corn, soybeans, wheat, cotton, pork, beef, 8:30am
Brazil
Conab sugar, cane and ethanol production
Port
of Rouen data on French grain exports
China
International Cereals and Oils Industry Summit
USDA
red meat production, 3pm
HOLIDAY:
Malaysia
EARNINGS:
Cherkizovo
FRIDAY,
August 21:
ICE
Futures Europe weekly commitments of traders report, 1:30pm (6:30pm London)
CFTC
commitments of traders weekly report on positions for various U.S. futures and options, 3:30pm
FranceAgriMer
weekly update on crop conditions
China
International Cereals and Oils Industry Summit, day 2
Malaysia
palm oil export data for August 1-20
U.S.
cattle on feed, 3pm
Source:
Bloomberg and FI
Commitment
of Traders
-No
major surprises





US
Retail Sales Advance (M/M) Jul: 1.2% (est 2.1%; prevR 8.4%; prev 7.5%)
US
Retail Sales Ex Auto (M/M) Jul: 1.9% (est 1.3%; prevR 8.3%; prev 7.3%)
US
Retail Sales Ex Auto, Gas Jul: 1.5% (est 1.0%; prevR 7.7%; prev 6.7%)
US
Retail Sales Control Group Jul: 1.4% (est 0.8%; prevR 6.0%; prev 5.6%)
US
Nonfarm Productivity Q2 P: 7.3% (est 1.5%; prevR -0.3%; prev -0.9%)
US
Unit Labour Costs Q2 P: 12.2% (est 6.9%; prevR 9.8%; prev 5.1%)
CBOT
corn ended 0.25 to 1 cent lower in the 4 front month contracts and mixed in the back months. Friday marked the first day this week that corn traded lower.
Light
profit taking was the main reason for the lower trade. Losses were limited on a drier US weather forecast with western IA in focus, and acreage loss from the storm earlier this week.
The
US will not be totally dry. The Midday weather models conformed a wetter outlook for NE and some ECB corn producing states. Another reason corn futures paired losses by the end of the day is the fact EU countries are losing corn production due to dry weather.
France reported a large decline in ratings from the previous week. We could see the EU importing corn from the America's later this year to meet animal unit consumption requirements if EU feed wheat supplies start to erode. EU milling wheat export commitments
are healthy. For alternative feedgrains, EU end users have been competing with exporters amid large increase in barley shipments to China.

More
and more analysts are coming out with corn crop damage reduction estimates for production. The mid-point is around 200 million bushels of corn lost from the derecho storm that occurred on Monday. We look for a large drop in US corn conditions when updated
on Monday.
Reuters
put out a story that painted a bleak picture of the devastation. The Iowa Soybean Association mentioned 37.7 million acres of farmland across the Midwest, including 14 million acres for IA, was impacted by the Monday storm, citing USDA. USDA said 8.18 million
acres of corn and 5.64 million acres of soybeans in Iowa, was affected. Crop holders of these areas in IA represent about 6 billion USD of product/infrastructure. The story by Reuters that ran today indicates the derecho caused more damage than we initially
thought. Previously we thought 1.0 million corn harvested acres would be affected, but now have to rethink that figure.

The
US and China postponed their Phase One talks that was set to start on Saturday.

France's
corn crop rating tanked from the previous week. As of Aug 10, it fell to 65 percent from 74 percent! This is still above 60 percent a year ago.

There
has been a lot of talk about the unusually low US FSA crop insurance acreage reported after the close on report day but we would not read into this. October FSA numbers will be the month to take a hard look to revisit the planted area.

Ethanol
Production Profits during the COVID Pandemic
https://farmdocdaily.illinois.edu/2020/08/ethanol-production-profits-during-the-covid-pandemic.html?utm_source=farmdoc+daily+and+Farm+Policy+News+Updates&utm_campaign=97c4980232-FDD_RSS_EMAIL_CAMPAIGN&utm_medium=email&utm_term=0_2caf2f9764-97c4980232-173649469

Corn
Export Developments
<![if !supportLists]>·
<![endif]>None reported
September
corn is seen in a $3.10 and $3.35 range. December $3.00-$3.50 range.
<![if !supportLists]>·
<![endif]>Update: Iran bought 130,000 tons of South American soybean meal this week but passed on corn.

<![if !supportLists]>·
<![endif]>Under the 24-hour USDA export sales reporting system, private exporters reported 126,000 tons of soybeans to China for 2020-21.

September
soybeans are seen in a $8.70-$9.15 range. November $8.60-$9.25.
September
soybean meal is seen in a $285 to $310 range. December $285-$320.
September
soybean oil range is seen in a 30.00 to 32.50 range. December 29.75-33.00 range.

While
corn and soybeans were the stars for bull traders on Thursday, Friday was the day for wheat. US wheat futures
rallied
a good amount during the morning session but paired some of the gains by afternoon trading. They closed mixed with Chicago higher, KC mixed, and MN higher. Global import demand picked up late in the week with several major importers looking for high quality
product. Turkey announced during the trade that they are looking for a large amount of red milling wheat and durum wheat. Argentina remains too dry and the forecast calls for limited precipitation. Recall the Rosario Grains Exchange reduced their production
estimate for Argentina from 19 million tons to 18 million tons.
Ukraine
2020-21 grain exports fell 23 percent to 4.19 tons so far this year. 1.64MMT corn and 1.64MMT wheat. Both are lower than last year.

Australia's
Grain Industry Association GIWA expects Western Australia wheat crop up 63 percent from 2019 to 8.89 million tons.

Iraq
will donate 13,300 tons of wheat to Lebanon.
The
MGEX was bought by MIH (Miami International Holdings) and the deal is expected to be complete by the end of the year.

Paris
December wheat was up 1.75 euros at 180.25, just over a 1-week high.
US
Wheat Associates
"The
HRW harvest moved close to 90% complete this week with very good crop quality. The SRW harvest is complete with final quality results still to come. With close to half the SW crop in the bin, protein, moisture and test weights are looking very good. HRS harvest
advanced and northern durum harvest started this week. Heat and dryness brought down official condition and yield potential ratings but will push crop maturity and harvest this week."

https://www.uswheat.org/wp-content/uploads/2020/08/HR_2020-8-14.pdf
Export
Developments.
Turkey
seeks 390,000 tons of red milling wheat and 110,000 tons of durum wheat on August 25. They also seeks feed barley.


Red
wheat shipment period is between Sep 4 and Oct 10
Durum
shipment period is between Sept. 15 and Oct. 10.
Feed
barley shipment period is between Sept. 11 and Sept. 25.

Pakistan
bought 60,000 tons of wheat from the Black Sea at $227/ton c&f. Details were lacking.

Pakistan
seeks 1.5 million tons of wheat on August 18.
Syria
looks to sell and export 100,000 tons of feed barley with offers by Sep 1.




Syria
seeks 200,000 tons of soft wheat from EU/Russia on Sept. 9 and 200,000 tons of wheat from Russia on Sept. 14.
<![if !supportLists]>·
<![endif]>Mauritius seeks 6,000 tons of white rice on August 17 for October through December delivery.

<![if !supportLists]>·
<![endif]>South Korea's Agro-Fisheries & Food Trade Corp. seeks 60,556 tons of rice from Vietnam and other origins, on Aug. 19, for arrival in South Korea between Dec. 31, 2020, and February 28, 2021.
Updated
8/12/20
Chicago
September is seen in a $4.70-$5.15 range. December $4.80-$5.30.
KC
September; $4.00-$4.40 range. December $4.10-$4.45.
MN
September $4.75-$5.05 range. December $4.95-$5.25.
Terry Reilly
Senior Commodity Analyst – Grain and Oilseeds
Futures International │190 S LaSalle St., Suite 410│Chicago, IL 60603
W: 312.604.1366
AIM: fi_treilly
ICE IM:
treilly1
Skype: fi.treilly

Trading of futures, options, swaps and other derivatives is risky and is not suitable for all persons. All of these investment products are leveraged, and you can lose more than your initial deposit. Each investment product is offered
only to and from jurisdictions where solicitation and sale are lawful, and in accordance with applicable laws and regulations in such jurisdiction. The information provided here should not be relied upon as a substitute for independent research before making
your investment decisions. Futures International, LLC is merely providing this information for your general information and the information does not take into account any particular individual's investment objectives, financial situation, or needs. All investors
should obtain advice based on their unique situation before making any investment decision. The contents of this communication and any attachments are for informational purposes only and under no circumstances should they be construed as an offer to buy or
sell, or a solicitation to buy or sell any future, option, swap or other derivative. The sources for the information and any opinions in this communication are believed to be reliable, but Futures International, LLC does not warrant or guarantee the accuracy
of such information or opinions. Futures International, LLC and its principals and employees may take positions different from any positions described in this communication. Past results are not necessarily indicative of future results.